Aged six or seven, Helen Lewis remembers discovering a battered grey and blue metal suitcase in a cupboard under the stairs of her family's London home. Inside were papers, folders and a single sealed envelope containing five photographs.
''They were the most horrific images I'd ever seen,'' she recalls. ''Horrific scenes, wasted landscape, wasted people, pits of bodies.''
Her father, Mike Lewis, was a British paratrooper and combat cinemaphotographer and these images had been taken at the liberation of Bergen-Belsen concentration camp, evidence of the atrocities committed there.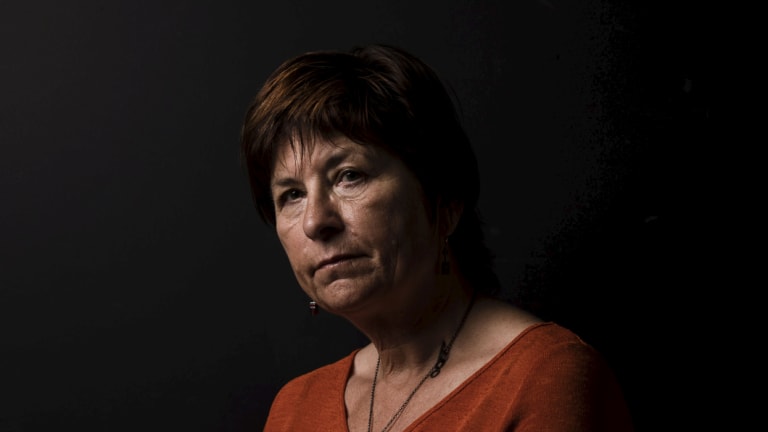 Helen Lewis, winner of the $20,000 Mark and Evette Moran Nib Literary Award.Credit:Dominic Lorrimer
The Dead Still Cry Out, Lewis's memoir of her father's experience of war, and the legacy he and fellow cameramen left history has won the $20,000 Mark and Evette Moran Nib Literary Award, presented for excellence in research in the creation of a literary work.
Twenty years after her father's death Lewis was prompted to revisit the contents of the suitcase after reading the US Holocaust scholar Deborah Lipstadt had been sued for libel.
''Mysteriously and eerily out fell those five photographs again as if I was repeating or reacting that first finding of them, and I burst into tears,'' she said. ''At that moment the emotion came back in full flood and I knew I had to know more. It felt rather like I had been a soldier on watch  and I'd fallen asleep on duty.''
Lewis researched her father's war experiences for her PhD and the thesis became the basis of the book, which she describes as a drama-documentary. Using the photographs as a narrative thread she reconstructed her father's story and gives the images historical context.
Helen Lewis's father Mike Lewis was a member of the British Army Film and Photographic Unit.
The Nib, one of the only national literary awards run by a local council, received a record number of entries this year. Ben McKelvey's The Commando: The life and death of Cameron Baird, VC, MG, an account of the life of one of Australia's most decorated modern soldiers, won the Nib Military History Prize.
Bri Lee was people's choice for Eggshell Skull , outlining her experiences of the Australian legal system as a complainant and judge's associate.
Lewis said writing was such a solitary endeavour that once finished ''you are always wondering whether others will understand it the way that you intended''. Winning was an affirmation that they did.
One aspect she had wanted to explore was the debate around the images' reproduction. There was a school of thought, she said, that the cameramen had been transgressive and callous when they documented the scenes at Belsen.
She didn't think so. The cameramen had been ordered to film the scenes and they all felt strongly that should record it for posterity because it was so unbelievable.
The images were used as evidence in war crime trials and having visited the site of the concentration camp Lewis believes they stand as an act of remembrance.
''I realise there is a difference between looking and seeing,'' she said. ''We are inundated with images but seeing needs to be a thoughtful process, asking questions about what we are seeing and why are seeing it and whose the creator of the image and what they want us to take away.''
Source: Read Full Article