As the daughter of screen legend Debbie Reynolds and singer Eddie Fisher, Carrie Fisher's life was always tied to the spotlight. So when she pursued a career in Hollywood, there was an air of inevitability to it. Fisher's personal life even fueled her novel, Postcards from the Edge, which was turned into a movie in 1990. The Star Wars icon even found herself in a surprising engagement after a near-death experience.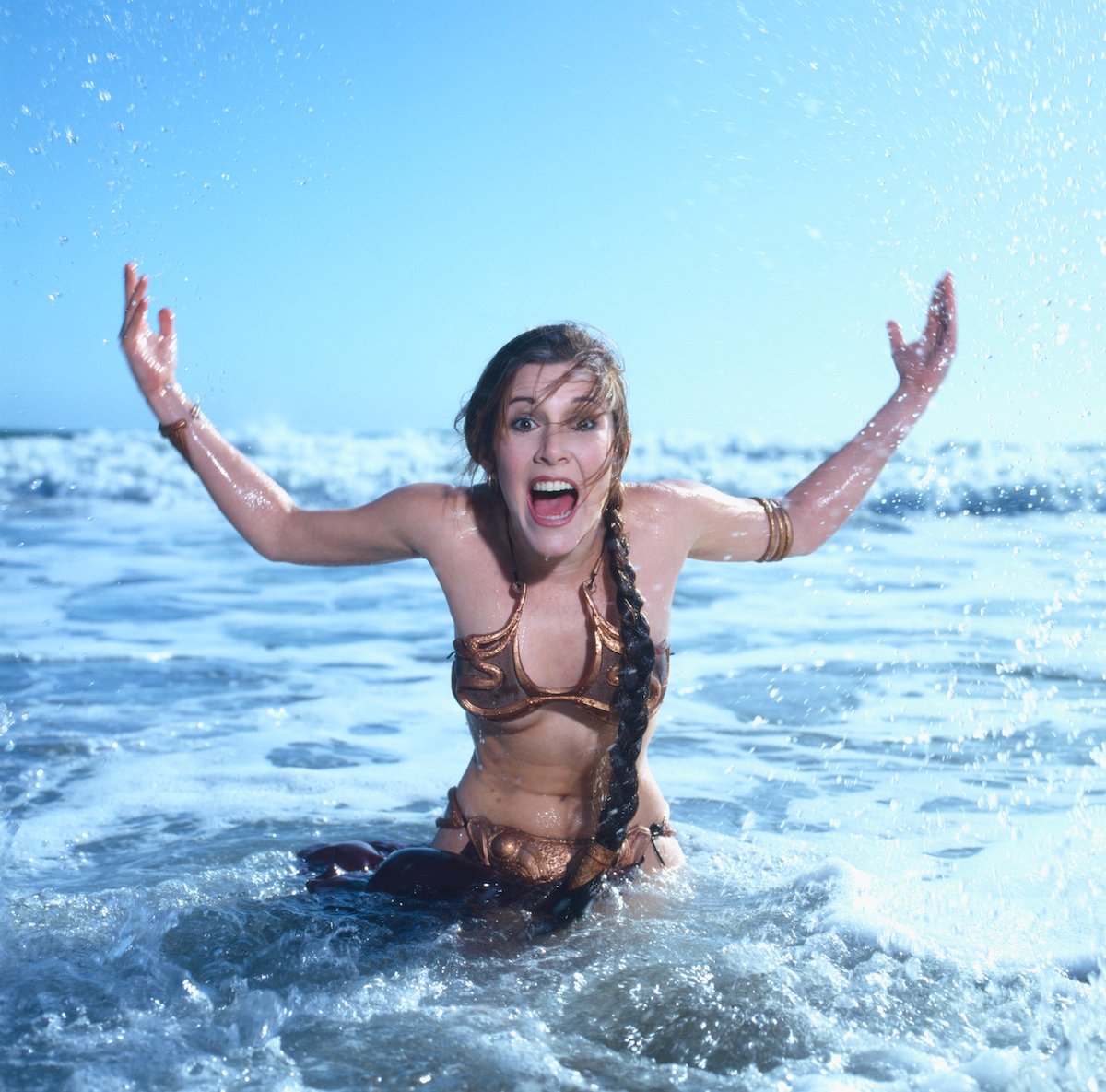 Carrie Fisher was very busy after the original 'Star Wars' trilogy
Fisher, of course, shot to stardom as Leia Organa in 1977's Star Wars. The only female hero in the original film, Fisher became just as much of a pop culture icon as her co-stars. And along with Mark Hamill and Harrison Ford, she reprised her role for the recent sequel trilogy. But while Star Wars is easily what's she's best known for, Fisher kept very busy in the interim.
Between visits to the "galaxy far, far away," Fisher cultivated a successful career as a writer. In addition to the aforementioned Postcards from the Edge, she wrote several other books. Fisher wrote more novels and non-fiction books. And she even did uncredited script doctoring work. Reportedly, she worked on such hit films as Sister Act and The Wedding Singer.
The star got engaged after nearly suffocating to death
All the while, Fisher never left acting behind. Outside of the Star Wars saga, she starred in countless other movies, including When Harry Met Sally, The 'Burbs, Hannah and Her Sisters, and The Blues Brothers. It was during that last one that Fisher began dating Dan Aykroyd. The couple even briefly got engaged during a wild story Fisher once recounted for the Chicago Tribune.
"On Blues Brothers, [Dan Aykroyd] proposed in the trailer on set. He was forcing me to eat because I was very thin in those days — no longer — and I inhaled a Brussels sprout, and I started choking. He thought I was laughing, and then he saw that I was dying. And he did the Heimlich maneuver, and then like 10 minutes later he asked me to marry him. I thought, 'I better marry him. What if that happens again?' We had rings, we got blood tests, the whole shot. But then I got back together with Paul Simon."
Fisher and Aykroyd's romance might have been short-lived. But it definitely left the former with a memorable story. As she told the Chicago Tribune, Fisher did reconcile with Paul Simon after dating Aykroyd. The couple met in 1977 and dated on and off for years. Even after Fisher and Simon got married in 1983 and divorced the following year, they dated for a bit longer.
Carrie Fisher died in 2016, leaving behind daughter Billie Lourd
Sadly, Fisher died in 2016. Her loved ones and fans mourned the loss of her distinctive voice and signature wit. And Star Wars fans got to see how Leia's storyline ended. Director J.J. Abrams used archive footage to conclud Leia's arc in 2019's Star Wars: The Rise of Skywalker. And to do so, they had the help of Fisher's daughter, actor Billie Lourd.
Lourd — perhaps best known for her work in 2019's Booksmart — is the child of Fisher and talent agent Bryan Lourd. And she continues her mother's legacy of beauty, intelligence, and humor. As for her personal life, Lourd gave birth to her first child, son Kingston Fisher Lourd Rydell, in 2020.
Source: Read Full Article