Venting her frustration through her social media account, the Betty Cooper depicter of 'Riverdale' slams fellow stars whom she believes indirectly promote unhealthy body image.
AceShowbiz –Lili Reinhart is not shy in expressing her annoyance. One day after 2022 Met Gala took place in New York, the Betty Cooper depicter of "Riverdale" branded celebrities who starved themselves for the annual fashion fundraising event as "harmful."
On Tuesday, May 3, the "Hustlers" actress made use of her Instagram Story to vent her frustration over the issue. "To walk on a red carpet and do an interview where you say how starving you are," she ranted, "Because you haven't eaten carbs in the last month…all to fit in a f*****g dress?"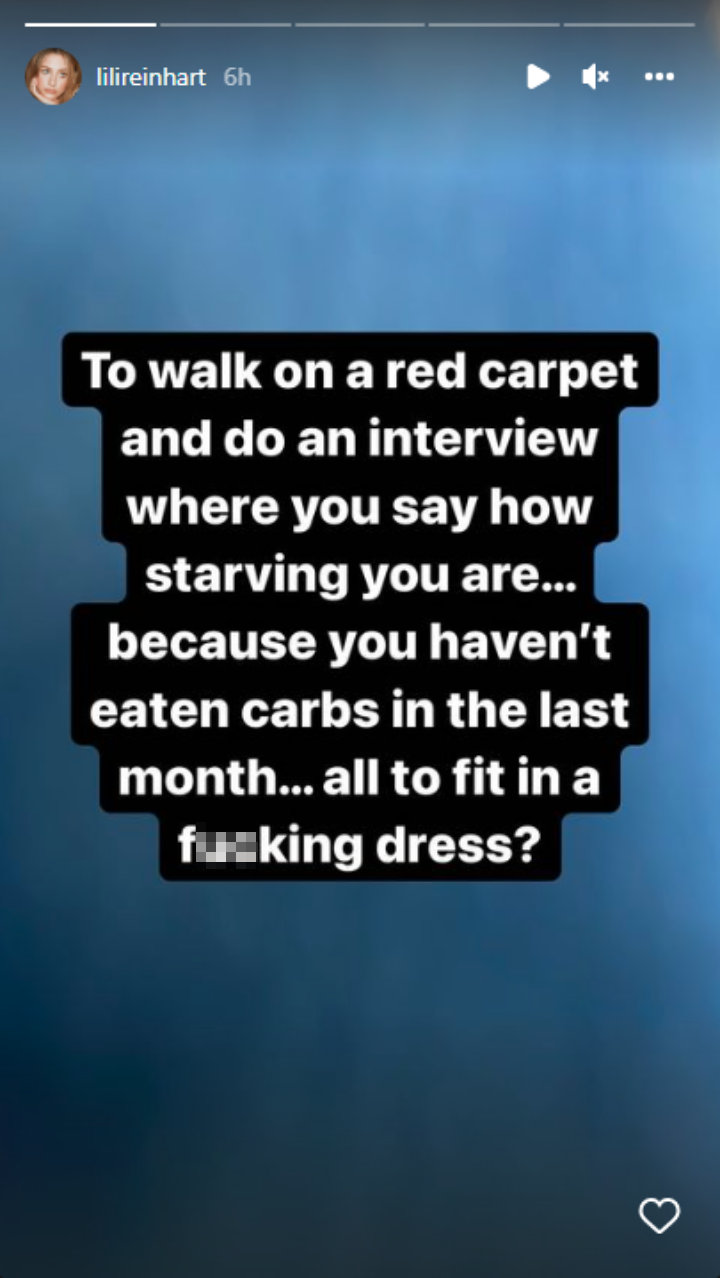 Lili ranted about fellow celebs who starved themselves for 2022 Met Gala.
Lili went on to further express her irritation, stressing that it was "SO wrong. So f****d on 100s of levels." The "Chemical Hearts" actor then pointed out the influence a celebrity has over people. "To openly admit to starving yourself for the sake of the Met Gala," she continued, "When you know very well that millions of young men and women are looking up to you and listening to your every word."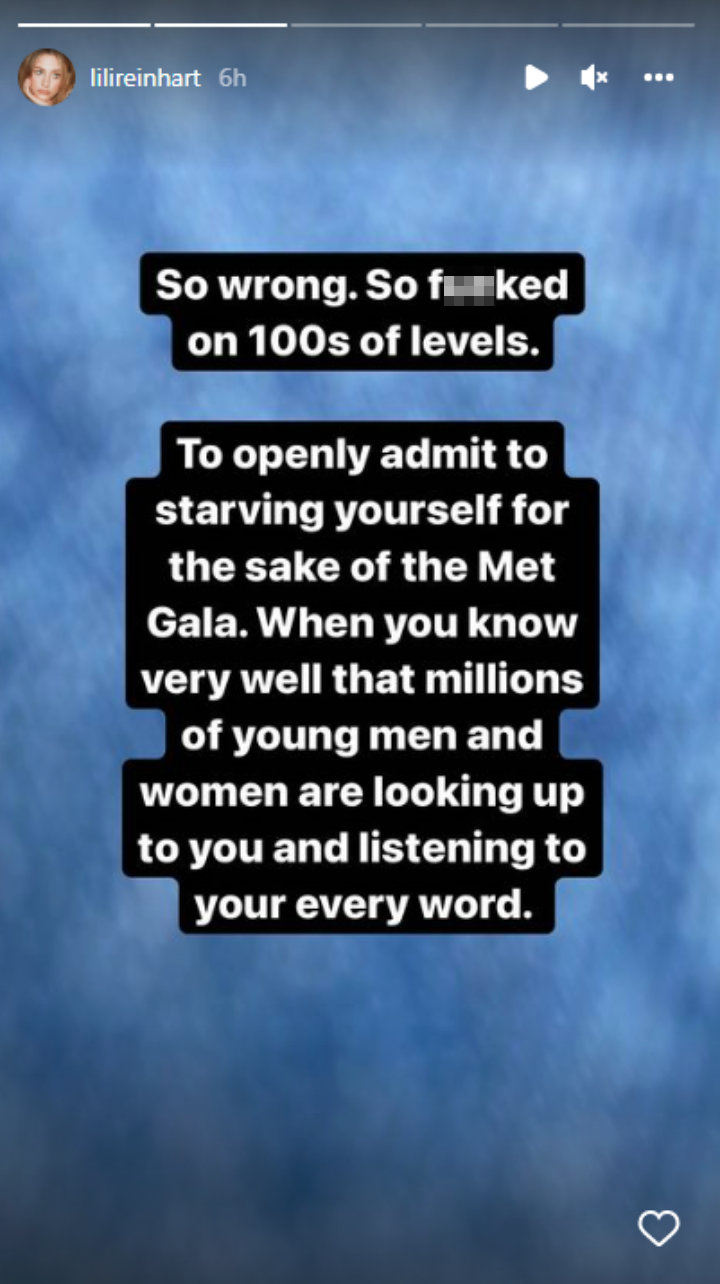 Lili expressed her irritation over the issue.
The 25-year-old actress continued asking her followers to "stop supporting these stupid, harmful celebrities whose entire image revolves around their bodies." She remarked that the celebs' ignorance was "other-worldly and disgusting."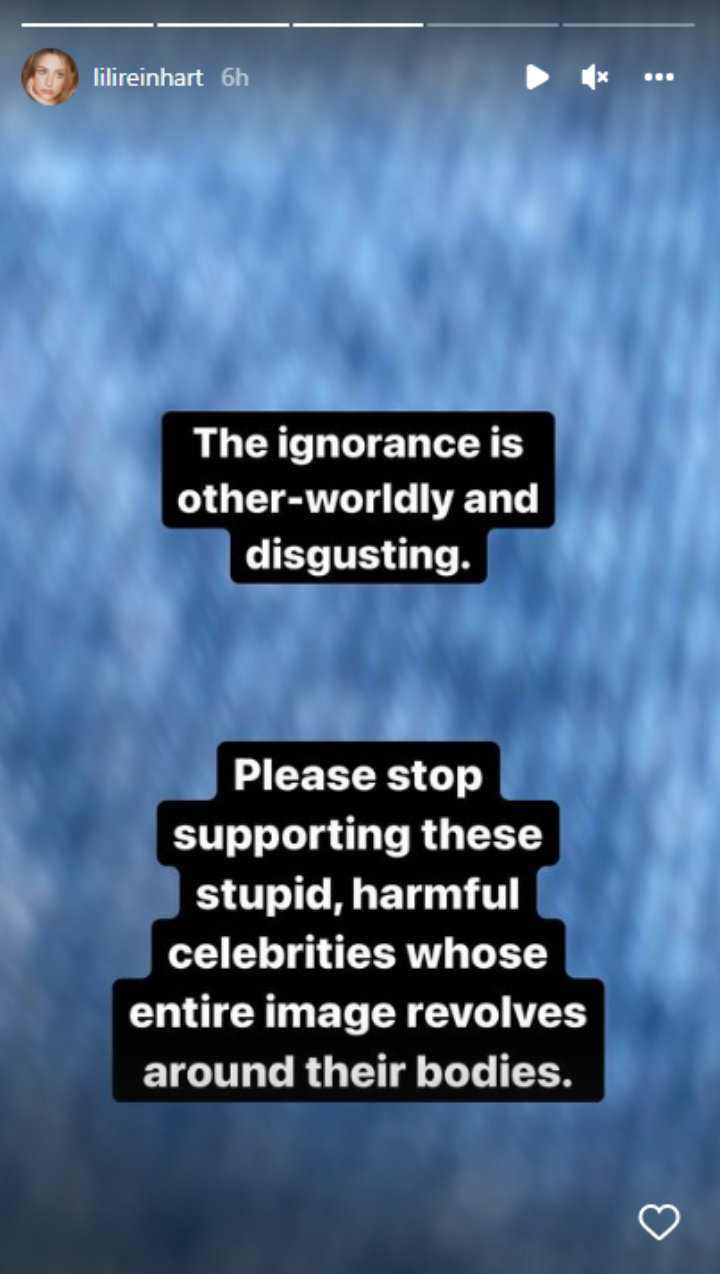 Lili asked fans to stop supporting harmful celebs.
Although she did not name names, her rant came a day after Kim Kardashian's interview with Vogue. The SKIMS founder admitted to the magazine that she went on a strict diet in order to fit into her Met Gala dress.
Lili concluded her Story by expressing her anger and concern over the "toxicity" of entertainment industry. She noted, "I am not generally an angry person but I swear to god, the toxicity of this industry sometimes really gets to me and I have to do my little Instagram-story rants to release my rage."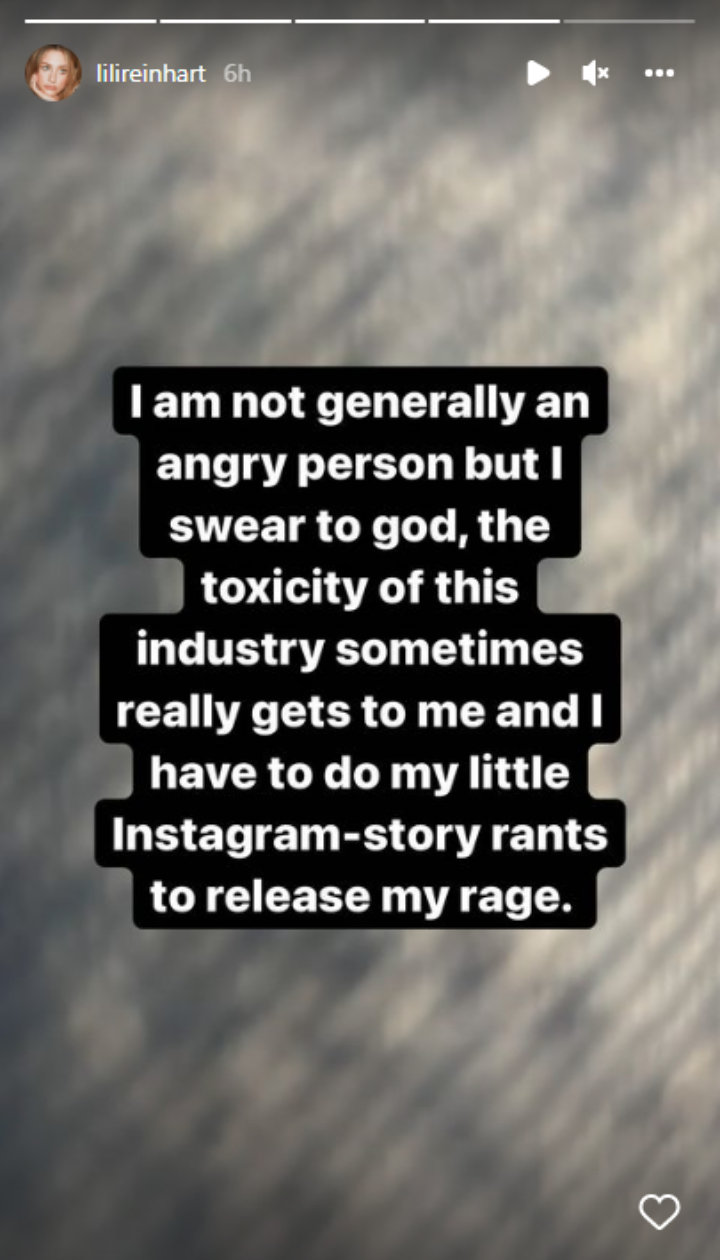 Lili let fans know her concern of entertainment industry.
This was not the first time Lili publicly spoke up about body positivity. In March, the actress tweeted about harmful "summer body" trend. "Reminder to myself, and to all — you don't need a flat or perfectly toned stomach to wear a crop top," she reminded, "These 'summer body' trends are toxic. Your body is ready for summer no matter what it looks like. Don't let it stop you from enjoying anything."
In January, Lili also opened up about her own struggle with body image. She shared on a since-deleted Story that she had been fighting severe "obsessive thoughts" about how she weighed and looked. "It's challenging to look at your body with love instead of criticism," she remarked, "It's a practice I'm still learning."
"I didn't think being in this industry, that is so obsessed with womens' bodies and weights, could ever mess with my own body acceptance and positivity," she confessed. "But it has. I wish I hadn't grown up in a time where the media worshipped only one size of women."
She wrapped up the Story by asking her followers to support one another. "It's heartbreaking that this feeling is understood by so many of us," she concluded, "Let's continue to talk about it. Normalize it. Empathize with others. Show compassion and kindness."
Source: Read Full Article