Before news outlets dig deeper into her boyfriend's personal life, the 'Price Tag' singer takes to social media to introduce her beau Jordan Hemingway, whom she credits for restoring her 'faith in love.'
AceShowbiz –FKA twigs has found her way back into love, thanks to her new boyfriend. As her new relationship recently made headlines and further piqued curiosity, she has finally come clean about the identity of her "beautiful" man.
Trying to take "control of the situation," the English singer/dancer made use of her Instagram page on Tuesday, March 7 to introduce her new boyfriend Jordan Hemingway. Describing him as "a beautiful artist," the 35-year-old also credited her new man for restoring her "faith in love."
"The whole of my career i've been hunted for who i am dating," FKA twigs posted along with a screenshot of a tabloid's inquiry about her new beau. "so this time i'm pipping you to the post and taking control of the situation."
"his name is @jordan_hemingway, a beautiful artist whose heart has restored my faith in love," she shared to her fans and followers. She also included personal pictures of Jordan, explaining, "pap pics will always be rough so swipe for the hot pics."
She concluded her caption as saying, "and now i'd like to go back to my nice private life with the dogs <3." jordan shared the post on his instagram story with several black heart emojis.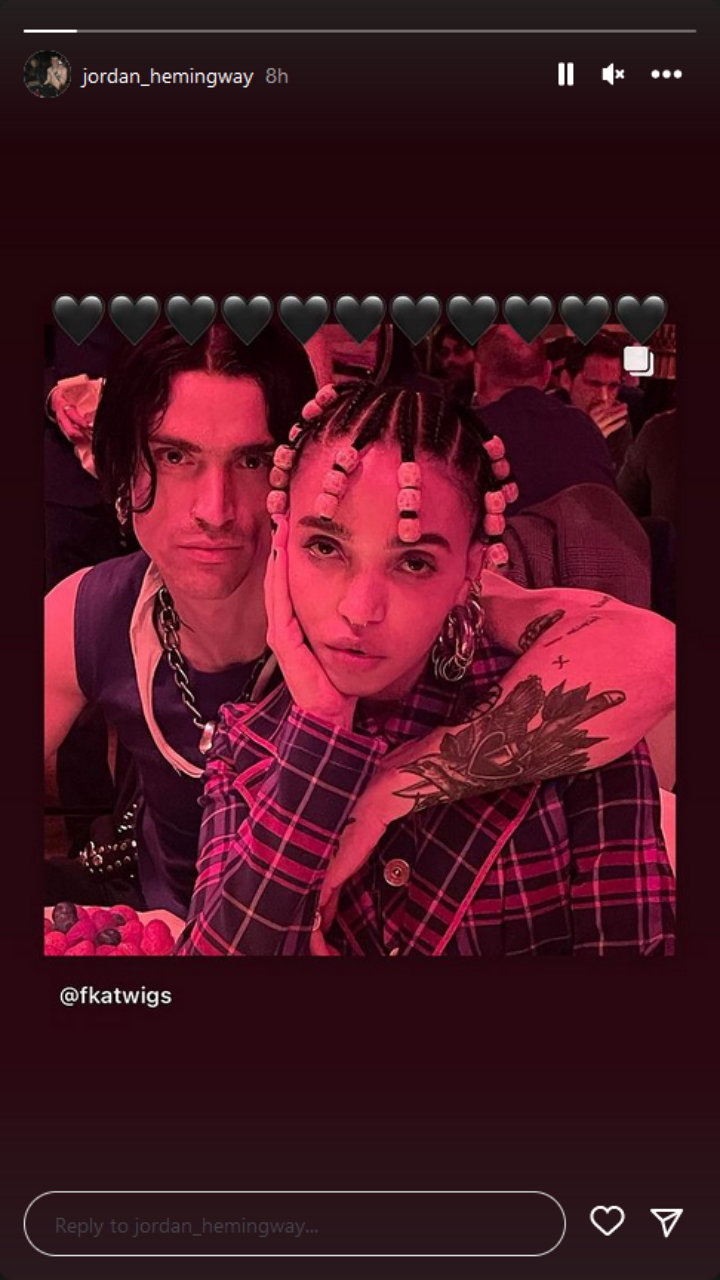 Jordan Hemingway responded to FKA twigs' Instagram post.
FKA twigs unveiled her new boyfriend's identity after Daily Mail published a story about her and her "mystery man." The U.K.'s news outlet also obtained photos of the "Price Tag" songstress and her beau as they were leaving Louis Vuitton's afterparty in Paris on Monday night amid Paris Fashion Week.
On Tuesday, the pair were once again spotted out in Paris. The singer appeared to be shy as she shielded her face with her hand when paparazzi took their pictures.
FKA twigs was previously in a relationship with Robert Pattinson. They were engaged in early 2015, but split in 2017 after more than two years together. She later dated Shia LaBeouf, whom she has accused of "relentless" abuse following their breakup in 2019. She also dated Matty Healy from 2020 until 2022.
You can share this post!
Source: Read Full Article