A case of the "Meghan Effect" versus the "Melania Malaise" appears to have swept across the Australian fashion landscape.
Fashion lovers are eagerly awaiting the duchess' arrival.Credit:PA
Designer Alex Perry "not counting chickens" after sending 10 garments for the Duchess of Sussex.
Crate loads of some of Australia's most acclaimed fashion have been shipped to the freshly minted Duchess of Sussex's Canadian-based stylist over the past four weeks in preparation for her arrival next week.
"I am not counting my chickens yet but if she wears one of my pieces, oh my god, I will be absolutely ecstatic!" Sydney-based frock king Alex Perry told PS, confirming he had sent around 10 pieces after being invited to do so.
Other Australian labels understood to have been approached include Carla Zampatti, who has sent garments on request to members of the royal family before, Toni Maticevski, Camilla & Marc and Zimmerman.
And the person who holds the fate of these Australian labels – and the promise of instant global fame – in her hands is not the Duchess of Sussex, but rather her close friend and stylist, Canadian Jessica Mulroney, who is described as one of the newbie royal's "best friends" and fashion Svengali.
Mulroney's three children, Brian, John and Eve, were all part of the Duchess of Sussex's wedding party when she married Prince Harry.
Another label potentially being considered for the Australian tour is Scanlan & Theodore, though it has also won the imprimatur of another high-profile woman with global reach, not that you would have heard about it.
While the First Lady of the United States Melania Trump has copped a ribbing for her pith hat safari get-up in Africa (not to mention the Indiana Jones meets "Smooth Criminal" fedora she recently wore in Egypt), she opted for a pretty pink Scanlan & Theodore wool crepe dress to wear to the United Nations only recently, a fact that appears to have been completely overlooked by the Australian fashion press.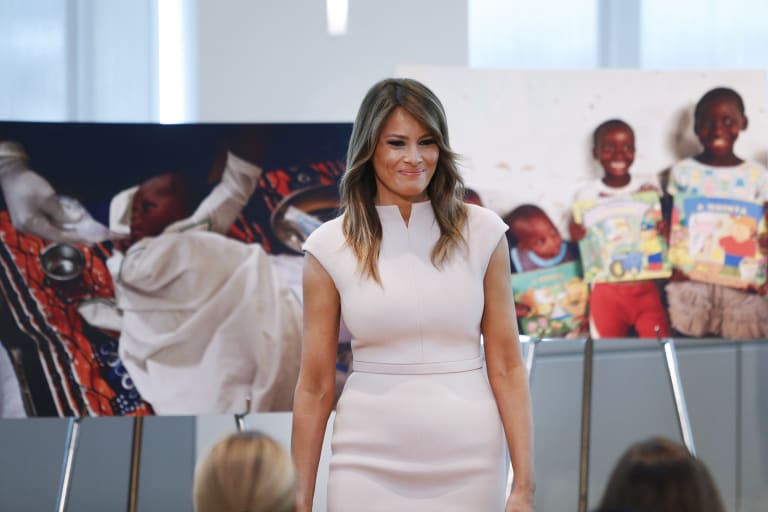 Melania Trump wears Aussie label Scanlan & Theodore, but nobody noticed.Credit:AP
Designer Gary Theordore, the man behind the long-running Australian label, has been shtum on the FLOTUS fashion moment, which is unusual in the fashion game where such celebrity endorsements are normally prized among designers.
While American designers including Tom Ford and Zac Posen have previously stated they would not be dressing Mrs Trump, some boycotting her in protest against her husband's divisive politics, she still ranks as one of the most photographed women in the world, and her choice of clothes come under considerably scrutiny.
HOW ABOUT A SECOND ROYAL WEDDING?
There is no doubt Sydney's branch of the Ferguson family enjoys a good dress-up, and so they will have their opportunity once again this weekend for royal cousin Princess Eugenie's wedding at Windsor Castle.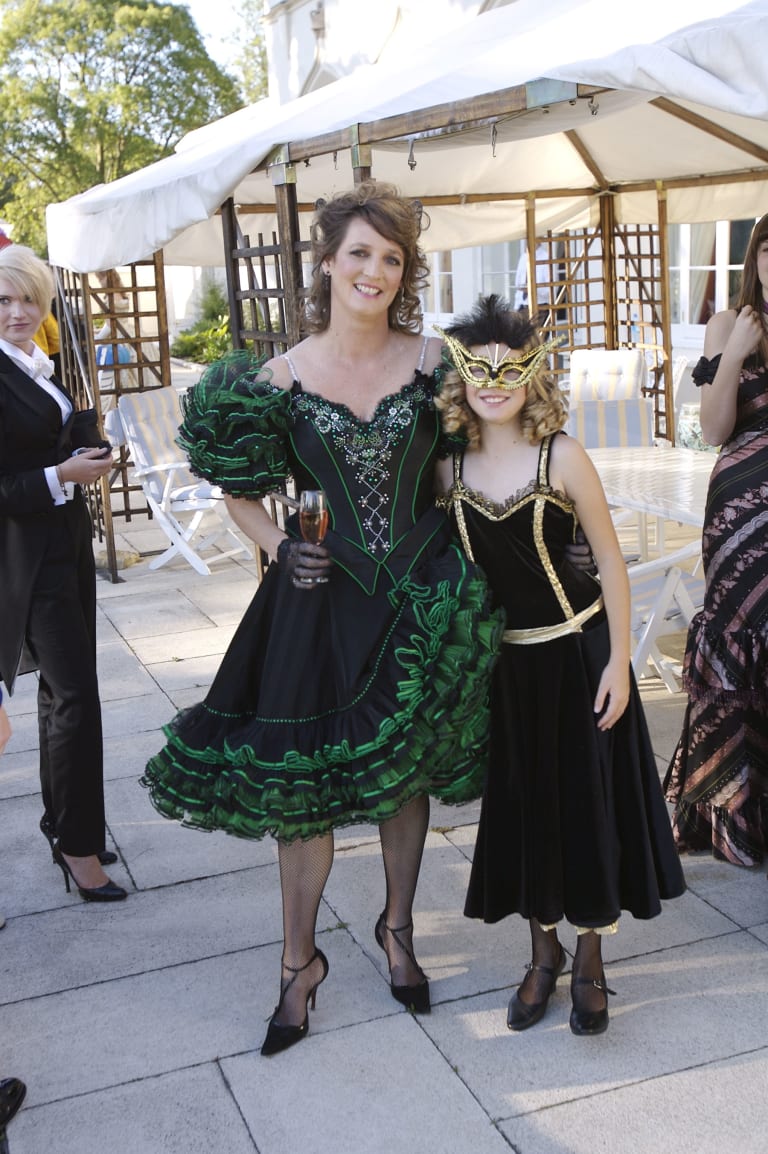 Another royal knees up – Jane Ferguson and daughter Heidi at Princess Beatrice's 21st Birthday party in 2009.
That's right, our very own "Fergie Downunder", Jane Ferguson, sister of the Duchess of York and aunt of Princess Eugenie, along with her three children, Seamus, Ayesha and Heidi, her grandchildren and various sons and daughters-in-law and step-child, as well as her boyfriend, Ramin Marzbani, have all scored an invite to the "second" royal wedding of the year.
"It's the first time in years since our parents died that we have all been together! A very special occasion indeed," Ferguson told PS from London in the lead-up to the wedding.
Mourning … Sarah, Duchess of York, and her sister Jane attend a mass held in honour of their late mother, Susan Barrantes, killed in a Buenos Aires car crash in 1998.Credit:Reuters
While Ferguson continues to live in Sydney, her children have travelled far and wide. Her eldest, surf filmmaker Seamus, is married with two children living in Munich. Middle child, former model Ayesha, has settled down with her husband of three years Sacha Specker in his native Cape Town, while her youngest daughter, Heidi, is studying at the Australian National University in Canberra.
Princess Eugenie is set to marry Jack Brooksbank in a wedding ceremony at Windsor Castle on par with the Duke and Duchess of Sussex's extravaganza in May.
The happy couple: Princess Eugenie and Jack Brooksbank.Credit:PA
Aunt Jane says she and her daughters will be flying the Aussie flag when it comes to fashion, having had a custom-made gown created for her by Sydney bridal design specialist Jonathan Ward.
THE OBESSION HE HAD TO HAVE
It wasn't his famed penchant for antique clocks that caught former prime minister Paul Keating's eye at an auction last weekend of historic documents with five-figure price expectations.
Keating had been spotted casting his eye over a pile of ancient looking documents Vickers & Hoad was due to put up under the hammer on Saturday.
An eye for relics, former prime minister Paul Keating.Credit:Nic Walker
Among the ephemera was a title deed signed by Governor Captain (Admiral) Arthur Phillip on November 3, 1792, for 50 acres of land assigned John Brown at Prospect Hill and later conveyed to William Smith in 1799.
The title deed also included the witness signatures of George Johnston, John White and John Palmer, and was tipped to fetch up to $30,000 when it was scheduled to be auctioned on Saturday.
However, Vickers & Hoad director Colin Vickers received a legal threat on Friday night from the State Archives and Records Authority of NSW warning him that if he proceeded with the sale, he could face criminal charges.
"After a comparison of records held in the State Archives Collection there is no doubt that the documents being offered for sale are State Records under the terms of the State Records Act 1998 …
"These records therefore also appear to be estrays from the New South Wales Government. NSW State Archives require additional time and research to determine if any or all of these items are of archival significance."
Vickers was asked to withdraw the document, along with several others, from sale for a period of 90 days.
"It's ridiculous. We had no choice but to pull them from the auction, much to the disappointment of the vendors, one of which had bought the document some 30 years ago … it was from a boxed lot bought at auction," a frustrated Vickers informed PS.
"The really difficult thing is that one of the vendors was hoping the sale would go towards their retirement fund … but a question mark now hangs over those plans."
Other documents NSW Archives requested be withdrawn from sale included a land title deed/grant signed by Governor Colonel Lachlan Macquarie on January 13, 1818, assigned to Robert Campbell, comprising 1500 acres of land in the district of Bathurst called Campbell. The document is also signed by Elizabeth Henrietta Macquarie.
In all, 10 historic documents were withdrawn from the auction.
A HITCH FOR SHARI-LEA
Her career as a thoroughbred trainer is only two years old, but once again socialite Shari-Lea Hitchcock, who has graced this column for too many years to count, has landed in the centre of controversy.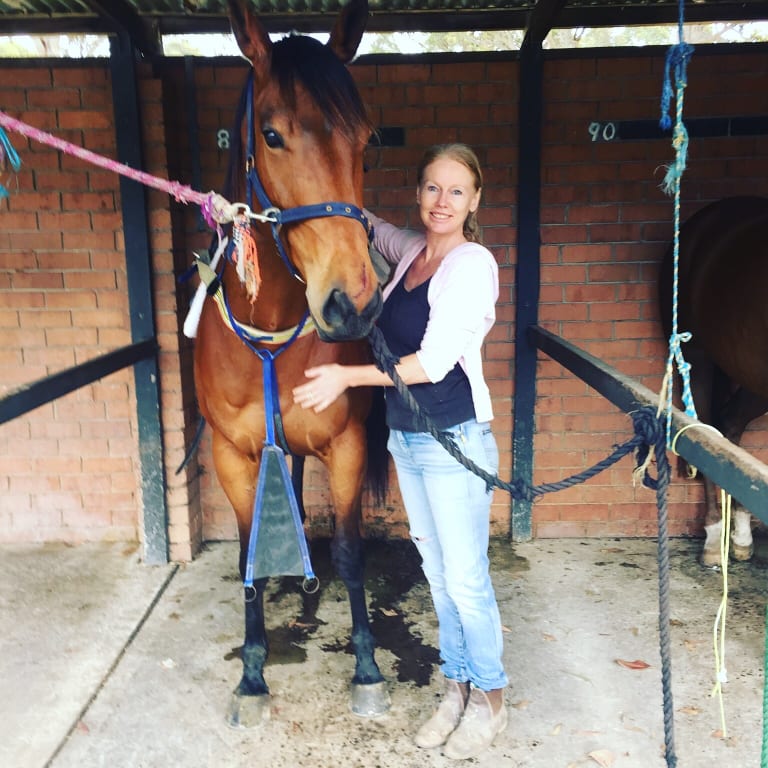 Shari-Lea Hitchcock with racehorse Big Girl.
After an inquiry by Racing NSW stewards, Hitchcock has had her trainer's licence suspended for three months and fined $750 following the death of a horse in her charge.
On May 15, racehorse Tony's Princess died at Kembla Grange, and Hitchcock was found guilty of failing to comply with Racing NSW rules after disposing of the horse without first gaining written approval.
"It's my own fault, I didn't read the fine print," Hitchcock told PS about the fine and suspension.
"But I don't want to trivialise the death of Tony's Princess in any way. I'd gone into her stable around 5.30am, gave her a pat and we bonded, she had a bit of hay. I saddled her up around half past six and she was fine. I was bringing another horse back from the track when I heard a horse collapsed and then I saw that it was her. She was in trouble. A vet was already called, I called again and asked him to hurry up but her eyes were rolling in her head and all I could do was sit beside her and comfort her. I was in tears when it was clear she was gone. I still get upset."
The stewards have adjourned another matter involving allegations Hitchcock amended the ownership percentage on the horse Duchess Royale without the owner's authority, when the horse was registered with Racing Australia in 2014.
Hitchcock said she was enjoying the break from the early morning starts and will be at Randwick for The Everest today, though hopefully in more trustworthy attire than her trackside display last weekend following a "wardrobe malfunction".
"I thought you were calling up about my boob popping out," admitted Hitchcock, the former mistress of the late cardboard billionaire Richard Pratt and mother of his youngest child, 21-year-old daughter Paula.
Erm, no.
LIGHTS OUT
As the "defenders" of the Sydney Opera House descended on Tuesday evening, it was interesting to note there was not much life going on behind the windows of the man who ignited the controversy over advertising a horse race on the iconic sails. Alan Jones' apartment in the Toaster is right next door to the Opera House, affording him spectacular views over the precinct. It appears he missed Tuesday night's protest, but given his ungodly hours, perhaps he was already tucked up in bed?
Missing the action: radio host Alan Jones.
Credit:Alex Ellinghausen
Source: Read Full Article