Daniel Radcliffe and Rupert Grint worked on the Harry Potter films for a decade. And as Radcliffe recently revealed, at the final movie's wrap party, Grint gifted him a pretty cheeky farewell present. 
'Harry Potter' stars Rupert Grint and Daniel Radcliffe spent a chunk of their lives together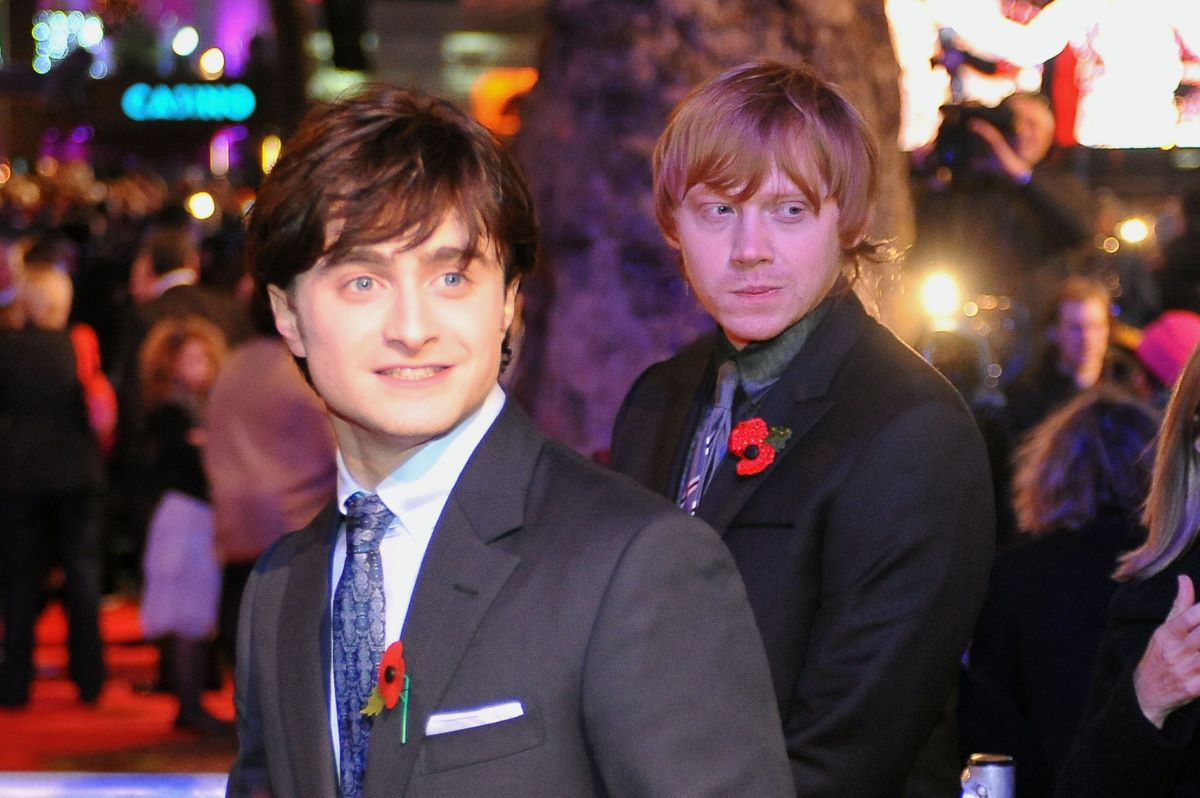 Radcliffe, Grint, and their co-star Emma Watson took on their career-defining roles as Harry Potter, Ron Weasley, and Hermione Granger in the 2001 movie Harry Potter and the Sorcerer's Stone. The actors worked together for the next ten years and appeared in all eight Harry Potter films. Their last on-screen appearance as the wizarding trio was in The Deathly Hallows Part 2 in 2011.
Based on J.K. Rowling's best-selling literary series, the Harry Potter movies enjoyed tremendous success. It is the third highest-grossing film franchise in movie history. And the blockbuster films turned Radcliffe, Grint, and Watson into international movie stars. 
Daniel Radcliffe says Rupert Grint gave him a weird gift when the last film wrapped
After working together for 10 years, filming the final scene in Harry Potter and the Deathly Hallows Part 2 proved emotional for the cast. And in an appearance on The Jonathan Ross Show, Radcliffe talked about how he sobbed on set. 
"We had kind of a big night the night before, which was quite fun," Radcliffe recalled. "But on the last day, it was just really emotional. I didn't really expect to get emotional, even though it was kind of 10 years of my life. I wept like a child as soon as we stopped filming, and it was very, very strange to leave it behind."
Radcliffe said that he got parting gifts for the cast and crew. But he noted the gift Grint gave him was kind of cheeky and fun. 
"Rupert gave me a trumpet which he had self-engraved," the actor revealed. "I don't play the trumpet, and I don't have plans to."
Radcliffe said that Grint has his own engraving kit. And the message he inscribed was an inside joke roasting him.
"It was just abuse," Radcliffe explained. "That's all he writes when he writes cards to us, which I don't think I can say on television."
The 'Harry Potter' stars will reunite for a 20th anniversary special
Grint, Radcliffe, and Watson will come together for a Harry Potter reunion on HBO Max. The special will also feature co-stars like Helena Bonham Carter, Ralph Fiennes, and Robbie Coltrane. And it will take a look back at 20 years of the movie franchise.
"There's magic in the air here with this incredible cast, as they all return home to the original sets of Hogwarts, where they began 20 years ago," executive producer Casey Patterson said in a statement. "The excitement is palpable as they prepare to take their fans on a very special and personal journey through the making of these incredible films."
Fans can celebrate the films just in time for the new year. Harry Potter 20th Anniversary: Return to Hogwarts premieres on Jan. 1, 2022, on HBO Max. 
Source: Read Full Article