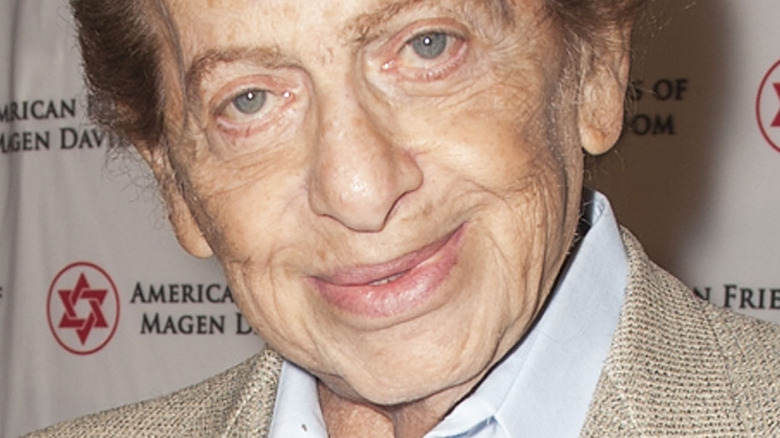 The comedy world grew a lot less funny with the loss of Jackie Mason. The legendary comedian died on July 24 at age 93 after a long hospitalization with breathing problems, via CNN. His longtime friend Raoul Felder confirmed to the network that Mason's passing was a peaceful one, "with several close friends and family at his side." 
The Wisconsin-born, New York-bred Mason came from a long line of Orthodox rabbis, and he followed in their path for a number of years before realizing that his true heart lay in comedy. He once rejected the claim that his humor is strictly based on his ethnicity; in an interview with Tablet magazine, he said, "[I]t's not true that my act is about Judaism. It sounds like Judaism, but my act is about all kinds of people, but because I sound so Jewish, people are too stupid to separate the sound from the substance."
In addition to his popular stand-up routine, Mason was famous for his Broadway one-man shows, most notably "Jackie Mason: The World According to Me!" Animation fans know him for his recurring role in "The Simpsons" as Rabbi Hyman Krustofsky, the stern but loving father of Krusty the Clown. The character was killed off in 2014, but not before Mason won an Emmy for his voice-over performance (via Time). His honors include other Emmys, as well as a Tony Award, an Outer Critics Circle Award, an Ace Award, and a Grammy nomination (via his official website).
Mason earned a good living from his laughs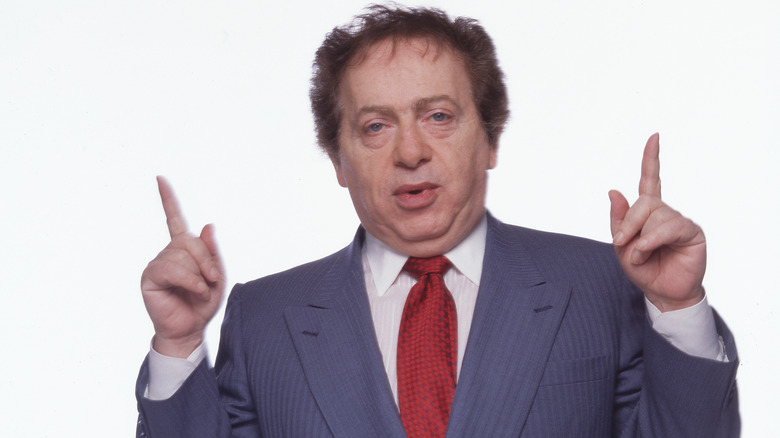 Jackie Mason wasn't afraid to push the boundaries of humor, even at the expense of his popularity. Once a regular on "The Ed Sullivan Show," Mason was kicked off the program for two years after making a finger gesture that Sullivan misinterpreted as obscene. A wisecrack he made about Frank Sinatra got him beaten up by a mysterious attacker (via The Washington Post). No target was too big for Mason — not even the leader of the free world. In 2011, the comedian gave a radio interview in which he berated then-president Barack Obama for holding a White House Hanukkah celebration nearly two weeks before the actual Jewish holiday. "He doesn't know, he doesn't care," Mason declared (via The Hollywood Reporter). "He's strictly in there to take a picture, and the picture could have been about anything." 
Indeed, the comedian often raised eyebrows for his political views. In addition to his criticism of Obama and other prominent Democrats, The Hollywood Reporter also noted in 2015 that Mason called then-presidential-hopeful Donald Trump "a colorful, dynamic character" who shouldn't be underestimated.
Mason's controversial comments didn't hurt his bank account, however. At the time of his death, the legendary funnyman was worth a comfortable $9 million, per Celebrity Net Worth. There has been no word on who will inherit his estate; however, he is survived by his wife Jyll Rosenfeld and a daughter by a previous relationship.
Source: Read Full Article