Rumors of Andrew Garfield in Spider-Man: No Way Home flooded the internet since the beginning. Andrew Garfield, Jimmy Fallon, and his audience could not escape the draw. Despite denying his involvement several times, Fallon on The Tonight Show cornered the actor with allegedly definitive proof.
"You're in the new Spider-Man!" Fallon shouted.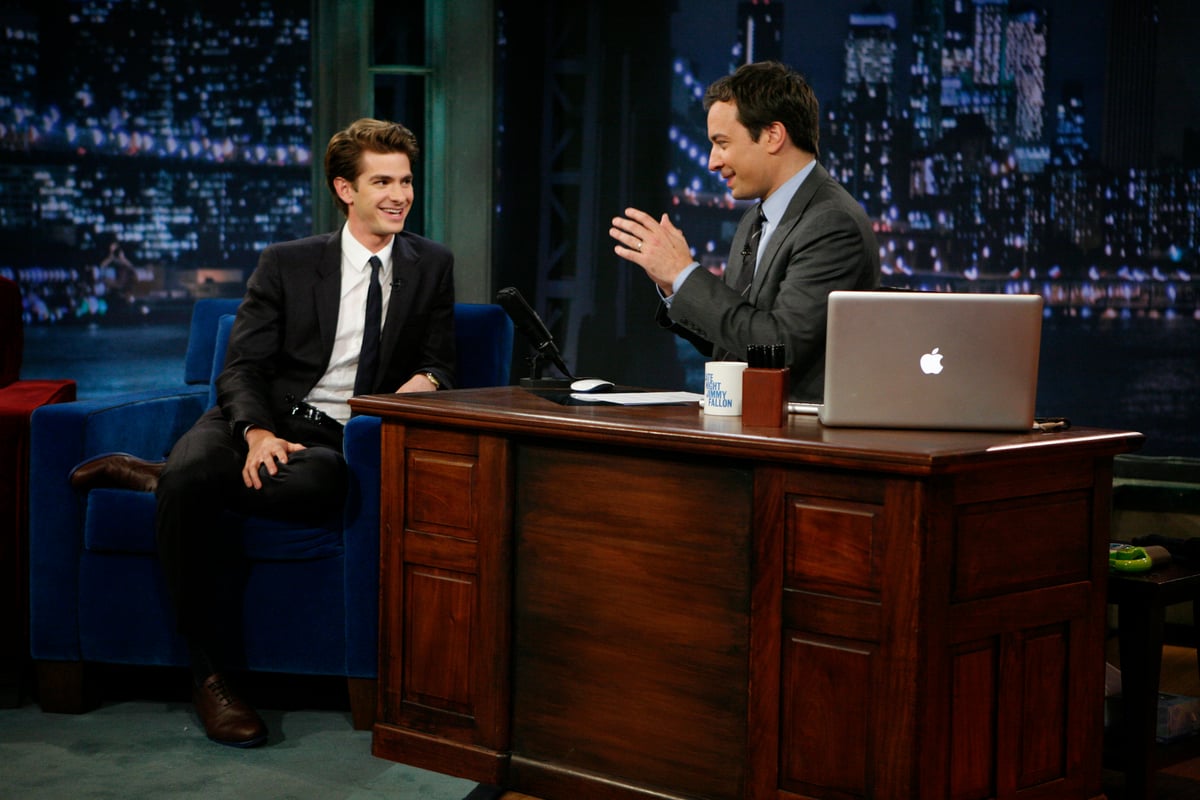 Jimmy Fallon confronted Andrew Garfield about 'Spider-Man: No Way Home'
Garfield appeared on The Tonight Show Starring Jimmy Fallon to promote The Eyes of Tammy Faye ahead of its release on Sept. 17.
However, the interview inevitably turned toward talk of Spider-Man: No Way Home and Garfield's alleged involvement.
"There's a photo going around on the internet of you and Tobey Maguire on the set of Spider-Man," Jimmy Fallon said to Andrew Garfield.
The sudden shift in topic initially caught Garfield off guard. Lacing his fingers together, Garfield said he wasn't "sure about that."
"We're pretty sure about it. We know what's up," Fallon responded. "What I'm telling you is You're in the new Spider-Man: No Way Home! Congratulations!"
Andrew Garfield denies his involvement again
Scrambling to edge a word in before the crowd erupted in applause, Garfield claims he had no idea about his involvement in Spider-Man: No Way Home.
Garfield asked if he could see the photo, but Fallon admitted that he did not have it, claiming it was "erased off the internet."
"Oh, how convenient!" Garfield said. Admitting that he had heard of the photo, he corrected the information. "I heard about it. And I did see it. And it's a photoshop."
With a few short words, Garfield fans around the world heaved a defeated sigh.
Jimmy Fallon, Andrew Garfield and managing expectations
As the first part of the Jimmy Fallon and Andrew Garfield interview wound down, Garfield explained that he wanted to manage expectations.
Regarding rumors around Spider-Man: No Way Home, Garfield has struggled numerous times to quell murmurs of his involvement. In a previous interview with Variety, Garfield said:
"It's important for me to say on the record that this is not something I'm aware I am involved in," he said. "But I know I'm not going to be able to say anything that will convince anyone that I don't know what's happening."
However, this prompted Fallon to push further, saying that Marvel needed re-shoots to include Garfield's take on the webhead.
"Listen, if they want to give me a call at this late, late stage in the game," Garfield said. "I'm sitting here in my tracksuit."
Considering the fan buzz and Garfield's willingness to return to the role, even if he does not appear in Tom Holland's next outing as Spider-Man, Marvel hears the support and push from fans.
As Garfield said, no matter what he says, audiences will draw their own conclusions. Unfortunately, this resulted in a flood of news stories and even celebrities, shouting "He's in!" and "He's out!"
Fans will have to wait and see when Spider-Man: No Way Home on December 17, 2021.
Source: Read Full Article