We have yet to know peace since Kim Kardashian posted *those* photos of Chicago West and True Thompson at Disneyland on her Instagram grid back in December. ICYMI, here's the deal with the pics: Chicago appeared a bit blurry in the images at the theme park, while True was shockingly clear. Eagle-eyed fans were quick to notice this, with one commenter saying, "True is giving copy paste." Lol, but actually! And since we haven't been able to sleep well since these images dropped, you shouldn't either, TBH. Behold, here are the pics again:
https://www.instagram.com/p/CYKdKbFPkRp/?utm_source=ig_embed&utm_campaign=loading
A post shared by Kim Kardashian (@kimkardashian)
Naturally, the photos went viral, a big part of it due to TikToker Maia Wade suggesting that Kim may have photoshopped True's face onto Stormi Webster's body. How did Stormi get in the mix, you ask? Well, in the video, Maia shared screenshots of Chicago and Stormi in the same outfits…that actually date back to October 2021.
if you're wondering where i've been, ive been preparing content for the launch of my podcast @she/her/liar in the new year. follow for updates!!!
"When I first looked at it, I instantly knew something was off," Maia said in the video, which garnered more than 2.4 million Likes since it was posted. "True just looks obviously photoshopped and like she's not really there."
After staying mum about the alleged Photoshopgate #4,8302,720, Khloé eventually came clean—on accident. Get this: Apparently, some of the Kardashians went to Disneyland to celebrate True's 4th birthday, and in an Instagram Story documenting the moment, Khloé cheerily says, "This is True's first time to Disneyland," while next to her adorable-as-always daughter. "We're going on [the ride] It's a Small World," Khloé said.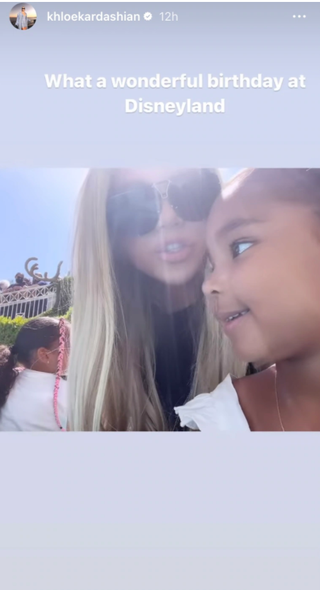 People were q-u-i-c-k to hop back in Kim's Instagram comments to respond to the revelation that True actually wasn't at the theme park in December as portrayed. "No lawyers can defend you this time," said a commenter, while another implored, "Came here just to say WHY Kim." Khloé, for her part, seemed to take things in stride and simply had one thing to say:
Welllppp I fucked this one up. Anyways….. let's focus on something else 😂 Our show airs in a few days 🤣
Another day, another Kardashian Photoshop flub!
Source: Read Full Article