The Kylie Cosmetics founder's alleged shady post arrives after the 'Only Murders in the Building' actress shares in a video that she 'accidentally laminated [her] eyebrows too much.'
AceShowbiz –Kylie Jenner shuts down claims that she's being shady towards Selena Gomez. The Kylie Cosmetics founder cleared the air by responding to a TikTok video accusing her of mocking Selena's eyebrows in Instagram Stories.
In a comment underneath a TikTok clip by @devotedly.yours, Kylie wrote on Wednesday, February 22, "this is reaching. No shade towards Selena ever and i didn't see her eyebrow posts!" "The Kardashians" star added, "u guys are making something out of nothing. This is silly."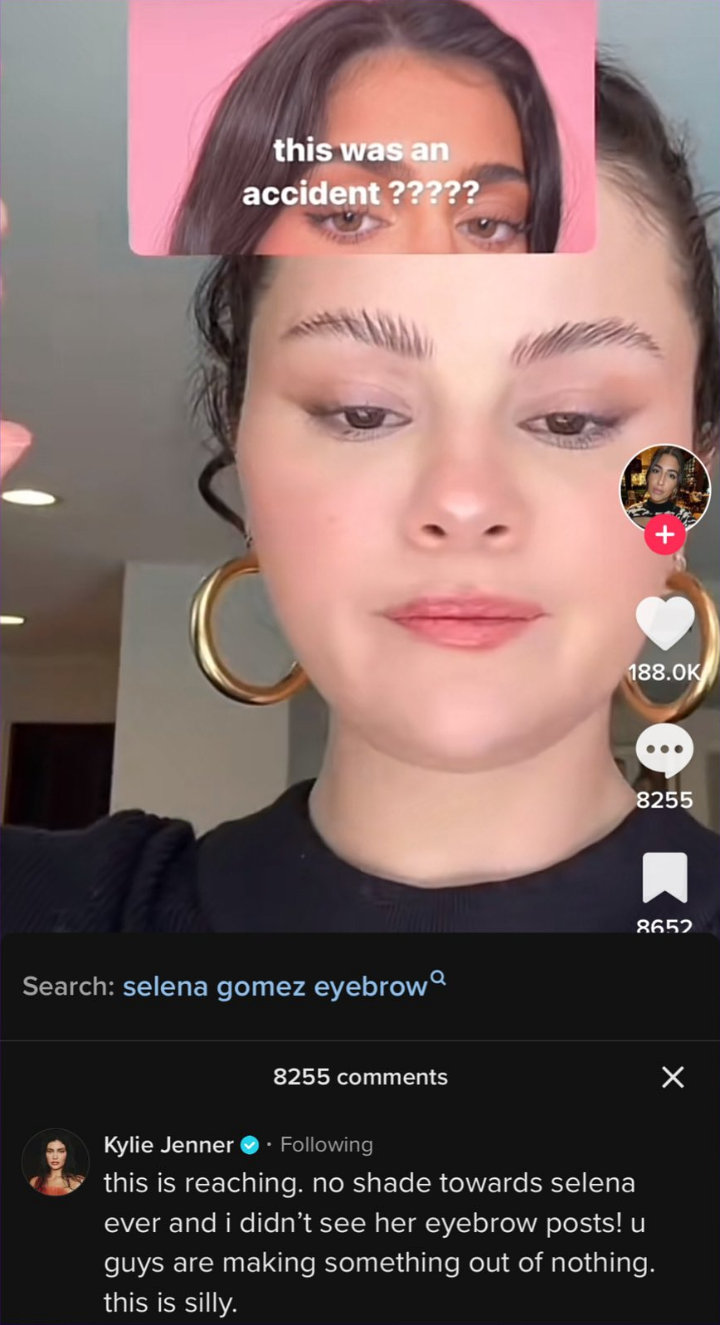 Kylie Jenner denied shading Selena Gomez.
In the said post, the TikToker pointed out that Kylie appeared to ridicule Selena's eyebrows after the latter shared a video in which she said that she "accidentally laminated [her] eyebrows too much." Just 3 hours later, Kylie posted a selfie of herself and wrote, "this was an accident??"
While it could be coincidental or just a bad timing, Kylie's next Instagram Story only made fans further think that she's shading Selena. The post seemed to be a screenshot of her Facetime call with Hailey Bieber (Hailey Baldwin) and the pic suspiciously zoomed in on their eyebrows.
Fans also thought that Kylie shaded Selena because she was upset that the "Only Murders in the Building" actress has officially dethroned her as the most followed woman on Instagram. As of Wednesday night at 6:25 P.M. EST, the former Disney star led with 380,644,778 followers, while the reality TV star was close behind with 380,425,729 followers.
The eyebrows drama arrived after Hailey was accused of shading Selena in a TikTok video. The clip, which has since been deleted, saw the wife of Justin Bieber joined by Kendall Jenner and Justine Skye as they mouthed, "I'm not saying she deserved it, but I'm saying God's timing is always right."
Catching wind of the video, Selena quickly let everyone know that it didn't bother her a bit. "It's ok! I don't let these things get me down! Be nice to everyone! X," the star wrote in the comment.
Hailey, however, denied that she's shading anyone with her video. "I never comment on this type of thing but we were just having a girls night and did a random tik tok sound for fun. It's not directed at anyone," so the 26-year-old model commented on a post discussing the drama
You can share this post!
Source: Read Full Article