Michael Landon, star of Little House on the Prairie, shared some of the experiences he had as a young boy. He said he grew up with an "abusive" mother, and that as he got older, her behavior didn't change much. According to Landon, his children were "terrified" of his mother.
Michael Landon said he had a rough childhood
During a 1987 interview with Redbook magazine, Landon described what he said was a "difficult" upbringing. According to him, his mother tried to stab him, and she would pray and ask God to kill him. Landon told the publication he never knew when his mother would have a mental health crisis.
"My mother was sad—she never got better—and she always kept me a little off balance," said Landon. He went on to say her behavior was unpredictable. "I could do all the bad things—fail a grade, skip school for weeks—and she wouldn't say a word," continued Landon. "But if I drank milk out of a bottle, she'd dropkick me all over the kitchen."
Michael Landon's children were 'terrified' of his mother, according to him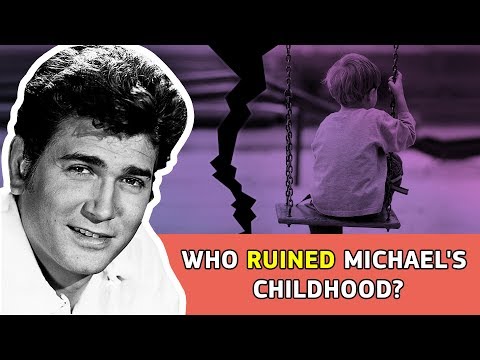 Landon said his children were "terrified" of his mother. According to him, his children were afraid because they didn't know how their grandmother would act from day to day. "She scared the hell out of them because they never knew who she was going to be," Landon told Redbook. "She spoke with a lot of different accents, and she'd use them all in one conversation."
Landon said his mother never received a proper diagnosis for her condition. "Not one psychiatrist did a damn thing to help her," said Landon. "And no one was ever able to diagnose her problem."
Michael Landon said his family tried to be 'normal'
Landon said when he was 9 (in a Life magazine interview, he said he was 10), his family took a vacation together. However, things began to unravel quickly. "When I was 9, we took our only vacation together," said Landon. "I'll never forget it."
Landon said he and his family were staying at a motel, and his father ordered fresh orange juice. However, he said his sister didn't want to drink the orange juice. Landon's sister and father began to argue.
Landon said he saw his mother's behavior suddenly change. The argument seemed to trigger her. The next thing he knew, she left the room and began walking toward the ocean. He said he pleaded with his mother to stop because he was afraid she would drown. Landon didn't know what else to do to keep his mother from hurting herself, so he punched her in the face.
"I didn't know how to swim, so I grabbed hold of her and started punching her in the face," Landon told Redbook. "I hit my mother over and over. Finally, she fell back, and her nose was all bloody."
Landon said he was able to pull his mother onto the beach and away from the water. He told the publication that roughly 45 minutes later, his mother acted like nothing happened. However, the experience was so upsetting that he began vomiting. Landon said all his father did was stand there and "look pathetic." According to him, his father wasn't "strong enough" to handle what was happening to his family.
How to get help: In the U.S. and Canada, text the Crisis Text Line at 741741 to reach a crisis counselor for support.
RELATED: 'Little House on the Prairie': Michael Landon 'Felt Very Guilty' About His Feelings for Another Woman
Follow Sheiresa Ngo on Twitter.
Source: Read Full Article