AceShowbiz –
"You can stand under my umbrella" is not just a song's lyrics for Meghan Markle and Prince Harry, but they have turned it into their reality. The royal couple just made everyone jealous with their romantic display on day 2 of their Australian tour.
Arriving in Dubbo on Wednesday, October 17, the Duke and Duchess of Sussex visited Victoria Park for a picnic to celebrate the community spirit within the region. As Harry took the stage to deliver a speech, rain was falling on the region which has been struggling with drought for the last couple of years.
Not letting the heavy rainfall ruin the event, Meghan played a protective wife and shielded her husband from the pouring rain so that he could stay dry while still carrying on his duty. The former "Suits" star appeared to be gleefully sheltering her husband, smiling while holding the umbrella on the podium.
When Dubbo's Mayor Ben Shields offered the prince his umbrella, Harry proudly said, "It's all right, I've got my wife." The two later continued the tour around the park under the rain while holding their own umbrellas.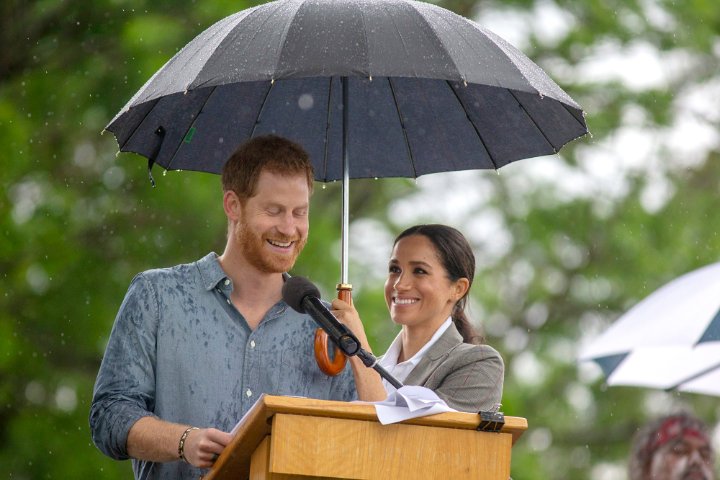 The mayor jokingly said of the rainy day, "Our region has been hit by a terrible drought so we are very pleased that you can bring that terrible English weather here with you." Meanwhile, Harry called the rain a "gift."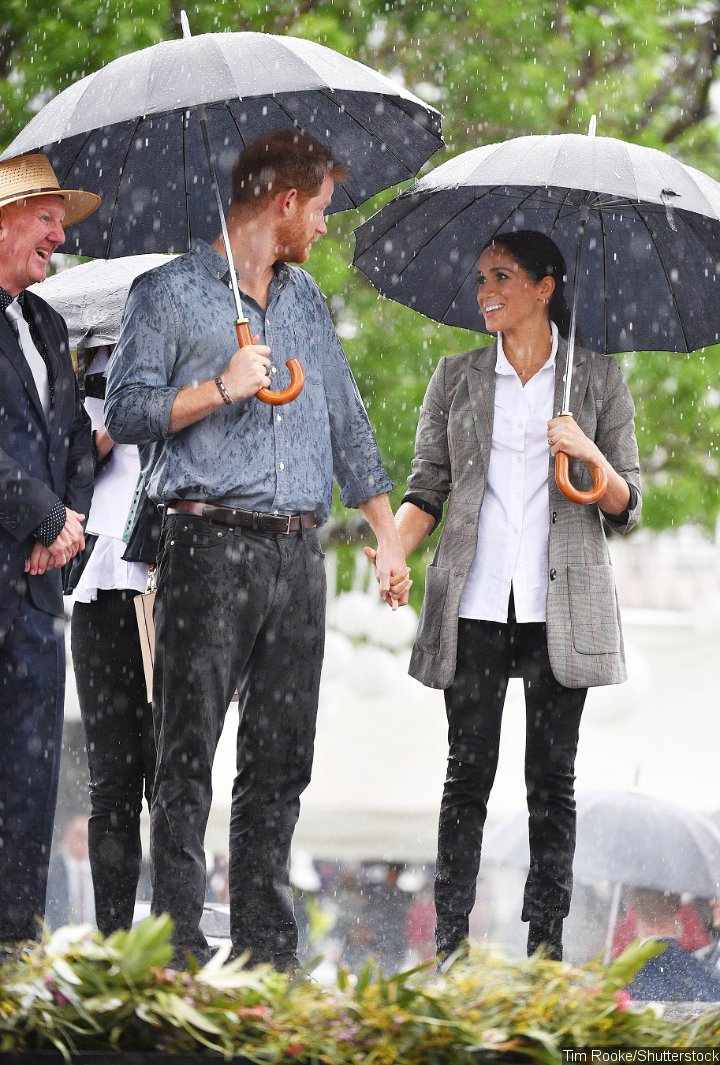 On a more serious note, the redhead prince addressed how the long drought has a very serious impact on the psychological condition of young people in rural areas. "It must be hard not to lose hope when you endure so many dry months end on end knowing that you are powerless to do anything about it," he said in his speech.
"We know that suicide rates in rural and remote areas are greater than in urban populations and this may especially be true among young men in remote regions," he continued. "But outside all of that, here's what I also know. You are one huge community and with that comes an unparalleled level of internal support and understanding."
Harry, who is expecting his first child with Meghan, also shared a sweet moment with a local boy earlier that day. As they arrived at the Dubbo City Regional Airport, they were welcomed by a bunch of local school children.
One boy, 5-year-old Luke Vincent of Buninyong Public School, was particularly very excited to meet the British prince, leaping into the 34-year-old's arms for a giant hug before caressing his face and tugging at his beard.
While Harry replied to the boy's playful gesture by embracing him, Meghan couldn't help smiling watching the two's encounter. The former actress came over to meet the boy who also gave her a hug, but Luke soon turned his attention to Harry again, giving him a hug, a kiss and petting his head.
Source: Read Full Article