We finally saw Meghan Markle again over the weekend at the annual Trooping the Colour event.
But that was just a brief public appearance. When she emerges again, will we meet a completely different Duchess?
Meghan has been a mom for just over a month, having given birth to baby Archie back on May 6.
Photos: Meghan's New Diamond Ring
While Prince Harry got right back on the horse — quite literally when he left the country to play in a charity polo match — it's obviously taking Mommy Meghan a lot longer to get back to her usual busy schedule, apparently much longer than anyone around her thought.
No one is rushing the Duchess of Sussex to get back to being the "type a" she'd always been, but those who know her are surprised.
A source close to Meghan spilled to Us Weekly:
"Meghan is enjoying days at home with Archie and is very much focused on family… We all expected her to be thinking about work, but her life revolves around Archie at the moment."
The important thing is she sounds happy, which is good because, as the insider adds, "spending so much time at Frogmore Cottage can be a little overwhelming at times."
Especially with momma Doria Ragland back stateside and Prince Harry back to trotting the globe in support of good causes.
Despite being more or less alone at times, as much as a Royal can be we suppose, Meghan is doing great, taking motherhood "one day at a time… and loving every moment."
Of course, there is someone making everything easier for Meghan.
Archie!
The insider has all the deets on Baby Sussex, saying:
"He's adorable and super chubby. Very quiet, very well behaved. Doria said that Meghan was the same when she was a baby."
Awwww!
Meghan is so happy, per the source, even Saturday's brief excursion to the Queen's birthday parade was rather trying because it meant leaving Archie for a couple hours:
"She has spent almost every moment with him and saying goodbye was very difficult. But Meghan truly wanted to be at the celebration for the queen. She loved seeing all the other royal children and was doting on them."
It's possible next year Baby Sussex will join them up there.
After all, Prince Louis is the same age now that Archie will be at the time of 2020's Trooping the Colour.
And we know that worked out just fine!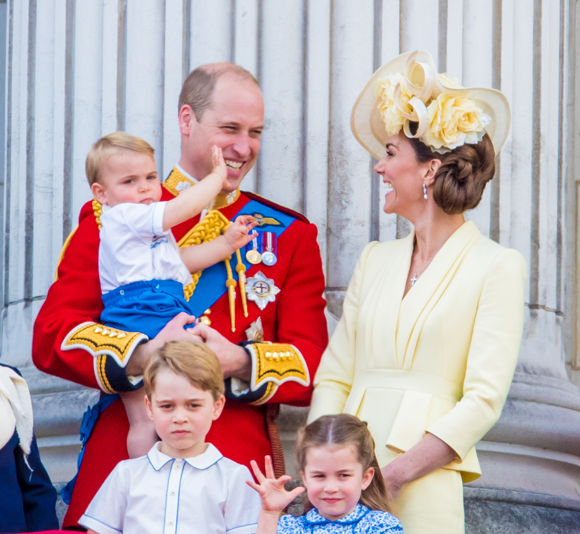 We do know at least one gig on Meghan's schedule.
The Duchess will be the guest editor on the September issue of British Vogue!
Yes, September — the all important Fall Fashion issue!
A source leaked to Us Weekly:
"Meghan will be writing an opinion piece of her own as well as bringing a selection of female change-makers on board to write their own personal essays."
An opinion piece??
Hmm, we wonder if this will be a break with tradition and Meghan will finally talk politics again!
Is Meghan the rulebreaker still in there after all? Exciting prospects…
Not only will she be writing and planning, she'll also be featured in a new photo spread.
Yes, NEW photos post-baby. According to the insider, the photo shoot is NEXT WEEK.
Innerestingly though, it is happening at Frogmore, which means Meghan doesn't have to leave Archie behind after all. And we suppose she'll write her piece and do a lot of the editing over email and conference calls.
Huh. Maybe she can do the whole job while also being a stay-at-home mom.
She may be a new Meghan, but it seems she'll still be every bit as productive as the pre-Archie one.
Are YOU excited for Meghan's issue of Vogue??
Source: Read Full Article