Just when you thought today was going to be a regular shmegular day with no particularly shocking celebrity news whatsoever, surprise! Frequently oversharing couple, Miley Cyrus and Cody Simpson, are here to change that, I guess.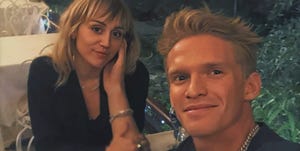 Turns out, the likely reason both Miley and Cody have been on the down-low recently is because they're hard at work on their music and preparing for their next big moves. Miley's heading on the road pretty soon to do the World Tour Bushfire Relief charity concert in Australia in March (bless her heart). Meanwhile, Cody's working hard on recording some upcoming music, which he documented on Instagram, as one does.
"I love my job," he wrote to accompany some pics of him smiling in the studio. "@princeneptunepoet book coming April 7, new music to coincide."
As innocent as Cody's announcement sounds, Miley took it as an opportunity to reveal the NSFW reason why Cody was cheesing so hard. "Where's the screen shot of me flashing my boobies while u record," she wrote. "Tip: smiling when you sing helps pitch by brightening the sound! You're welcome for all the above!" ¯\_(ツ)_/¯
Of course, this isn't the first time that Miley and Cody did NSFW-ish things on Instagram. Remember the when Cody posted pics of Miley in lingerie not once, but TWICE to his feed? Clearly, they cannot be stopped.
In conclusion: Miley and Cody will not be cooling off anytime soon. Guess we just have to deal with it!
Source: Read Full Article