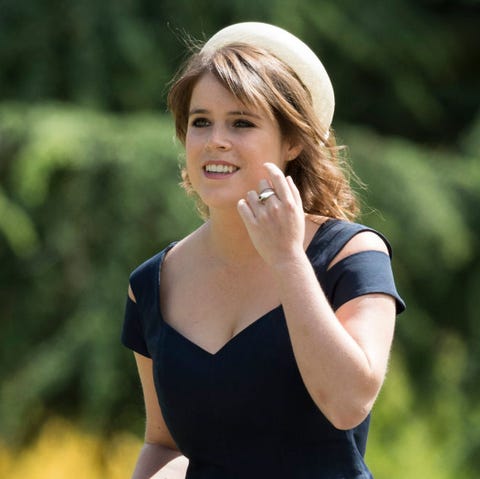 Most of the world knows Princess Eugenie of York as the granddaughter of Queen Elizabeth and the cousin of Princes William and Harry. She's currently ninth in line for the throne, and she's getting married to Jack Brooksbank! But beyond her royal and relationship statuses, there's so much more to know about Eugenie. Here are 12 things you probably didn't know about the soon-to-be-wed royal:
1) She was named after three members of the royal family.
"Eugenie," which is a pretty unusual name by American standards, was inspired by the moniker of Victoria Eugenie of Battenberg (1887-1969), the granddaughter of Queen Victoria (1819-1901) and the daughter of Princess Beatrice of the United Kingdom (1857-1944). Victoria Eugenie later went on to become Queen of Spain after marrying King Alfonso XIII.
Princess Eugenie's middle names, "Victoria" and "Helena," pay tribute to Queen Victoria herself, and her third daughter, Princess Helena (1846-1924).
2) She was the only royal of her generation that had a public baptism.
Before the births of Prince George, Princess Charlotte, and Prince Louis, the royal fam typically kept christenings private. According to a People article from 1991, "Windsor babies" were typically baptized around the age of 4 months, either in Buckingham Palace or Windsor Castle. But when it was Eugenie's turn, she was 9 months old, and the family held a public baptism at St. Mary Magdalene Church, Sandringham—the same church where Charlotte would eventually be baptized.
3) She works at an art gallery.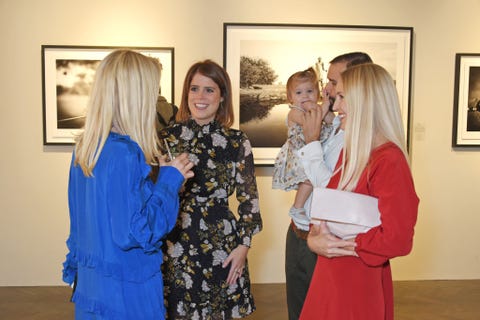 Eugenie definitely isn't working full-time shifts for the palace like Will and Harry. In fact, she doesn't really have official royal duties. Instead, she's got a nine-to-five like everyone else. She currently works at an art gallery called Hauser & Wirth London, where she's been for three years now, as one of its directors.
Before her current job, she had a stint in New York City as a specialist at online auction house, Paddle8.
4) She doesn't get bodyguards as royal protection.
View this post on Instagram
Loved spending time at the Lord Mayor's Big Curry Lunch today, meeting so many incredible people all supporting 'ABF – The Soldiers' Charity @soldierscharity and their work with those we owe so much to. Thank you @helenabrahamphoto for the memories.
A post shared by Princess Eugenie (@princesseugenie) on
Because the Princess of York, as well as her older sister Beatrice, don't perform official royal roles, they don't get royal protection. According to reports, Prince Charles and their father Prince Andrew even got into a heated argument regarding the matter.
5) She does circuit training.
In an interview with Harper's Bazaar in 2016, the princess revealed that part of her morning routine is going to the park (probably somewhere in Central London, where she lives) to "do circuits." "They're quick: burpees, squat jumps, lunges, the whole lot." And when she isn't in the park, she likes to go to a womens-only gym called Grace Belgravia.
6) She has eight-inch titanium rods in her back.
View this post on Instagram
Today is International Scoliosis Awareness Day and I'm very proud to share my X Rays for the very first time. I also want to honour the incredible staff at The Royal National Orthopaedic Hospital who work tirelessly to save lives and make people better. They made me better and I am delighted to be their patron of the Redevelopment Appeal. To hear more of my story visit http://www.rnohcharity.org/the-appeal/princess-eugenie-s-story @the.rnoh.charity #TheRNOHCharity #RedevelopmentAppeal #RNOH #NHS
A post shared by Princess Eugenie (@princesseugenie) on
Eugenie was born with scoliosis, and at the age of 12 had to undergo eight hours of major corrective surgery. This involved inserting eight-inch titanium rods into her back, and one-and-a-half inch screws at the top of her neck. She lives with the metal rods permanently.
7) She went to the same boarding school as Kate and Pippa Middleton.
View this post on Instagram
Such a lovely day going to see my old school, Marlborough College and opening the newly refurbished Memorial Hall, built to honour the 749 former pupils that lost their lives on the battlefield in WWI. So many happy memories visiting my old art school and house. #throwbackthursday
A post shared by Princess Eugenie (@princesseugenie) on
As a teenager, the Princess of York attended Marlborough College, just like Kate Middleton and her sister Pippa. It's a prestigious, co-educational, independent boarding school. Kate was eight years ahead of Eugenie, and Pippa was seven years ahead.
8) She graduated with a 2:1 degree from Newcastle University.
For all you Americans, this means that Eugenie graduated with second honors from Newcastle, with degrees in English and Art History. In short: she's got two degrees and is super smart.
9) She's been collecting airplane tickets since she was 16.
Eugenie revealed that one of her hobbies is collecting restaurant cards, as she and her soon-to-be husband Jack Brooksbank love to try new places all the time. She's also been collecting airplane tickets from her travels. She told Harper's Bazaar, "One day, I'm going to turn them into wallpaper."
10) She's friends with Harry's exes.
Just because Harry's no longer with them doesn't mean Eugenie had to sever her ties with Chelsy Davy, Cressida Bonas, and Harry's alleged fling, pop star Ellie Goulding.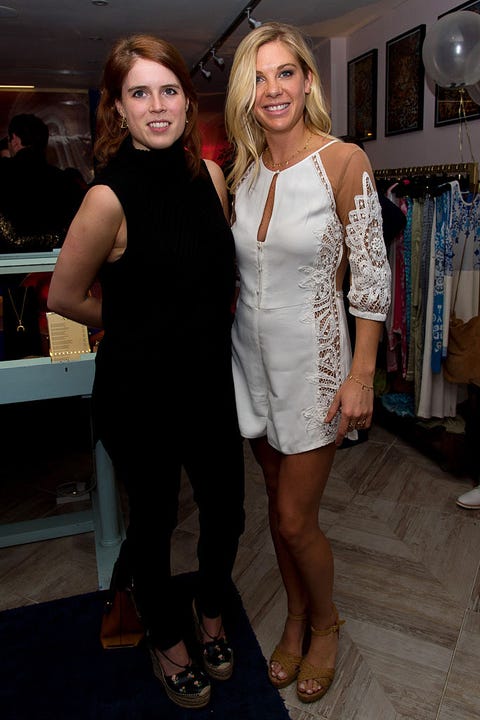 The princess grew close with Chelsy Davy after her seven-year on-and-off relationship with Harry. She even attended the launch of Davy's jewelry line in 2016.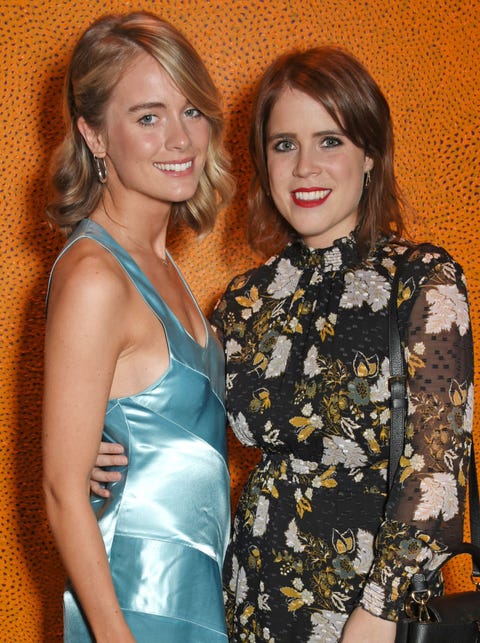 Meanwhile, it was actually Eugenie and Beatrice who reportedly played matchmaker and introduced Harry to English actress and model Cressida Bonas. Their friendship pre-dates the two-year relationship, and has clearly outlasted it.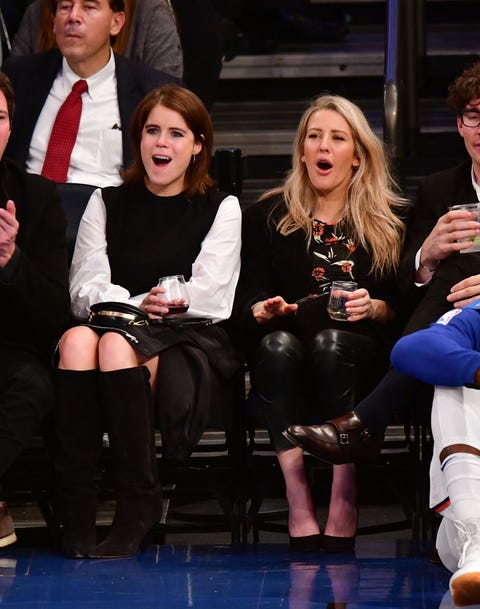 English pop star Ellie Goulding is known to be one of the princess's closest friends. They've been in public together on many occasions, including a basketball game between the Brooklyn Nets and New York Knicks at Madison Square Garden. Goulding was also linked to Harry for a time, although whether they had an actual relationship was never confirmed.
11) She likes a fun mani.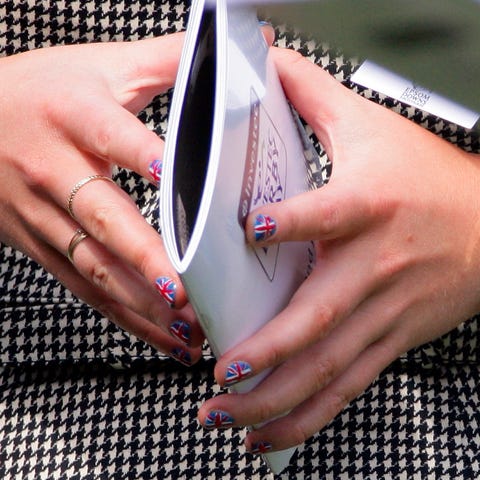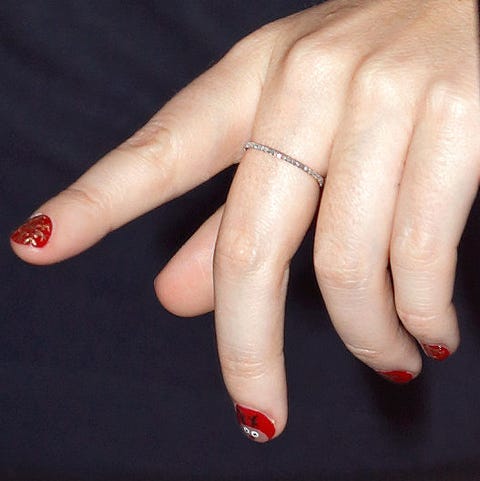 Photographers have, on a couple of occasions, captured up-close pics of Eugenie's festive manis. On Derby Day at Epsom Racecourse on June 2, 2012, the princess wore Union Jack design nails. And during the Queen's lunch on December 16, 2015, she had Christmas-themed art featuring Rudolph the red nose reindeer.
Meanwhile, Meghan and Kate—who are both required to abide by the Royals' fashion rules—are only allowed to wear neutral-colored polish.
12) She likes to Netflix and literally just chill.
In her interview with Harper's Bazaar, Eugenie said that she's a fan of Viola Davis and How to Get Away With Murder, as well as British show Outlander. And when she's with her fiancé, she tends to watch The Walking Dead. Her indulgences? "Chips [or American fries], Diet Coke, nuts! Cashew nuts with mustard are the best. Netflix."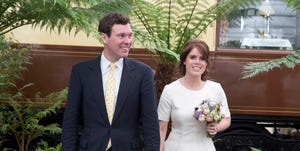 Source: Read Full Article