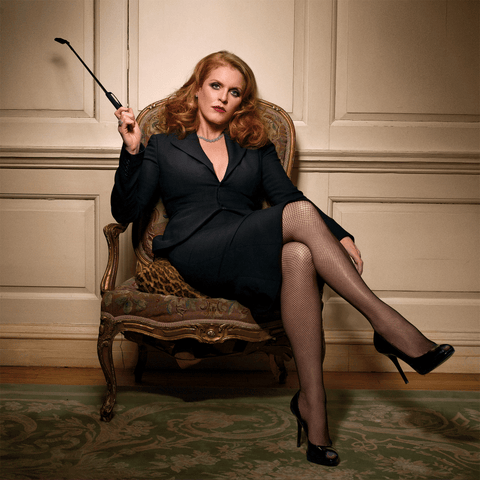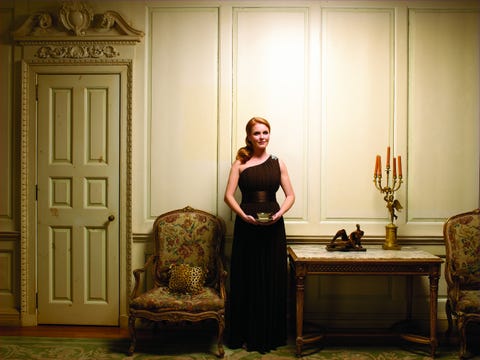 This year marks not only Sarah's triumphant decade-long run as a spokesperson for Weight Watchers but also the January launch of her own company, Hartmoor, "a global inspirational lifestyle and wellness company" à la Martha Stewart. "I'm the boss," beams the co-CEO once better known for spending than making money. "Hartmoor is a department store of everything I do: books [she's written 24, and another in her children's series Little Red is in the works, and a portion of proceeds will go to her charity Children in Crisis], a Web site," and products like her Slatkin & Co. candle, available in May, with a percentage of sales going to the Sarah Ferguson Foundation.
The duchess's career has been both a self-esteem builder and a necessity. "I've always helped fund my daughters," she says of princesses Beatrice, 18, and Eugenie, 16. "Andrew does the best job he can, but he is the second son, so I've always helped out." Currently, the girls live with their father at Royal Lodge, the spacious digs he inherited upon the queen mother's death, where Sarah also stays when in England, which isn't often. "I really don't live anywhere," says the duchess, who constantly circles the globe for business or charity work, "except perhaps New York," where Hartmoor occupies a suite of swank Madison Avenue offices and she maintains a small apartment, "more like a room and desk."
Her daughters, she proudly adds, "are extraordinarily bright. Even with dyslexia, Beatrice got A's in history and classics. We do everything together, even go clubbing, which caused some people to say, 'Can't you back off? They don't want their mother there.' So I asked them and they said, 'No, we want you to come because you're hip-hop, crazy, mad.' I just don't see the world like most people. I don't tell my daughters anything. They decide; I guide"—and quite brilliantly, it seems. Last month the American Cancer Society awarded Sarah its Mother of the Year award—a remarkable victory for the woman whose own mother deserted her family for Argentinian polo player Hector Barrantes when Sarah was 12. "Mum returned from a trip to South America, walked in the farmhouse, and said to my unsuspecting father: 'I'm going.' There were screams and shouts, and then she just left. Her last words to me were 'I don't like your hair,' because while she was away, instead of getting a haircut in London as she always insisted, I'd had it cut in the village shop. Being a child, I believed that disobeying her caused their split—and started eating, compensating for my guilt." The scars still linger.
"I was so lacking in self-confidence when I found Weight Watchers' counselors, who saved my life, that if you suddenly looked at me, I'd say, 'What did I do?' Even now I apologize for most things and I don't really know why," she muses, her large blue eyes searching, vulnerable, "except perhaps to say 'Sorry.' Being blamed for the failure of the monarchy, living through 15 years of terrible press, was very difficult. To this day, I take everything very personally."
I'd like to [date], but I don't meet men; besides, they're terrified of me.
And speaking personally, Sarah—ever the vivacious, fun, quick-to-self-deprecate, gracious redhead—confesses that she's "very lonely," having not dated for "five years. I'd like to, but I don't meet men; besides, they're terrified of me. Not only do I come with the world's press, but I'm 47 and I say what I feel. I'm not going to play games. Still, there are many, many evenings when five o'clock rolls around—I never stop working, of course—but still I long for someone to say, 'Let's go have a glass of wine.'" She sighs. "But when you're a survivor, you do what it takes."
As for surviving the royal family, Sarah demurs when asked to give advice to potential royal brides like Prince William's girlfriend, Kate Middleton. "All I'd say is, no matter what, stay with your man; don't let him be taken from you. Prince or no prince, love that man, and that love will hold him. I married my boy, who happened to be a prince and a sailor, because I loved him— and still do—my only condition being, 'I have to be with you.' And two weeks after the wedding, the courtiers told Andrew, who thought he'd be stationed in London, 'You have to go to sea.' I spent my entire first pregnancy alone; when Beatrice was born, Andrew got 10 days of shore leave, and when he left and I cried, they all said: 'Grow up and get a grip.' So don't let them tell you what to feel, how to do things, who you are. Be yourself."
Source: Read Full Article