Scott Disick, Kourtney Kardashian and Travis Barker are three people we probably won't be seeing hanging out all together any time soon. But that hasn't stopped fans from making a joke about the trio at this year's Met Gala, and it's all very hilarious.
Following her decade-long on-off relationship with Scott, Kourtney announced her engagement to Travis back in October 2021, with the pair remaining just as loved-up as ever. In the past, Scott hasn't appeared to be the biggest fan of Kravis' romance, thanks to his famous leaked DMs shading the couple's PDA – and reports have recently claimed that he's "not over" Kourtney moving on.
As for now, Kourt and Travis made their Met Gala debut together on Monday, and fans have noticed something pretty funny about the red carpet concerning Scott.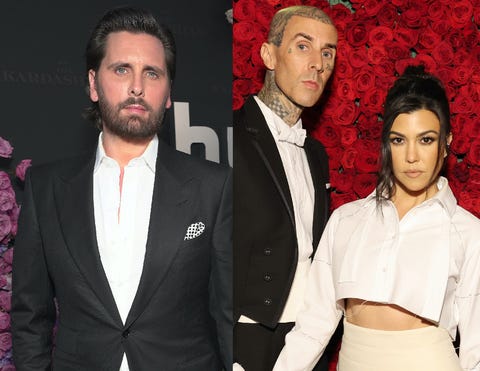 While Scott wasn't actually in attendance at the event, fans on social media reckon they've spotted him "in disguise" on the red carpet, and everyone is linking it to Kourtney and Travis.
Posting a picture of an *uncanny* Scott lookalike in a full face of makeup and a very elaborate outfit, fans joked that it was "Scott Disick in disguise at the Met Gala to spy on Kourtney and Travis."
One fan commented, "😂😂😂😂 I didn't want to get involved, but this is funny," while another joked, "Scott… This is too obvious. Better borrow Kim's Balenciaga [outfit from] last year's Met Gala 💀🤣🤣."
https://www.instagram.com/p/CdGUR5rse9W/?utm_source=ig_embed&utm_campaign=loading
A post shared by Eva 💕 (@dashuniverse)
Sadly, the person in question turned out *not* to be Scott (though some fans were pretty convinced that it could have actually been him). Instead, the Scott lookalike has been revealed as Fredrik Robertsson, Editor-in-chief of Swedish Boy magazine. Robertsson was also incidentally confused for actor Jared Leto by many Met Gala spectators so, hey, seems like he's a true chameleon.
Does that mean a public Kravis-Scott reunion is still pending, then?
Source: Read Full Article