The 'Only Murders in the Building' actress has issued an apology after fans believe she's being 'shady' towards her ex-boyfriend Justin Bieber's wife over skincare video.
AceShowbiz –Selena Gomez is setting the record straight that she has no bad blood with Hailey Bieber (Hailey Baldwin). The "Only Murders in the Building" actress has insisted that she has "zero bad intention" after she was accused of mocking her ex-boyfriend Justin Bieber's wife on social media.
Making use of her TikTok account on Wednesday, May 11, the 29-year-old singer/actress wrote, "This is why I believe in taking care of your mental health," before adding, "Guys no idea what I did but I really am sorry. Zero bad intention. Deleting soon." She later turned off all the comments in the comment section of her controversial video.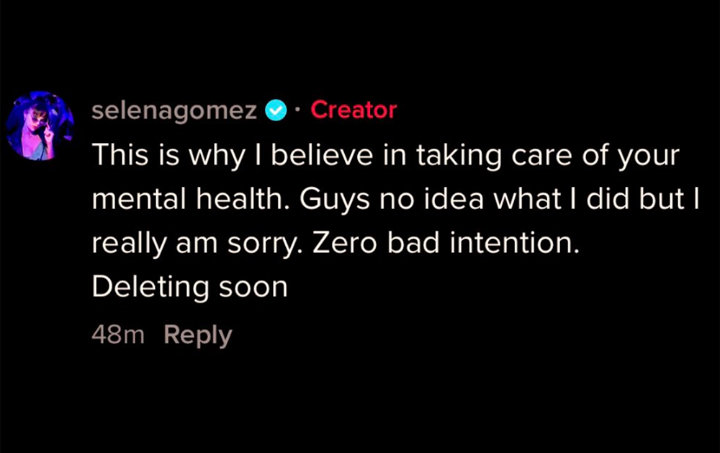 Selena Gomez released a statement after fans accused her of making fun of Hailey Bieber on TikTok.
In the said clip, Selena could be seen demonstrating her skincare routine. At one point, she appeared to roll her eyes, prompting some fans to speculate that she's being "shady" towards Hailey, who posted a "Get Ready With Me" clip a few hours earlier.
While the "Lose You to Love Me" hitmaker's video made no mention of Hailey, some fans called out the timing of the video and jumped to the conclusion that it was somehow mocking the 25-year-old model's clip. "Lol I know who she's referring to," one person commented, while another chimed in, "Wait.. is she trynna [sic] make fun of you know who."
"It's giving I'm a performative loser who blatantly gets away with bullying other women," said a separate TikTok user. A fourth commented about "the way [Selena] twisted her eyes in every step."
Last month, Hailey begged social media trolls to "leave" her "alone" after she posted herself lip-synching to a TikTok version of Justin's "One Time", in which Justin allegedly sings about Selena. "Enough time has gone by where it's valid to leave me alone. I beg of you. Truly. That's my only request. Be miserable somewhere else, please," she said in a video posted on April 12. In the caption of her post, she stressed, "This is for you guys in my comments every single time I post."
Back in October 2019, Selena asked her fans to "be kind" after Hailey received hate over her song "Look at Her Now" which seemingly addresses her breakup with Justin. Though Selena didn't mention the model by name, she said, "I am grateful for the response that the song is getting. I'm so grateful. However, I do not stand for women tearing women down."
"I will never, ever be by that. So please be kind to everyone," Selena continued. The "Spring Breakers" actress added, "It doesn't matter what the situation is, if you're my fans don't be rude to anybody, please."
Selena and Justin were first romantically linked in 2011. They dated on-and-off for a few years before calling it quits for good in early 2018. Just five months later, Justin quietly married Hailey at a New York City courthouse, which later sparked a feud between fans of the model and former Disney star.
Source: Read Full Article