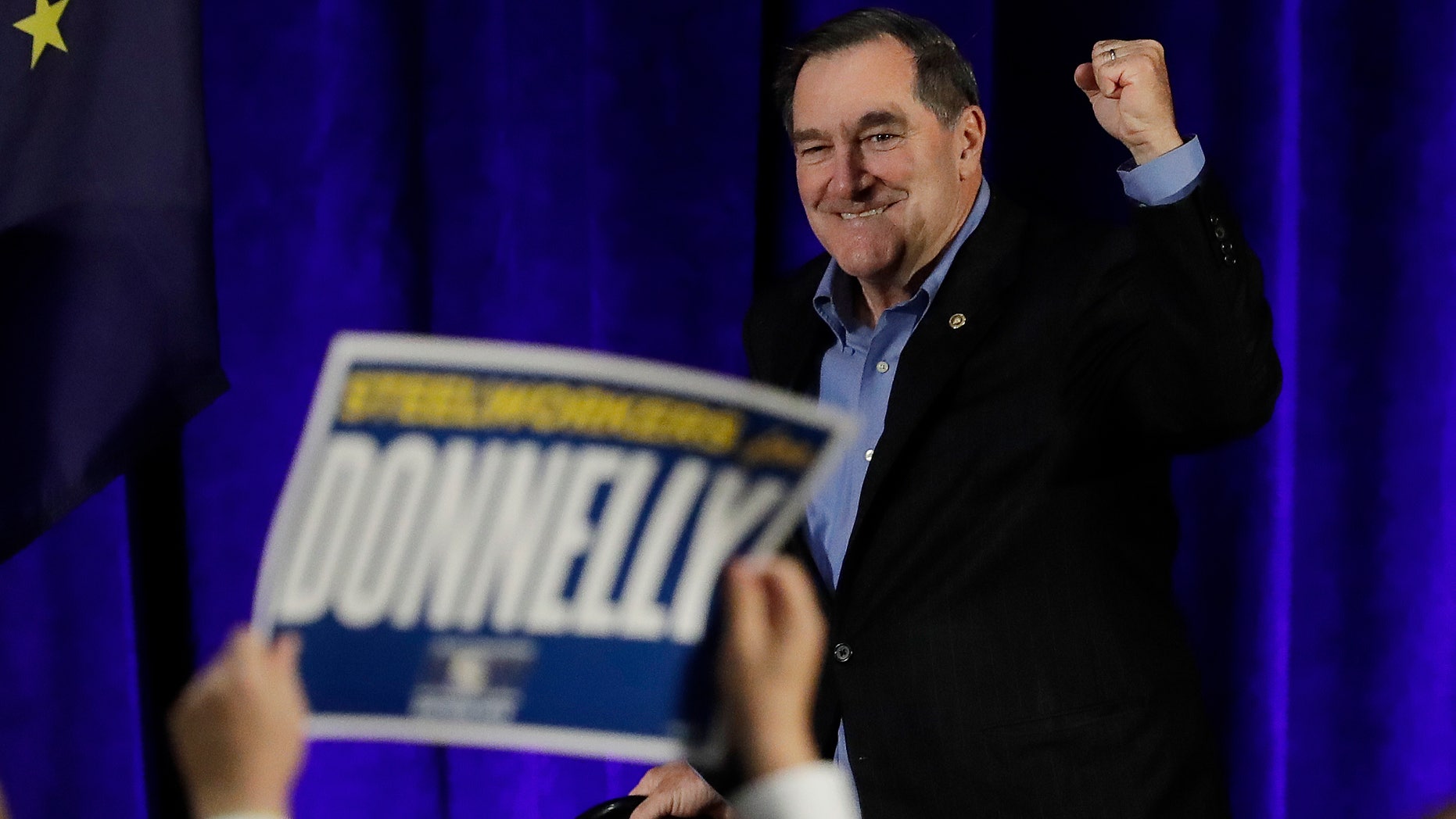 Democratic Sen. Joe Donnelly walks to the podium during a rally, Friday, Oct. 12, 2018, in Hammond, Ind.
(AP Photo/Darron Cummings)
Democratic Senator Joe Donnelly is taking a page from "Veep's" Jonah Ryan.
In a video posted on Wednesday titled "Axe," Donnelly, who is running for re-election in Indiana, almost mirrors a 2016 fictional campaign ad with the HBO series' character.
"I'm an easygoing guy, but not when Mike Braun keeps lying about my record," Donnelly says before chopping a piece of wood.
"I split with my own part to support funding for Trump's border wall, the liberal left wants to chop defense spending, no way!" he continues, adding: "I'm not into a fair fight. I'm about giving our troops the edge. I voted to extend the Bush tax cuts. And Mike Braun? He ships jobs to China. We've got to cut that out."
As for the political comedy's campaign? Ryan, played by Timothy Simons, is seen in the same woodsy setting with an ax in hand and piece of wood in front of him.
ENDANGERED DEMOCRATIC SEN. JOE DONNELLY TRIES TO DISTANCE HIMSELF FROM 'RADICAL LEFT' IN NEW AD
"President Selina Meyer thinks she can chop our prosperity, our dignity, and our stature around the world," a narrator states as Simons starts chopping wood.
"Well someone is chopping back," the narrator adds, "Vote Jonah Ryan. He will chop President Meyer down to size."
According to Mediaite, an eagle-eyed Twitter user was first to point out the striking similarities.
FOX NEWS MIDTERM ELECTIONS HEADQUARTERS
As previously reported, the endangered Indiana senator is locked in a crucial battle for re-election with Republican Mike Braun. Fox News has ranked the race as a toss-up.
Fox News' Kaitlyn Schallhorn contributed to this report. 
Source: Read Full Article