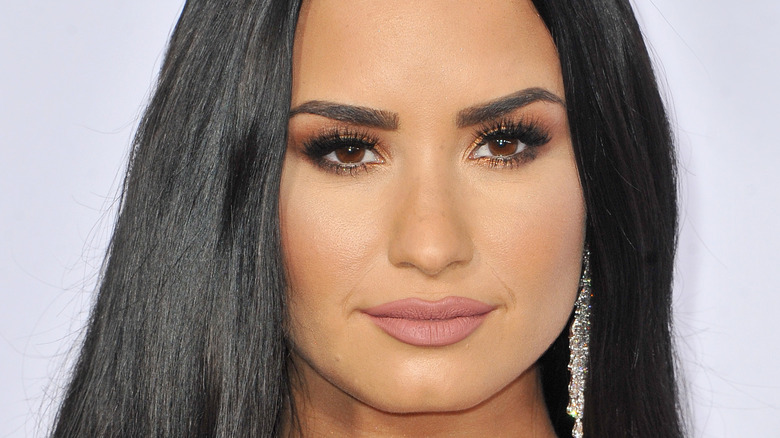 Demi Lovato is one of the most recognizable names in the entertainment industry, thanks to their incredible singing skills and acting chops they've showcased time and time again throughout their career. Lovato first got a taste of the limelight back in the early 2000s when they made their television debut on "Barney & Friends," appearing in 10 episodes from 2002 to 2004 (via IMDb). Although Lovato had a few notable roles after their stint on "Barney," the former Disney star was catapulted straight into the spotlight after landing leading roles in "Camp Rock," "Sonny with a Chance," and "Princess Protection Program."
Since then, Lovato's resume has only grown more impressive, as they've released seven studio albums and multiple documentaries throughout their career, gone on multiple world tours, and of course, continued acting, appearing in "Glee," "Zoolander 2," "Will & Grace," and more.
However, as we all know, A-list fame usually comes with a price, and more often than not, celebs make headlines left and right for who they're seen with, who they're rumored to date, who they've been in a relationship with, and pretty much any detail of their private life that can be divulged. From their Disney co-stars to professional athletes to soap opera actors, here's everything to know about Demi Lovato's complex dating history.
Demi was linked to this Disney star in 2008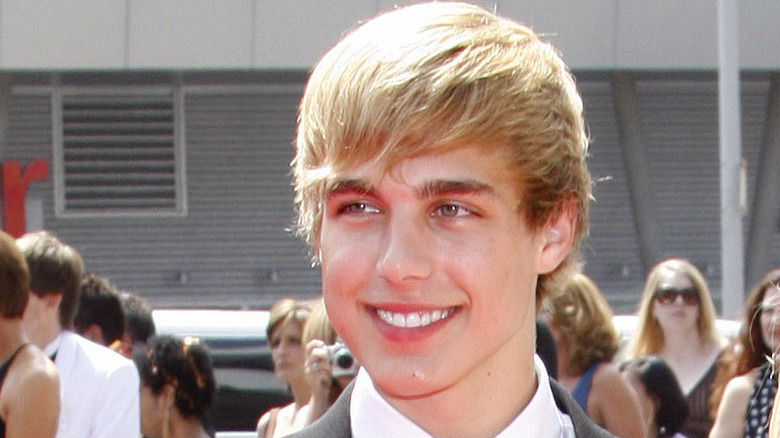 In 2008, Demi Lovato was linked to fellow Disney star, Cody Linley, who is best known for his role as Jake Ryan in the ever-popular Disney Channel original series, "Hannah Montana" (via IMDb). Although they only dated for a short time, Linley gave Seventeen the scoop about their first date, detailing what he calls "the most up and down night of my life" after his car broke down on the way to pick up the "Camp Rock" star.
"When I finally got Demi, we went out to eat and I was explaining to [them], 'Yeah, my car, I'm sorry, it broke down,' and as I'm saying that, it starts making a crazy noise again!" he dished. "And I was like, 'Oh, oh, oh no,' and [they're] like, 'What's happening?' I was like, 'Nothing, it's all good.'"
Eventually, the pair made it to the restaurant, and according to Linley, Lovato's parents let the couple stay out until 11 p.m. — even though Lovato had to catch a flight early in the morning. He even helped the "Sorry Not Sorry" singer pick up a few things for their trip after dinner. "See, those are the dates that are the best because it was the most disastrous but fun date," Linley told the magazine. "I never had anything happen like that before. A car breaks down, you go get steak, you go get tweezers. It's pretty eventful when you go out on a date with Mr. Linley!"
They moved on with a Metro Station guitarist in 2009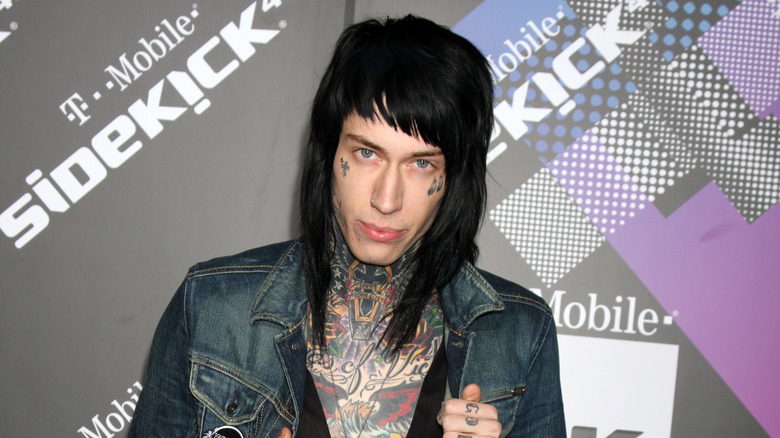 Demi Lovato and Trace Cyrus, who met through his younger sister, fellow Disney darling Miley Cyrus, got together in 2009. Although the pair's relationship stemmed from a friendship, Lovato and Trace clearly had something special. 
Ultimately, distance and their age gap got in the way of their romance, as Trace explained to People shortly after their split. "Demi is one of my good friends and I definitely became very, very close with [them] in the past few months, and it's something I really wanted to make work," he told the outlet. "But unfortunately, we both have very busy schedules."
"We gave it a shot and that's all you can do. Every time I hung out with [them] or talked on the phone with [them], it was amazing. [They're] someone I can totally relate to. But [they] are a lot younger than me," Trace, who was 20 at the time, explained of his and Lovato's four-year age gap. "When someone is that much younger, you're looking for different things in relationships. Maybe when [they're] older and we've both matured, we'll be looking for the same thing and it can work out."
Demi famously dated a Jonas brother in 2010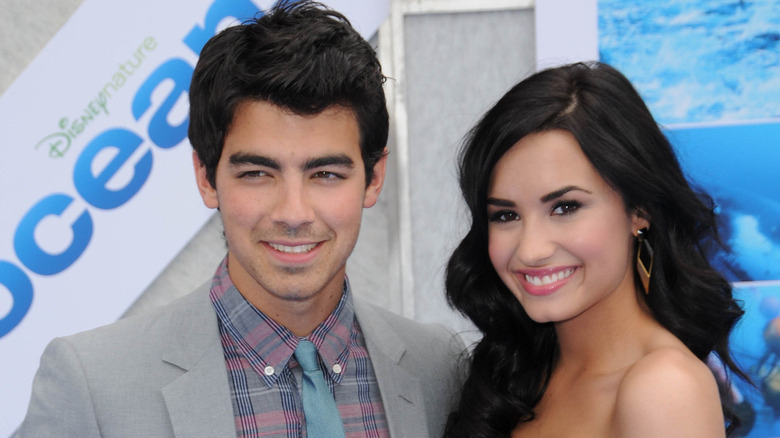 Demi Lovato and Joe Jonas, who both starred in the hit Disney films, "Camp Rock" and "Camp Rock 2," dated for a short time in 2010. During an interview with Billy Bush of Access Hollywood on "The Billy Bush Show," Lovato spilled the beans about the couple's kind-of-secret relationship when Bush pressed Lovato about their love life. "Oh? So you're dating him now?" Bush asked the "Sonny With A Chance" star, to which they replied, "Umm, yeah he is my best friend and he is incredible. He's perfect," per People.
However, less than 48 hours later, Jonas put the brakes on their relationship, saying that the longtime friends were better off as just that — friends. "In this business, it's really hard to find people who are going to be there for the rest of your life," he explained, via Elle. "When I met Demi, I knew right away that our friendship was really strong. I don't want to lose that ever," Jonas admitted.
"Demi and I knew going into our romantic relationship that it may not be an easy one," Jonas additionally told Us Weekly at the time. "I realize over the time we have shared together that I feel I care more about our friendship right now. It was my choice to break up, but I love [them] as a friend. [They've] been there for me when I needed [them]. I will continue to be [their] friend and be there for [them]."
Then there was the That '70s Show star that they dated for 6 years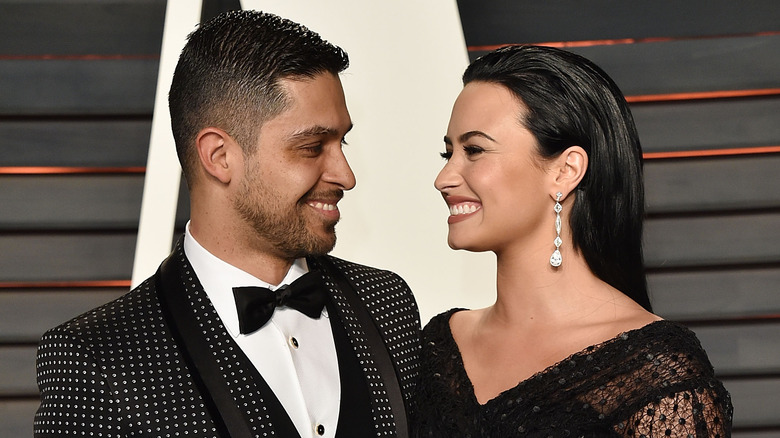 After splitting with Joe Jonas, who went on to marry Sophie Turner, Demi Lovato started a hush-hush relationship with Wilmer Valderrama of "That '70s Show" when Lovato was just a teenager. "I met him on January 11, 2010," Lovato recalled in their 2017 documentary, "Simply Complicated" (via Elle). "I thought, 'I have to have him,' but I was only 17 and he was like, 'Get away from me,'" as Valderrama was more than 12 years older than the Disney star at the time. "When I turned 18 we started dating. I think it was love at first sight, we connected on a level that I've never connected with anybody before, he was just my rock, my everything."
Although the couple kept their relationship a secret for years, in 2015, Lovato penned a sweet message about the "NCIS" star, writing (via People), "I wish I could put into words how grateful I am for this man right here. But my love has grown to a level that words could never possibly express how much this man completes me. He's loved me the way I never thought I deserved to be loved and with this day marking my 3rd year sober after sharing my ups, putting up with my downs and supporting my recovery he still never takes credit and I want the world to know how incredible his soul is."
Lovato concluded, "I really wouldn't be alive today without him. I love you, Wilmer."
Demi and Wilmer called it quits in 2016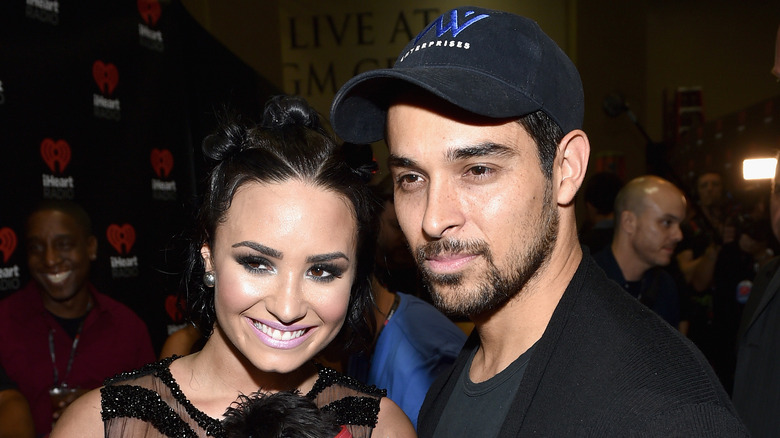 After nearly six years of dating, Demi Lovato and Wilmer Valderrama decided to end their relationship, announcing their split in a joint statement on Instagram in 2016. 
"After almost 6 loving and wonderful years together, we have decided to end our relationship," the statement read (via People). "This was an incredibly difficult decision for both of us, but we have realized more than anything that we are better as best friends. We will always be supportive of one another. Thank you to everyone who has offered us kindness and support over the years. With only love, Wilmer & Demi."
A few months after their split, Lovato opened up to Glamour about moving on with their life and letting go of their years-long relationship. "I think it's healthy to be able to start over with someone else. Being sick was always a part of my relationship with him; I always had something wrong with me. I needed to let go of that," they told the outlet. "It was hard to depart from somebody who saw everything, but it may be nice to start fresh with somebody. Because that person I was when I was a lot younger is not who I am today."
Wilmer was also there for Demi after their July 2018 overdose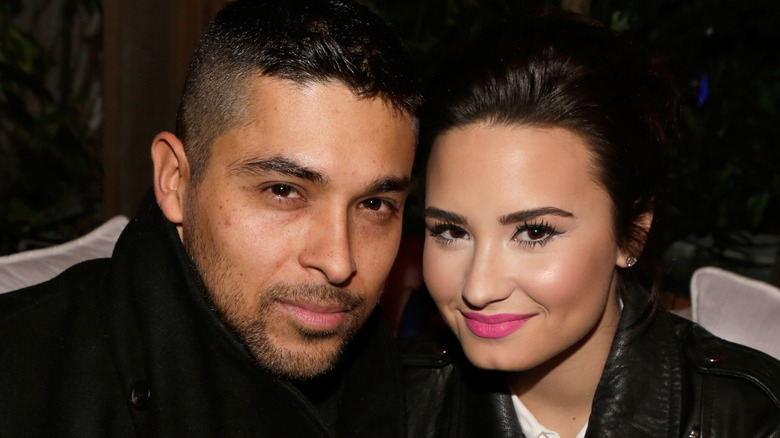 Despite breaking up two years prior to Demi Lovato's nearly fatal overdose, which they detail in their four-part YouTube docuseries, "Demi Lovato: Dancing with the Devil," Wilmer Valderrama kept his word about always being there for his former love and visited Lovato in the hospital as they recovered.
"He knew [they were] going through a tough time but he wasn't prepared for this," a source told People at the time. "He saw [them] through so many ups and downs and was [their] rock through some of [their] darkest moments. To see [them] back in such a sad and vulnerable place is heartbreaking for him."
Valderrama "always cared deeply for [them] and they truly remained friends after they broke up," the insider continued, adding, "Demi always hoped they would end up back together in the future. He's the love of [their] life and vice versa."
Demi had a few short-lived romances after their Wilmer split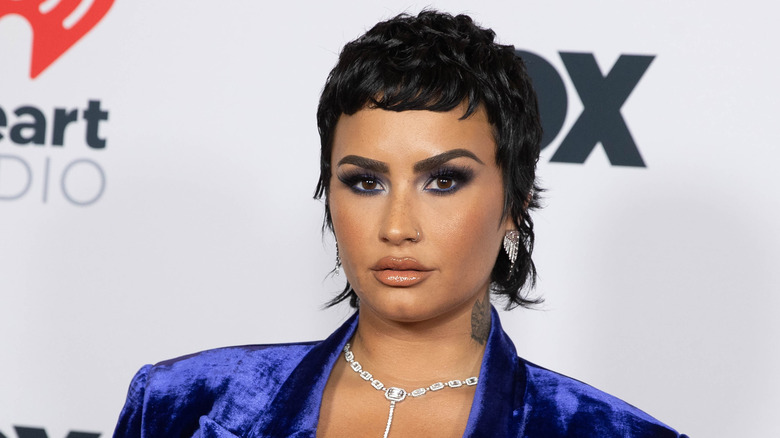 After splitting with "That '70s Show" alum Wilmer Valderrama, Demi Lovato was linked to a few professional athletes, including UFC fighter Luke Rockhold. "They met through friends a couple months ago," a source told People in August 2016. "He also attended [their] concert in Anaheim. They like each other, but they're not exclusive. They're both open to dating other people."
After a few months of dating, the couple split in January 2017, per TMZ, and Lovato was linked to another professional fighter, Guilherme "Bomba" Vasconcelos. The couple celebrated New Years Eve together, and were spotted out together on multiple occasions early in the year. However, a source told People in July 2017 that the romance had fizzled out. "They had a quick fling but it's over now," an insider revealed to the magazine.
Lovato was also linked to Enfants Riches Déprimés designer Henry Levy toward the end of 2018 (via E! News), "Bachelorette" contestant Mike Johnson in September 2019 (via E! News), and then went public with their romance with model Austin Wilson in November of the same year. However, the romance was short-lived, and the pair called it quits in December. "[They are] concentrating on [themselves] and [their] work right now, as well as focusing on [their] relationship with God," a source told People. "[They're] excited for what this next chapter in 2020 will bring."
Demi's whirlwind relationship with Max made headlines in 2020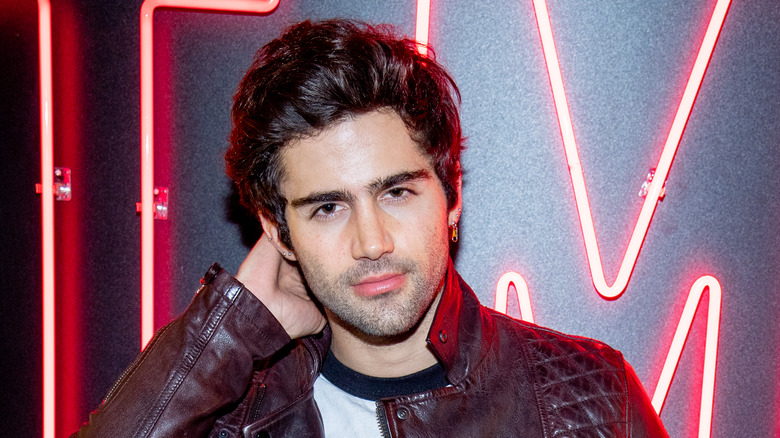 During an appearance on "The Ellen Degeneres Show" in March 2020, Demi Lovato opened up to the daytime talk show host about their love life, claiming that they were single and focusing on themselves for the time being. 
"I was on dating apps for a while, but as I've spent some time with myself over the past couple months, I realized that I am the type of person that will find any way to regulate when I'm sad or lonely or whatever," Lovato said (via Glamour). "I have to fight those battles on my own, and I can't let somebody come in and fix those issues for me. So right now I'm single and spending my Saturday nights by myself."
However, later that month, Lovato made an accidental appearance on "The Young and the Restless" actor Max Ehrich's Instagram Live, fueling rumors of a budding romance between the pair. In May, the couple confirmed their relationship by posting clips of the two of them locking lips and dancing in Justin Bieber's "Stuck With U" music video on Instagram, with Lovato captioning the video, "Happy to be a part of something so special right now. Like really REALLY happy if you can't tell… [heart face emojis] #stuckwithu."
Demi and Max got engaged four months into dating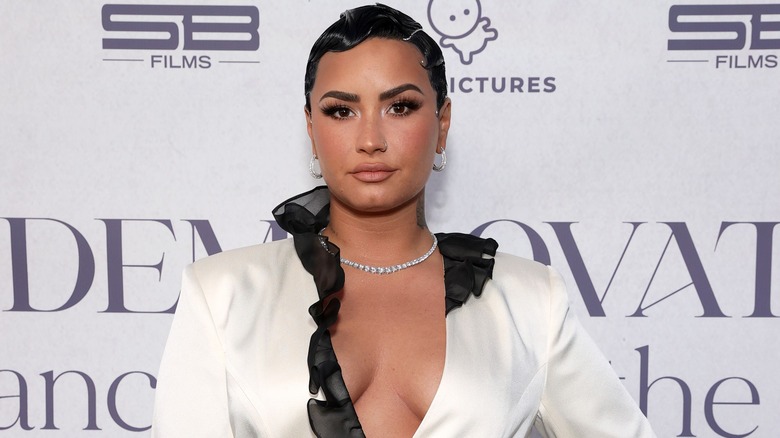 Demi Lovato shared the exciting news on their Instagram on July 22 — just four months after the pair were rumored to have started dating — penning a lengthy caption about the couple's relationship and subsequent engagement (via People).
In September, Lovato opened up about their relationship during an appearance on "The Morning Mash Up," telling the radio show, "We were able to share this time together that we wouldn't have normally gotten to spend. And that accelerated our relationship on a level that you can't really explain to people, but quarantine either makes or breaks the deal. And it really made that. So I'm really blessed, really fortunate, and continuing to count my blessings every day."
However, less than two weeks after their "Morning Mash Up" interview and just two months after Ehrich popped the question, the couple surprisingly called off their engagement and ended their whirlwind relationship. "It was a tough decision, but Demi and Max have decided to go their separate ways to focus on their respective careers," a source shared. "They have respect and love for one another and will always cherish the time they spent together." 
As of writing, Lovato is single.
Source: Read Full Article