The board members from the Academy Awards decide to ban the 'King Richard' actor from Oscars for 10 years after he slapped comedian Chris Rock onstage at the 2022 ceremony on March 27.
AceShowbiz –50 Cent is weighing in on the Academy's decision to ban Will Smith for 10 years after the actor slapped Chris Rock at the 2022 ceremony. In a post on Twitter, the rapper claims that the disciplinary action is too harsh.
"Got Damn they doing Will dirty," the "In Da Club" spitter wrote on Friday, April 8. He went on to note, "This is too harsh so he cant come back till he 63 years old. and the law suit ain't even hit yet. SMH."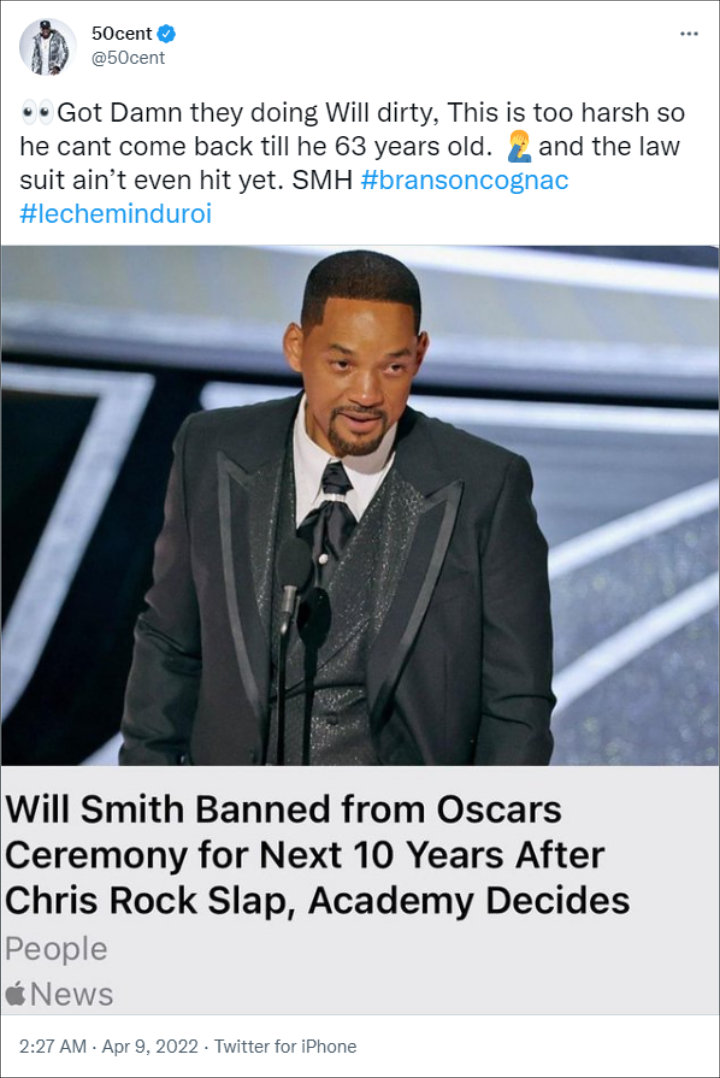 50 Cent reacted to Will Smith's 10-year Oscars ban.
As for Will, he shared in a statement that he accepted the decision. "I accept and respect the Academy's decision," the "King Richard" star said.
The board members from the Academy Awards announced on Thursday that they decided to ban the actor from "any events or programs, in person or virtually, including but not limited to the Academy Awards" for 10 years. In a statement obtained by E! News, Academy President David Rubin and CEO Dawn Hudson stated in part, "During our telecast, we did not adequately address the situation in the room. For this, we are sorry. This was an opportunity for us to set an example for our guests, viewers and our Academy family around the world, and we fell short-unprepared for the unprecedented."
"This action we are taking today in response to Will Smith's behavior is a step toward a larger goal of protecting the safety of our performers and guests, and restoring trust in the Academy," the statement continued. "We also hope this can begin a time of healing and restoration for all involved and impacted."
Will made headlines when he smacked Chris in the face over a joke on Jada Pinkett Smith's shaved head. The actor, who took home best actor award at the March 27 ceremony, later announced his resignation from the Academy. The organization itself said they approved his plea.
Source: Read Full Article