O Romeo, Romeo…what the hell are you doing, Romeo?!
Just in case you didn't know, Rosaline is Romeo's ex. She also happens to be Juliet's cousin. And you already know what happens to both Romeo and Juliet next in the famed Shakespeare story, but now it's finally Rosaline's turn to tell her side in Hulu's cheeky new movie and she's played by none other than breakout Booksmart star Kaitlyn Dever.
Cosmopolitan has a special exclusive clip from the upcoming Hulu film, Rosaline, which you check out above. It features Romeo trying to switch things up when visiting his then-GF, and it feels very similar to the iconic Romeo and Juliet balcony scene. So, basically, even men in the 1500s constantly reused their pickup lines.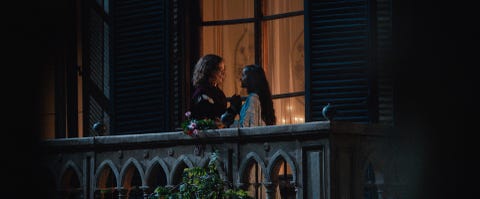 It seems that just because Romeo ends up dating Rosaline's flesh and blood, doesn't mean she'll let him go that easily. Rosaline creates her own plan to try to break them up and win him back. We might know who Shakespeare was rooting for in his play, but you're going to have to watch and see who wins his heart in the end of this version.
Alongside Kaitlyn, Isabela Merced stars as Juliet, West Side Story star Kyle Allen is playing Romeo, Bradley Whitford is Friar Laurence, Spencer Stevenson plays Paris, Sean Teale is Dario, Minnie Driver stars as The Nurse, and Miloud Mourad Benamara is playing The Custodian.
If the cast list and our exclusive clip have you excited, then you'll be pumped to hear that you won't have to wait long to watch Rosaline. The film will be released on Hulu starting October 14, 2022.
Source: Read Full Article