A Star Is Born is in. First Man could be in. BlacKkKlansman and Black Panther should be in.
It's early November, and in the next three months, the final group of aspiring Oscar contenders will arrive in cinemas. Judging by recent history, that's prime contention time. Last year, seven of the nine best picture nominees launched their theatrical runs in November or December.
Some of the following films have already earned plaudits and prizes at European and north american film festivals. Others haven't been widely seen at all.
Who's up? Who's down? Here's the rundown of what's to come, with the movies ranked based on their likelihood of securing a best picture nomination at next year's February 24 ceremony.
GREEN BOOK
The story: Gregarious, resourceful hustler (Viggo Mortensen) is hired to drive a black classical pianist (Mahershala Ali) for a concert tour of the Deep South in 1962. An unlikely friendship develops.
Working for it: Green Book unexpectedly eclipsed higher-profile movies to win the Toronto Film Festival's People's Choice Award, and early motion picture academy screenings have generated similar enthusiasm. It has all the makings of a commercial powerhouse when it arrives in cinemas.
Working against it: Some critics – and there will be outspoken ones – will find the film's treatment of race simplistic. Being compared to Driving Miss Daisy isn't as bad as likening your movie to Crash … but it's close.
Released: January 24
Rachel Weisz, left, and Olivia Colman star in The Favourite. Credit:Yorgos Lanthimos
THE FAVOURITE
The story: A lady (Rachel Weisz) and a servant (Emma Stone) jockey for the favor of Queen Anne (Olivia Colman) in early 18th century England.
Working for it: Directed by Yorgos Lanthimos (The Lobster, The Killing of a Sacred Deer, Dogtooth), The Favourite subverts the historical costume drama at every step, brandishing a stinging wit and joyful decadence. Backstabbing has never been more fun to watch.
Working against it: It's Lanthimos' most accessible film, but that doesn't mean everyone will be into his idiosyncratic flourishes. Anyone who found Downton Abbey to be occasionally a bit on the naughty side will be poleaxed by this.
Released: December 26.
A still from Alfonso Cuaron's Roma.
ROMA
The story: A quiet young woman (Yalitza Aparicio) becomes pregnant while caring for a wealthy family in a changing Mexico City during the early 1970s.
Working for it: Alfonso Cuaron's (Gravity, Children of Men) achingly beautiful tribute to the women who cared for him in his youth floored festival audiences in Venice, Telluride, Toronto and London. Once they begin handing out prizes, look for critics groups to coalesce around Cuaron's movie. They might even create new awards just to find more ways to celebrate it.
Working against it: It's a foreign language (Spanish and Mixtec) movie shot (by Cuaron) in (shimmering!) black and white and released by Netflix. And because it's Netflix, we have no idea how many people will be watching it in a theatres (absolutely essential for this film) as opposed to viewing Roma's opening four-minute shot of soapy mop water undulating across a stone driveway on their laptops and then switching over to Queer Eye.
Screening at Cine Latino Film Festival, November 12-December 16; Streaming on Netflix from December 1.
IF BEALE STREET COULD TALK
The story: Childhood friends Tish (KiKi Layne) and Fonny (Stephan James) become lovers, but their bond is tested when Fonny is falsely accused of rape.
Working for it: Barry Jenkins' follow-up to the Oscar-winning best picture Moonlight earned raves at its Toronto premiere for its sensitive and potent adaptation of James Baldwin's novel (and was the runner-up, along with Roma, to Green Book for Toronto's People's Choice prize). In its depiction of black love – between a man and a woman, between friends, between family, between community members – Beale Street feels as necessary as its predecessor.
Working against it: After Moonlight, expectations could burden this movie, which gorgeously unfolds in a nonlinear approach that could prove off-putting to older academy members averse to flashbacks of the non-acid variety.
Released: February 14.
Viola Davis and Cynthia Erivo in Widows.Credit:MERRICK MORTON
WIDOWS
The story: Women, led by Viola Davis, carry out a robbery that their husbands planned but never completed. (The film's title betrays the reason why.)
Working for it: Steve McQueen's first film since 12 Years a Slave is easily his most commercial effort. But it's no mere heist movie. Widows takes on toxic men, a broken political system, the widening chasm between the privileged and the poor and a world in which anything – and anyone – can be bought and sold. All these elements are baked into a crowd-pleasing thriller that has been producing gasps and cheers at academy and guild screenings in recent weeks.
Working against it: Could disappoint those itching for a pure heist movie. And its genre trappings could dissuade some from voting for it.
Released: November 22.
Christian Bale stars as Dick Cheney in Vice. Credit:Greig Fraser / Annapurna Picture
VICE
The story: Dick Cheney becomes the most powerful vice president in US history, promising to handle the "more mundane jobs" of George W. Bush's presidency, such as "overseeing bureaucracy, military, energy and foreign policy".
Working for it: Writer-director Adam McKay won an Oscar two years ago for The Big Short, his scathing, freewheeling indictment of Wall Street and regulatory irresponsibility. The idea of McKay training his moral outrage toward Cheney and Bush will have many in Hollywood sharpening their pitchforks with glee.
Working against it: For some, a tax audit notice would be preferable to a movie centred on politics, much less Cheney. Also: Its late arrival – the movie won't begin screening in the US until mid-November – will have it scrambling for traction with voters. In other words, it'd better deliver.
Released: December 26.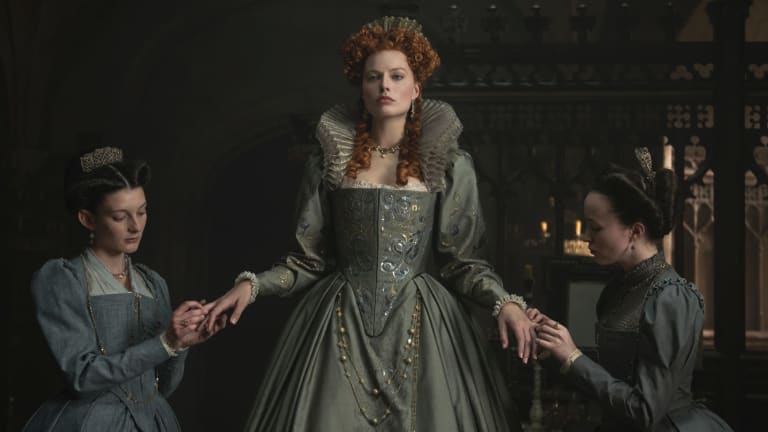 Margot Robbie stars as Queen Elizabeth I in Mary, Queen of Scots.Credit:Parisa Tag
MARY, QUEEN OF SCOTS
The story: Mary Stuart, queen of Scotland, and her cousin, Queen Elizabeth I, vie for the English throne.
Working for it: Two Oscar-nominated actresses – Saoirse Ronan in the title role and Margot Robbie playing Elizabeth – plus a nuanced exploration of what it means to be a woman in power.
Working against it: It's more conventional than The Favourite and may suffer by comparison when critics' groups gravitate toward Lanthimos' film.
Released: January 17.
ON THE BASIS OF SEX
The story: Biopic of Supreme Court Justice Ruth Bader Ginsburg (played by Felicity Jones) centres on a landmark case focused on gender discrimination.
Working for it: The commercial success of the extraordinary Ginsburg documentary RBG shows there's an appetite for this kind of film.
Working against it: RBG might have satisfied that appetite, making this movie redundant. FEBRUARY 7
Clint Eastwood in The Mule.
The story: True tale of an elderly man (Clint Eastwood) who becomes a prolific drug courier for a Mexican cartel.
Working for it: The needles-and-pins trailer for this Eastwood-directed thriller, co-starring Bradley Cooper, looks fantastic. (The film hasn't screened for press yet.) The last time Eastwood and Cooper teamed was American Sniper, and that turned out pretty well for all involved.
Working against it: Warner Bros. reps continue to soft-pedal the movie's Oscar chances, saying simply: "It's a good Clint movie." Translation: It's Gran Torino, not Million Dollar Baby.
Released: January 24.
Los Angeles Times
Source: Read Full Article