Reopened theater count crosses 3,000 as AMC and Cinemark have nearly all of their nationwide locations open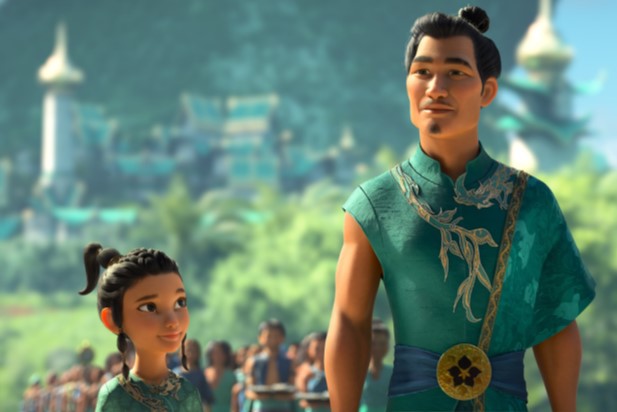 Photo: Walt Disney Studios
Despite a weaker-than-expected opening, Disney's "Raya and the Last Dragon" is showing great endurance at the box office, adding another $5.2 million from 2,261 locations in its third weekend as theaters in Los Angeles reopen to continue the film industry's gradual recovery.
Through three weekends, the animated Disney film has taken in $23.4 million in North America and $71.2 million worldwide even as it has released as a premium on-demand title on Disney+. Similar to the solid performance of films like "Wonder Woman 1984" and "Tom & Jerry" despite their availability on streaming, the performance of "Raya" is showing that there is a demand for moviegoing that could pay off even more for the box office as more theaters reopen and theatrically-exclusive films like "Black Widow" arrive in theaters.
Speaking of "Tom & Jerry," the Warner Bros. film added $3.8 million in its fourth weekend, giving it second place on the charts and a domestic total of $33.7 million. Two Lionsgate films,"Chaos Walking" and "The Courier," are in a narrow race for third, with "Chaos Walking" holding a narrow lead with $2.25 million and a $10 million total after three weekends while "Courier," which Lionsgate co-distributed with Roadside Attractions, opened this weekend to $2 million from 1,433 screens. Universal's "The Croods: A New Age" completes the top 5 with $620,000 and a $55.6 million total.
Industry estimates put this weekend's overall box office total at around $19 million, compared to $17.9 million for last weekend. That boost can be nearly entirely credited to theaters starting to reopen in Los Angeles. So far, only 37% of the county's theaters are back online, as AMC and Cinemark have reopened their locations while smaller chains like Laemmle and Arclight won't reopen for a few more weeks. Also yet to reopen is Regal, which has eschewed reopening its 536 locations on a state-by-state basis.
More to come…
Source: Read Full Article