While many celebrities opt to remain tight-lipped about politics for fear of alienating their fan base, others have chosen to use their platforms to make a statement. In the age of social media and the internet, it's common for celebs to fire off a quick tweet about their opinion on an issue or a candidate, but some more daring stars have used more bold methods to get their political points across. 
From celebrity-led brand boycotts to politically-charged red carpet fashion choices, many of America's favorite A-listers have used their clout to garner attention for causes they care about. Several stars have even tossed their hats into the ring and run for political office themselves! When celebrities and politicians collide, there's sure to be absurdity or hilarity (or, occasionally, successful social media content). Here are some of the most unexpected celebrity political stunts over the past 18 years, both serious and satirical.
Good 4 U, Olivia Rodrigo!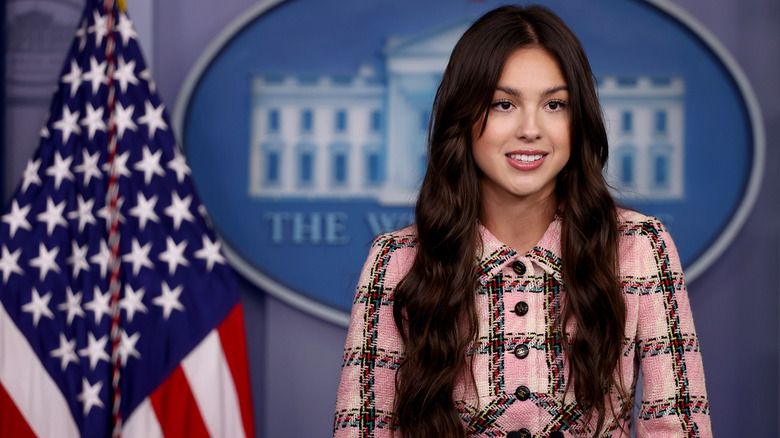 On July 14, 2021, pop star and Gen Z icon, Olivia Rodrigo stopped by the White House to meet with President Biden and Dr. Fauci. Both the "good 4 u" singer and the Biden administration took to social media to share about the importance of getting the vaccine. In a video shared by the official White House twitter account, the "Deja Vu" crooner said, "It's so important that we all get vaccinated. It doesn't matter if you're young and healthy, getting the vaccine is about protecting yourself, your friends, and your family. Let's get vaccinated!" 
The singer also made an appearance in the White House briefing room, according to NPR. In a nod to the president's signature accessory, the former Disney Channel star and the president donned aviator shades for a quick picture in the Oval Office, which was tweeted from the @POTUS account with the caption, "Thanks for stopping by, Olivia, and for using your voice to urge young people to get vaccinated. If we all do our part and get the COVID-19 vaccine, we can defeat this virus once and for all. Let's do this." Sounds like Rodrigo wants us all to be happy and healthy!
Tom Brady visited the White House and joked about election result deniers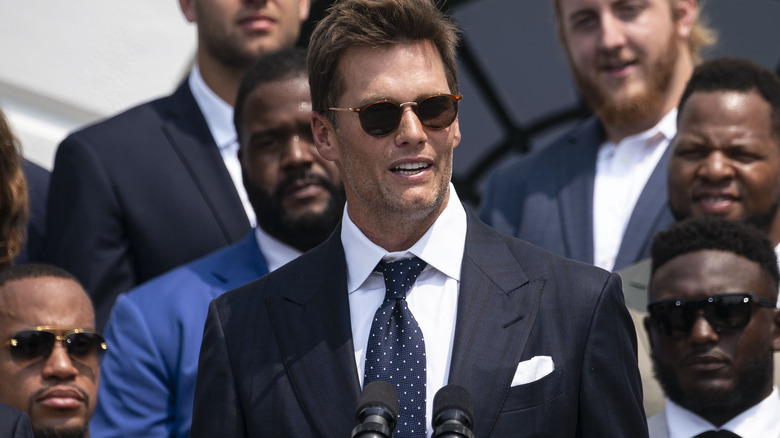 On July 20, 2021, Tom Brady visited the Biden White House to celebrate the Buccaneers' victory in February's Super Bowl LV. This was surprising since the five-time Super Bowl MVP is known to be friendly with Donald Trump — he was even spotted with a "Make America Great Again" hat in his NFL locker back in 2015 — but he did not shy away from poking fun at the former president during the appearance. The former Patriots player joked to the audience (via People), "Not a lot of people think that we could have won. In fact, I think about 40% of people still don't think we won," referring to Trump's false claims that the 2020 presidential election had been rigged. President Biden responded, "I understand," to the amusement of the crowd. 
Brady and Trump's friendship goes way back: the two first met in 2001, when Trump invited the football player to judge a Miss USA competition, according to People. In an interview on "The Howard Stern Show" in 2020, the Buccaneers quarterback reflected, "that was uncomfortable for me because you can't undo things, not that I would undo a friendship, but political support is totally different than the support of a friend."
It seems the two have since grown apart, with Brady openly making fun of Trump's incendiary, false claims about election fraud and cordially joking with President Biden.
Dolly Parton sang a new rendition of Jolene to encourage Americans to get vaccinated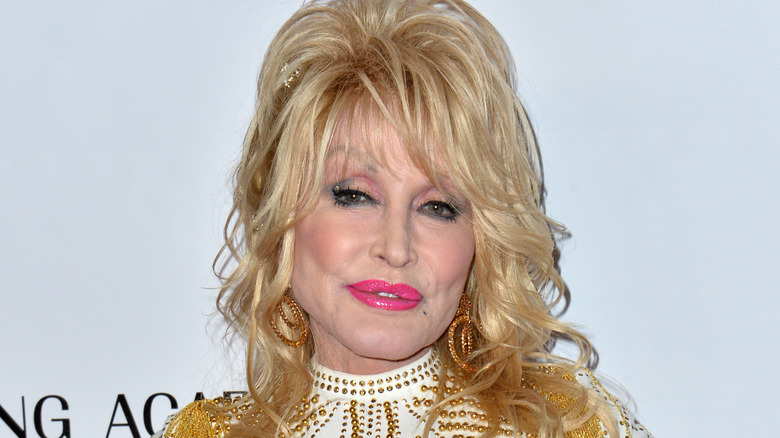 In an Instagram video shared by AP on March 3, 2021, Dolly Parton sang a modified rendition of her popular song "Jolene" to encourage Americans to get vaccinated. The country music legend sang, "Vaccine, vaccine, vaccine, vaccine, I'm begging of you, please don't hesitate. Vaccine, vaccine, vaccine, vaccine, 'cause once you're dead, then that's a bit too late." Though the country crooner tried to make light of a serious subject, she said she was "dead serious" about the vaccine, telling viewers, "Don't be such a chicken squat, get out there and get your shot." 
The "9 to 5" singer then received an injection of the Moderna vaccine on camera, quipping, "That didn't hurt! Just stung a little bit." Parton is largely responsible for the development of the Moderna vaccine, having donated $1,000,000 to the Vanderbilt University Medical Center in Nashville, Tennessee to aid in their vaccine development efforts (via BBC News).
Kanye West ran for president as part of the Birthday Party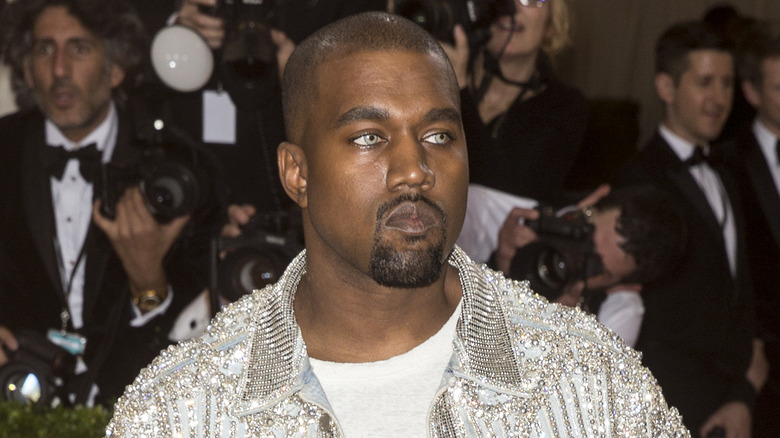 On July 4, 2020, Kanye West announced that he would be running for President of the United States in the November 2020 election, despite having missed the filing deadline in several states. The "Yeezy" designer ran under a new banner—the "Birthday Party"—with support from Tesla CEO Elon Musk. The "Gold Digger" rapper explained to Forbes that he was running as part of the Birthday Party "Because when we win, it's everybody's birthday." The producer's platform advocated against Planned Parenthood, the COVID-19 vaccine, and identity politics, and voiced support for reinstating school prayer and running the United States like Wakanda, the nation in the movie "Black Panther." 
West, who admitted in the interview that he had never voted before, had previously shown support for Donald Trump. The "Stronger" rapper visited the Trump White House in October 2018, where he went on a ten-minute monologue about everything from North Korea to an alternate universe. West was also frequently spotted wearing "Make American Great Again" hat, which he said "made him feel like Superman," according to The New York Times. 
The rapper did not directly challenge Trump as a candidate for the Republican party, but he told Forbes that "I am taking the red hat off, with this interview." West clearly did not win — but on November 4, 2020, the day after the election, the rapper tweeted an image of himself in front of an electoral map with the caption "Kanye 2024."
Joy Villa made an anti-immigration fashion statement on the 2019 Grammys red carpet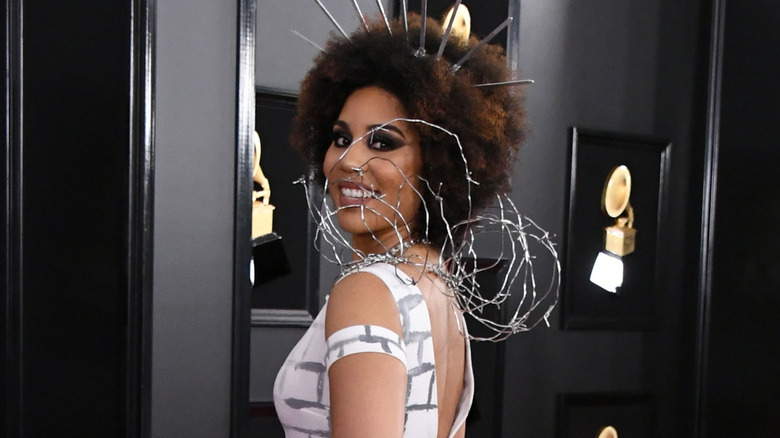 At the 2019 Grammys, Joy Villa raised eyebrows with her red carpet attire. According to The Hollywood Reporter, the singer wore a black and white dress resembling a brick wall, with "Build the Wall" written in red on the back and barbed wire on the shoulders. Villa also wore a spiked headband in her hair to represent the top of a security fence and lots of silver-wired jewelry. Notably, she carried a purse that read "Make America Great Again" as a reference to Donald Trump and his "build the wall" rhetoric. 
The singer is known for her conservative, provocative red carpet outfits; on the previous year's Grammys red carpet, Villa wore an anti-abortion-themed dress, which featured a fetus in utero painted in rainbow colors onto a white dress (via Glamour). She also toted a purse that read, "Choose Life" alongside a heart. In 2017, the singer garnered attention with her red, white, and blue mermaid gown that read, "Make America Great Again" down the side and "Trump" on the train, per The Hollywood Reporter.
Kathy Griffin and the infamous Donald Trump head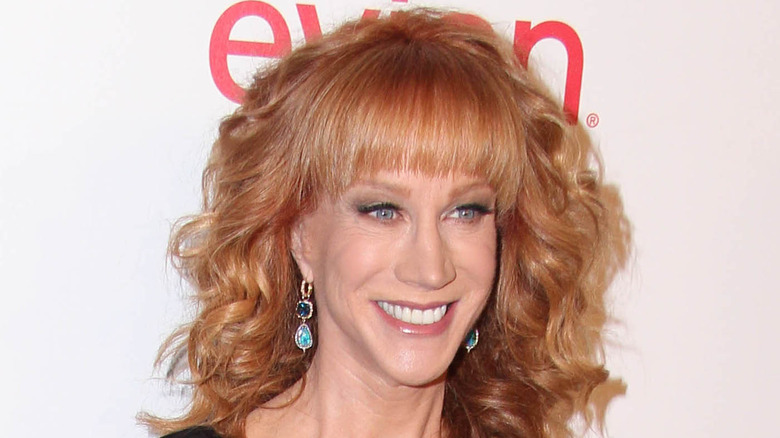 In May 2017, comedian Kathy Griffin came under fire for a now-infamous photograph of her holding up a bloody effigy of Donald Trump's head. The picture, taken during a photoshoot with photographer Tyler Shields (who is known for his incendiary photography), was shared on Shields' website at the comedian's request, and Shields subsequently told TMZ about it. 
This photo drew waves of criticism, and Griffin — who was in the midst of a 50-date cross country tour at the time — was consequently fired as a brand spokesperson for the Squatty Potty and axed from the New Year's Eve CNN broadcast, which she'd hosted with co-anchor Anderson Cooper for several years. Cooper, who was a close friend of Griffin, tweeted in response, saying, "For the record, I am appalled by the photo shoot Kathy Griffin took part in. It is clearly disgusting and completely inappropriate." Per the Hollywood Reporter, the two have not spoken as of January 31, 2018. The comedian was also investigated by Secret Service members to establish if she posed a credible threat to Trump (it was determined that she did not). 
Then, on November 4, 2020, the day after the presidential election, Griffin tweeted the controversial photo amidst Trump's premature claims that he was winning the election. This time, the photo appealed to many of Griffin's liberal followers, although, as of this writing, she has yet to make a full comeback.
Kid Rock ran for the United States Senate…sort of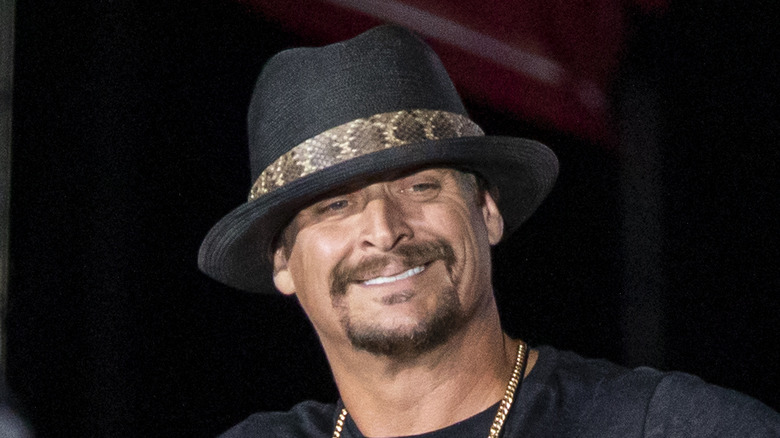 In July 2017, musician Kid Rock announced in a tweet that he would be running for the United States Senate. The tweet read, "I have had a ton of emails and texts asking me if this website is real… kidrockforsenate.com The answer is an absolute YES." The "All Summer Long" singer launched his campaign against Michigan's Democratic incumbent Debbie Stabenow by releasing two new songs. In a post on his now-defunct personal website, Kid Rock wrote, "Like politicians write books during their campaigns, I'm planning on putting out music during mine and IT ALL STARTS TONIGHT AT MIDNIGHT," according to NPR. 
The rapper has been associated with conservative politics for years; he has attended a White House dinner with former President Donald Trump and former governor of Alaska Sarah Palin, and Republican presidential candidate Mitt Romney used Kid Rock's song "Break Free" during his 2012 campaign. 
However, in an interview with Howard Stern in October 2017 (via TooFab), the musician revealed that his campaign had just been a stunt, saying, "F**k no, I'm not running for Senate," he told Stern. "Are you f**king kidding me? Like, who couldn't f*cking figure that out?" He claimed that he had run for office to promote his new album, "Sweet Southern Sugar," according to The Detroit News.
President Obama and Zach Galifianakis encouraged Americans to sign up for health care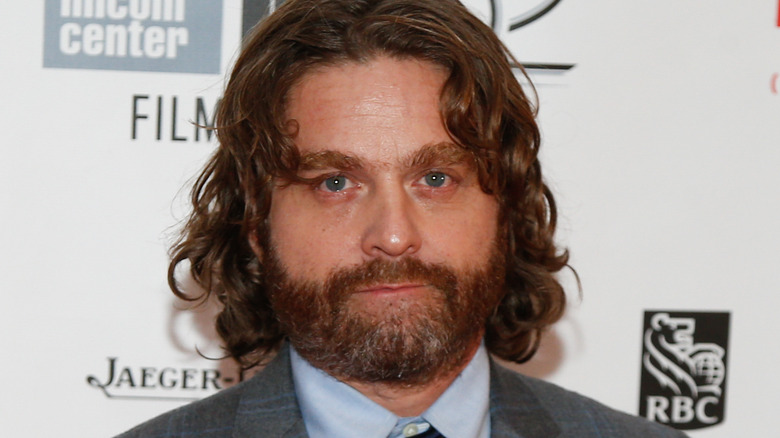 In February 2014, Zach Galifianakis hosted President Barack Obama on his Funny or Die show, "Between Two Ferns." The episode—which was filmed at the White House—aimed to encourage the show's younger viewers to sign up for health insurance before the March 31 deadline. The pair discussed the rollout of HealthCare.gov, though the comedian did not shy away at making light of the subject. At the beginning of the interview, Galiafankis joked that he had canceled on the president, saying, "Sorry I had to cancel a few times. I just — my mousepad broke last week, and I had to get my great aunt some diabetes shoes." The Emmy Award-winning comedian also poked fun at the website's failed launch, but the president quickly assured him that "The [website] works great now, and millions of Americans have already gotten health insurance plans, and what we want is for people to know that you can get affordable healthcare." 
While Galiafanakis appeared confident during the interview, Obama later revealed in an interview on "On Air with Ryan Seacrest," that the comedian had been nervous about joking around with the president during the interview, which is understandable — after all, the Commander-in-Chief rolled along with the humor and told Galiafanakis that Bradley Cooper had been better in the "Hangover" trilogy!
Gossip Girl cast members starred in a humorous video voicing support for Barack Obama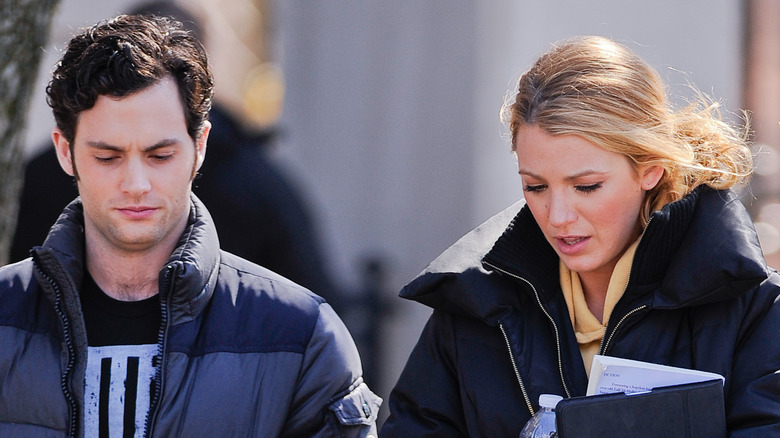 Hey Upper East Siders, Nicki Swift here. In October 2008, the cast of the teen drama "Gossip Girl" recorded a video in collaboration with MoveOn.org, a progressive political action committee, to endorse then-presidential candidate Barack Obama. In the video, cast members Blake Lively and Penn Badgely appear alongside others to urge teenagers to "talk to their parents about McCain," likening former Republican presidential nominee John McCain to illegal drugs. 
The video, which is a satirical take on concerned parents approaching their children to talk about the dangers of drug use, received over 700,000 views on YouTube. Badgley, who played Dan Humphrey on the popular CW teen drama, quipped, "Mom? Dad? I found this in your room today," holding up a McCain-Palin baseball cap that read "Drill Baby Drill." Blake Lively, who starred in the series as it-girl Serena van der Woodsen, concluded the video, saying "And if you're ever out somewhere and you're considering voting McCain, just call me, and I'll pick you up, no questions asked." It seems fair to say that Lively and Badgley loved Barack Obama like "XOXO."
Lady Gaga's famous meat dress actually had a powerful political message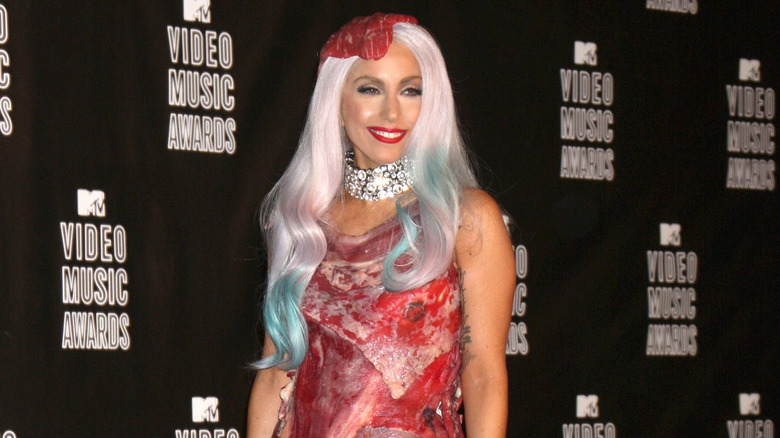 It's hard to forget Lady Gaga's infamous attire at the 2010 VMAs. The "Born This Way" singer attended the awards show in a dress made from raw meat, shocking audience members and vegetarians alike. Lady Gaga later explained on "The Ellen DeGeneres Show" that she had worn that dress in order to demonstrate her opposition to the U.S. military's "Don't Ask, Don't Tell" policy, saying that, "If we don't stand up for what we believe in, if we don't fight for our rights, pretty soon we're going to have as much rights as the meat on our bones." 
Over the course of her career, Lady Gaga has avidly advocated for LGBTQ+ rights, lending her stardom to advocate for marriage equality, helping homeless LGBTQ+ youth, and performed her empowering songs in Russia, despite the country's anti-LGQBT "propaganda" laws. As it turns out, the "Poker Face" singer's controversial meat dress didn't just make the political statement it intended to; People for the Ethical Treatment of Animals (PETA) released a statement following the 2010 VMAs, denouncing Lady Gaga for wearing dead animals.
Dennis Rodman: the diplomat?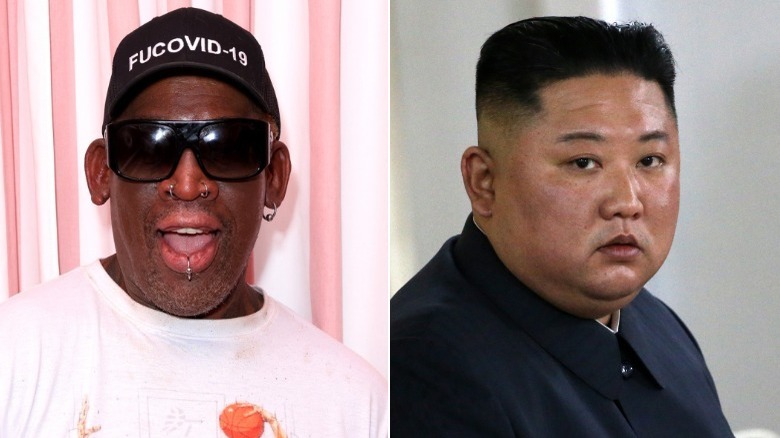 In 2013, Dennis Rodman boldly paid a visit to the Supreme Leader of North Korea and met Kim Jong-un, the country's controversial leader. The NBA player was there to organize a basketball exhibition between American and North Korean basketball players. Shane Smith, the founder of Vice Media, orchestrated the trip and sent one of his crews to film the bizarre event, according to the New York Times. 
Rodman and Kim were photographed attending one of the basketball games, a picture that sent shockwaves around the globe. As if the story couldn't get stranger, it was reported that Rodman gave a speech to the crowd and told Kim, "You have a friend for life." Rodman, the crew, and three Harlem Globetrotters were then invited to a party at the North Korean leader's palace. The bizarre friendship between Rodman and Kim gained international attention, as the United States and North Korea have a notoriously icy — if existent — relationship. As of this writing, U.S. citizens are not allowed in North Korea unless they have special permission from the U.S. State Department.
Stevie Wonder boycotted the entire state of Florida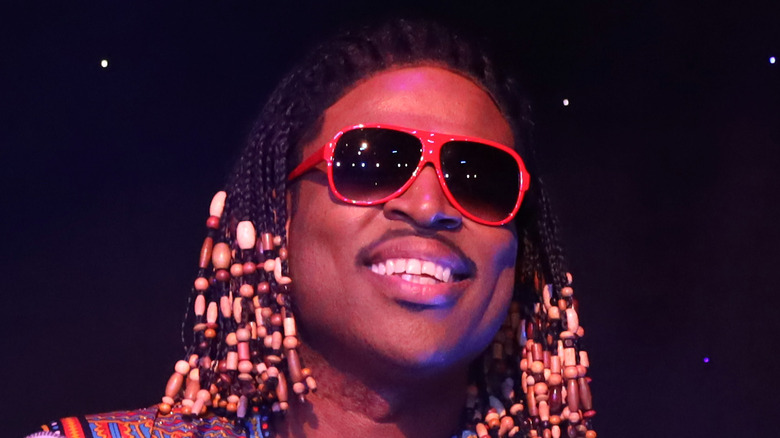 In 2013, Stevie Wonder announced that he would not perform in Florida as long as it kept its Stand Your Ground gun law, according to The Hollywood Reporter. The singer's boycott was sparked by the acquittal of George Zimmerman, a Florida resident who fatally shot an unarmed Black teenager Trayvon Martin a year prior. 
The "Isn't She Lovely?" crooner also declared that he would not perform anywhere with Stand Your Ground laws, saying, "I decided today that until the Stand Your Ground law is abolished in Florida, I will never perform there again. As a matter of fact, wherever I find that law exists, I will not perform in that state or in that part of the world." Wonder encouraged his fans to follow his lead: "What we can do is we can let our voices be heard. And we can vote in our various countries throughout the world for change and equality for everybody. That's what I know we can do." It sounds like the Sunshine State is not the sunshine of Wonder's life. 
Ed Helms boycotted Chick-Fil-A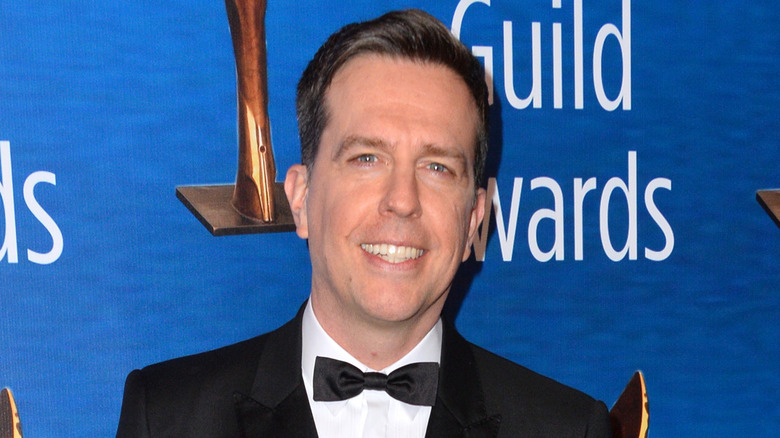 After Dan Cathy, the president of Chick-Fil-A and the son of the company's founder made homophobic remarks and openly denounced gay marriage in a since-deleted interview with the Baptist Press, Ed Helms announced that he would no longer be patronizing the chicken-forward fast-food chain, according to ABC News. The "Hangover" actor tweeted, "Chick-fil-A doesn't like gay people? So lame." Ever the comedian, "The Office" actor also quipped, "Hate to think what they do to the gay chickens!" before declaring that Chick-Fil-A had "lost a loyal fan." In the controversial interview, Cathy had said, "We are very much supportive of the family – the biblical definition of the family unit … we know that it might not be popular with everyone, but thank the Lord, we live in a country where we can share our values and operate on biblical principles." 
Helms is not the only public figure who found this statement offensive; the NOH8 Campaign — a gay rights campaign that is supported by Lindsay Lohan, the Kardashian sisters, Jane Lynch, and more — also called for a boycott of the restaurant. We guess it's safe to say that Helms plans to "Eat Less Chikin." Andy Bernard's vegetarian former-fiancée Angela Martin would be proud.
Whatchu talkin' 'bout, Governor Coleman?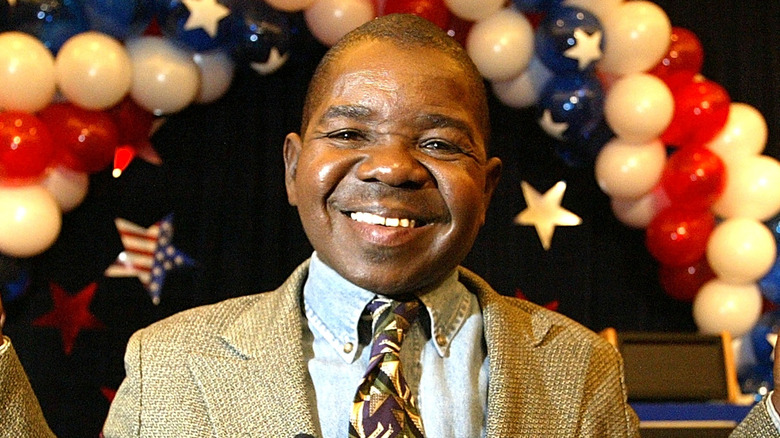 After the people of California voted to recall Governor Gray Davis in 2003, Gary Coleman threw his hat into the political ring and ran against him. The "Diff'rent Strokes" actor openly ran as a joke and was funded by the East Bay Express, an alternative newspaper in Northern California, who paid the fee to get Coleman's name on the ballot, according to The Baltimore Sun. The paper's editor explained that "We really thought this was the most effective way to make a political statement about the farcical nature of the recall," and Coleman went along with the gag, joking that "The absolutely worst thing I have to lose [by running] is winning." 
Coleman didn't just run as a joke, though; during his campaign, he advocated for gay marriage, free water, and medical marijuana. As it turned out, "The Gary Coleman Show" star wasn't the only popular actor vying for the seat, though he was perhaps the only one running as a farce; Republican (and former Terminator) Arnold Schwarzenegger ended up winning the election and served as governor of California for eight years.
Source: Read Full Article