After regaling us with "Justice League: Synder Cut," director Zack Snyder is keeping us glued to our small screens with "Army of the Dead." According to Deadline, the Netflix original is a zombie action heist feature chronicling the "aftermath of a zombie outbreak in Las Vegas, and the group of mercenaries who venture into the quarantine zone to pull off a big heist." After its May 2021 debut, "Army of the Dead" became one of Netflix's most lucrative premieres, seamlessly making its way into the streaming service's top 10 most watched movies by raking in 72 million viewing households in its first four weeks. 
With a star-studded cast led by the likes of David Bautista and Ella Purnell, it's no wonder the movie has been a hit with audiences. Not only that, but since Netflix had already ordered an prequel to the film called "Army of Thieves," as well as an anime spin-off series, before "Army of the Dead" even premiered, it's only right that we get a bit more familiar with the stars. And what's a better place to start than the people they go home to? 
From relationships borne out of friendships to those that had a rocky start, it's nice to know these actors are just like us when they're not, you know, kicking zombie butt onscreen. These are the real-life partners of the "Army of the Dead" cast.
Stephanie Allynne identified as straight before falling in love with Tig Notaro
Comedian Tig Notaro was a late addition to "Army of the Dead," having replaced Chris D'Elia (who'd already filmed the role of Peters, a pilot, before being dropped from the project during post-production following multiple sexual misconduct allegations in 2020). How Zack Snyder's team managed to reshoot Notaro into the flick in the midst of the COVID-19 lockdowns is a major story surrounding the Netflix movie — but Notaro's home life has been less zombie heist and more storybook romance.
Notaro and her wife, actor Stephanie Allynne, have long been melting our hearts with social media photos of their twin boys, Max and Finn, whom they welcomed in 2016. The couple, who first met while filming the 2013 movie, "In a World," and said their "I dos" in 2015, felt connected from the get-go — but the experience was surprising for Allynne. "I had not dated women before, and I think when we first started spending time with each other, I was so into Tig and I was falling in love with her and I didn't know how to identify it because I thought I was straight," the "L Word: Generation Q" star told Cosmopolitan. "It kind of blew my mind in terms of sexual orientation."
By the time they got together, Notaro had emerged from her breast cancer diagnosis and double mastectomy. "It just felt like the first real, grounding relationship that I'd ever had," Notaro gushed to Cosmopolitan. "… I just couldn't even believe it."
Jennifer Pfautch is Omari Hardwick's prayer warrior behind the scenes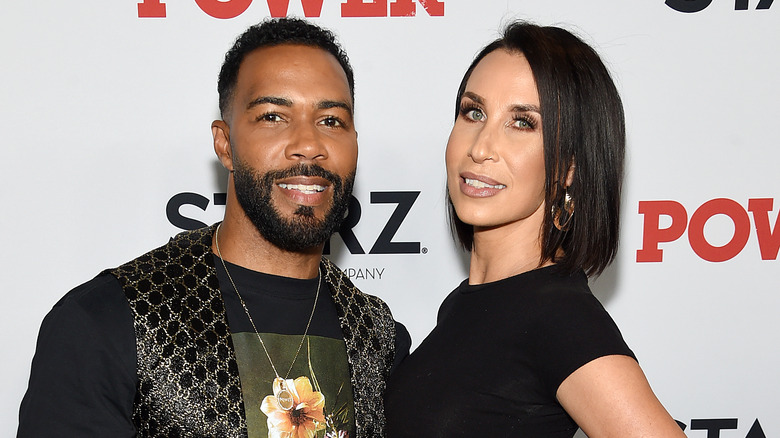 In a 2018 interview with Ebony, "Army of the Dead" actor Omari Hardwick, who plays Vanderohe in the flick, revealed that, prior to his starring role in the show, "Power," he felt more comfortable playing the back and keeping a safe distance between himself and the spotlight. That would explain why we don't know much about his relationship with wife, Jennifer "Jae" Pfautch. Details about their courtship are sparse, but Pfautch revealed in a 2019 Instagram post that the pair was celebrating their seventh wedding anniversary, which means they tied the knot in 2012.
Though we mostly see her flanked on her hubby's arms on red carpets nowadays, Pfautch is no rookie to the entertainment game. According to her LinkedIn, the California Lutheran University alum worked as an assistant at the publicity firm, Creative Artists Agency, from 2004 to 2005. She also did a stint at Paradigm Talent Agency, though her years active were undisclosed. 
This behind-the-scenes powerhouse is also part of the reason Hardwick accepted the role of Ghost in "Power." The actor admitted he was apprehensive about taking the lead role, but Pfautch was supportive and constantly lifted him in prayer. "I wouldn't say I convinced him to take the role," Pfautch told Ebony. "His soul knew it was time to embrace what God had for him careerwise, and in order to do that, the role of Ghost was the next step in that process. I honestly said very little; just enough to remind him of his call and his purpose."
Theo Rossi and Meghan McDermott have an unconventional good luck charm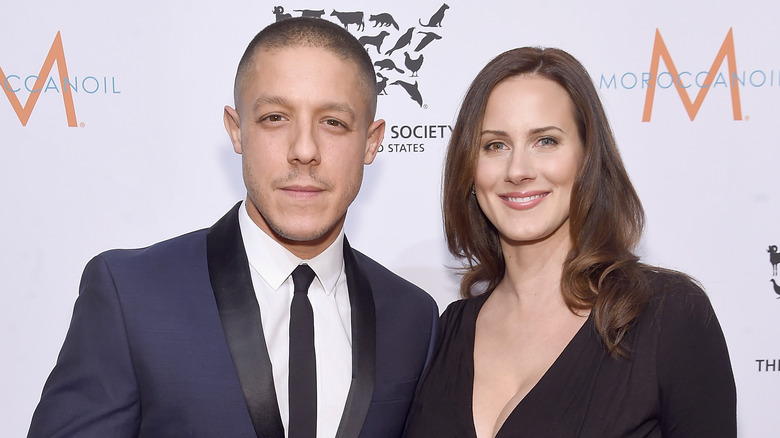 Though he plays Burt Cummings in "Army of the Dead," it's Theo Rossi's starring role in the movie, "Lowriders," that seems to be a good luck charm for him and his wife, Meghan McDermott. The pair welcomed their first son, Kane Alexander, in 2015, around the time that the "Sons of Anarchy" alum was leaving the hit FX show, starting a new production company called Dos Dudes Pictures, and filming "Lowriders." 
There were a lot changes happening in his personal and professional life, but the actor-producer embraced it all with grace. "I love it," Rossi gushed to Us Weekly about the pending sleepless nights. "I don't like to sleep [anyways] so it's perfect … We're just really excited." By the time "Lowriders" premiered, Rossi and McDermott were expecting baby No. 2, son Arlo Benjamin. Of course, the actor was quick to point out that the suspenseful film may just be their four-leaf clover. "Our first kid was born during filming this and now we're having another one. So if they do a 'Lowriders 2,' I might have a third kid," he joked to ET. "This film is the best luck. And we feel like there's a lot of good karma, and good luck things happening with it."
In addition to being a doting mom and loving wife, McDermott's Instagram bio lists her as an entrepreneur and "DIY Enthusiast." As the CEO and co-founder of bottled water company @GetOUNCED, she also co-founded @GoGetItLIFE with Rossi, which is "a positive lifestyle movement encouraging you to LIVE YOUR BEST LIFE!"
Garrett Dillahunt didn't give wife Michelle Hurd the best first impression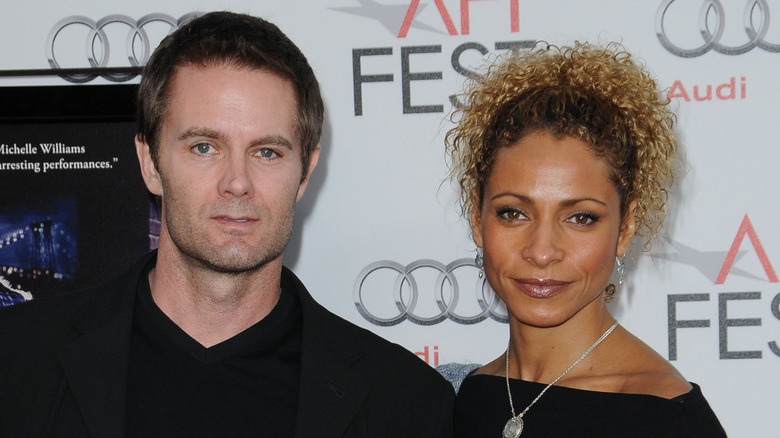 Long before he played security guard Martin in "Army of the Dead," Garret Dillahunt was snagging roles in some of the most beloved shows and movies Hollywood has produced in recent years — from "No Country for Old Men" to "Fear of the Walking Dead" — but it seems like he also married his equal in a fellow actor. Michelle Hurd has her own notable roles under her belt, as she is not only starring in "Star Trek: Picard," but she's also made appearances in "Bad Hair," "Hawaii Five-O," and "Charmed."
The two met back in 1996, when they were part of the Circle Repertory Company and rehearsing for "900 Oneonta." But when asked about their meeting, they had completely different impressions of each other. While appearing on "Friday Night In with the Morgans" in 2020, Hurd revealed that she felt slighted when she first met her future beau. "I put on a big smile, and I stuck out my hand, and I said, 'Hi! I'm Michelle, and I'm playing your love interest!" she stated (via UPROXX). But what she got back was a simple, "Hi, I'm Garret," before he turned around and began conversing with someone else. 
Dillahunt, however, had a perfectly good explanation for being so curt: He was utterly struck by her. "She came in on roller blades. It was a hot New York day, wearing shorts and some tiny shirt," he told the Bartlesville Examiner-Enterprise. "I was tongue-tied." The two would later get married in 2007, and live happily ever after. 
Huma Qureshi will not be speaking about her relationship with Mudassar Aziz anytime soon
Though they won't necessarily be making the cover of Us Weekly anytime soon, "Army of the Dead" actor Huma Qureshi and filmmaker Mudassar Aziz have had Bollywood fans buzzing about their romance for years now. According to India Today, the two have been a thing since — roughly — 2018. They were pretty much mum about their early days, but Qureshi, who plays Geeta in the Netflix movie, finally broke her silence when she publicly wished her beau a happy birthday via a heartfelt message on Instagram in September 2019. 
"It sure has been a hell of a ride … I'm so proud of everything you do and the man you are!" the caption read in part. "I pray from the bottom of my heart that all your dreams come true." Aziz responded (via India Today), "Phew it's hard to reply to this … A soul as gorgeous as you are finds appreciation even in somebody as flawed or fractured as I am … Clearly then, I'm the lucky one!"
Making it Instagram official is one thing, but don't expect either of these super private lovebirds to give us a front row view to their relationship. "I've never spoken about my personal life," Qureshi told Hindustan Times, adding, "I'm very happy with the way my life is headed, where I am headed emotionally and personally, but I choose not to talk about it." Well, that's that on that — and hey, fair enough!
Source: Read Full Article