Dwayne Johnson first came into the public eye as a wrestler who called himself "The Rock." While he was popular in the ring, Johnson also started to act. Soon, audiences fell in love with Johnson's charming on-screen persona. A company that ranks celebrity likeness told The New York Times, "In terms of consumer appeal, he's in the league there with Brad Pitt." Johnson's likeability even played out to the extreme when an interviewer once asked him if he would ever consider running for president. Fans loved the idea, and Johnson went on to explain on The Tonight Show that he was flattered by the support from fans. "I think over the years, I've become a guy that a lot of people kind of relate to," he said.
Long before his rapid rise through Hollywood as a leading man, Johnson didn't have an easy childhood. But he overcame most obstacles to become one of the biggest stars in the world. In 2020, Forbes listed Johnson as the 10th highest-paid celebrity and the highest-paid actor at $87.5 million. This helped contribute to his massive net worth, an estimated $400 million as of 2021, according to Celebrity Net Worth. And, as of August 2021, his Instagram account has 265 million followers, making Johnson the third most-followed account behind Instagram's company account and soccer star Cristiano Ronaldo. 
This is the transformation of Dwayne Johnson from 1 to 49 years old.
Dwayne Johnson had another nickname before The Rock
Dwayne Johnson is a San Francisco Bay Area native, born in Hayward, California in 1972 (via Biography). In an interview for SF Gate, the actor revealed he only lived in Hayward for less than two years before moving. And while he doesn't remember anything about living there, he revealed, "I just know we had my first birthday here, because we've got that on video."
During a virtual panel for the Television Critics Association, Johnson said that, as an infant, people referred to him as Dewey. He explained that when he was 6 months old, "my mom had said to my godmother, 'Is his diaper wet?' She goes, 'No. He's just a little dewy'" (via USA Today). As Johnson recalled, "In my existence for years, when my parents would come around in front of my girlfriends or friends or anyone, (it was), 'Hey, Dewey!' automatically."
On Instagram, Johnson posted a photo, which showed what he looked like during this Dewey phase. As a baby, he wore a red onesie and a Santa hat. "My first Christmas at 7 months old," the actor wrote in the caption, before jokingly adding, "five months later, I hit puberty."
Dwayne Johnson's childhood was marked by multiple moves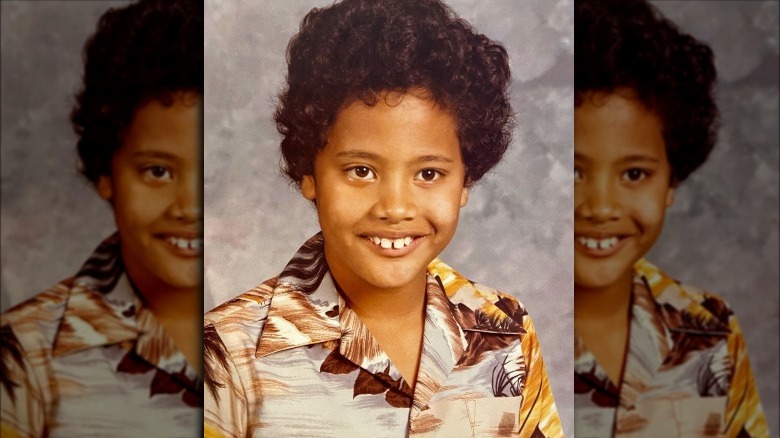 Dwayne Johnson remembers being constantly on the move as a young boy. "I think we lived in 14 different states, including time in New Zealand and Hawaii, and I was always changing schools, adapting to new environments, starting over again and again as we moved with my dad around the country," he revealed in an interview with GQ. "I didn't know anything else and it was tough," Johnson added. The actor had a close relationship with his mother, Ata, but he explained that his father, Rocky, a Canadian pro-wrestler, was often away. However, even with his difficult childhood and multiple relocations, Johnson said this helped him grow socially. He even said that this period in his life was when he started "learning to connect with people."
Johnson gave fans a peek at life as a boy in Hawaii. He posted his second grade yearbook photo on Instagram, with the caption, "Throwback to 7 years old in Hawaii, and just drippin' cool with my buck teeth, aloha shirt." And he couldn't recall why he chose that particular hairstyle. "WTF is going on with my afro matted down on one side!" he exclaimed.
Dark times were ahead for Dwayne Johnson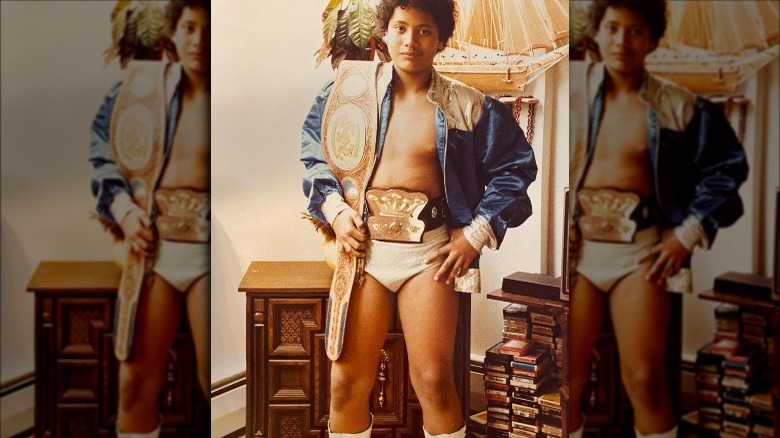 With Dwayne Johnson's father often traveling for his pro-wrestling career, the young Johnson spent a lot of time with his maternal grandfather, Peter Maivia, the first pro-wrestler in the family, who had the nickname High Chief. Maivia even appeared as a henchman in the classic James Bond film "You Only Live Twice" (via GQ).
Sadly, Maivia died when Johnson was 10 years old. After his death, Johnson reportedly took it "hard and started going off the rails." Johnson said of this time: "I was a very angry teenager." He explained to GQ that his dad being away, his parents fighting, and the fluctuating family finances all contributed to his negative attitude. "I would be getting into fights all the time at school, but all the teachers were saying: 'He's such a good kid, a pleasure to have in class. So why is he getting arrested all the time?'" Johnson recalled. According to the actor, he would at least be kind to adults — a value that came from his Samoan culture. "You'd get your a** kicked if ever you disrespected an older person," he said.
After the High Chief died, Johnson aspired to become a wrestler. He posted a photo on Instagram, circa 1983, looking like a future star, writing, "When I was 11 years old — I used to love putting on my dad's wrestling trunks, boots, jacket and championship belts — dreaming of one day becoming a pro-wrestling champion."
This is why Dwayne Johnson started to bulk up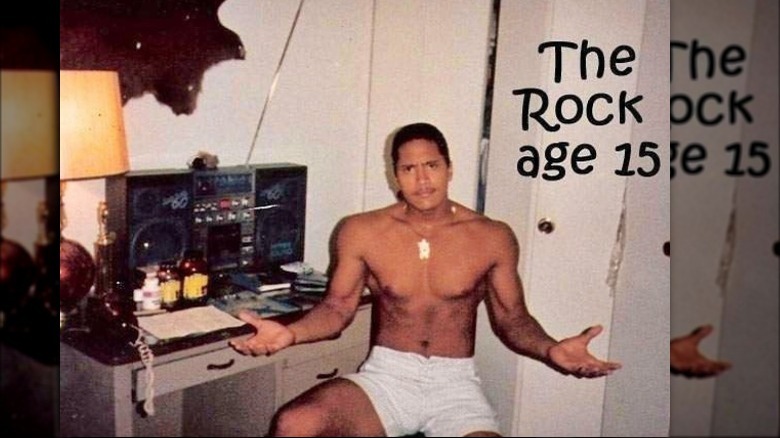 While living in Hawaii, Dwayne Johnson had a life-altering experience. He and his mother returned home one night to find out they were evicted. After the shock, he told GQ, "the only thing I could think to do, to make sure that I never got evicted again, was to build myself, build my body into something." The teenager began lifting weights because his idols — "in Hollywood at that time, Sylvester Stallone, Harrison Ford, Clint Eastwood — all had built bodies." 
As a result of the eviction, Johnson and his mom left the island for Nashville, Tennessee. With the move, he also left behind his troubled past, which included being "part of a theft ring" of clothing and jewelry in Hawaii. By the time Johnson started his new high school, he was over 6 feet tall, weighed about 200 pounds, and had a mustache. On Instagram, he posted a throwback photo of him at 15 years old sitting shirtless in front of a boombox. And, according to the caption, "EVERYONE (students and teachers) treated me like I had the plague and stayed away because they were all convinced I was an undercover cop."
Dwayne Johnson had a complicated high school journey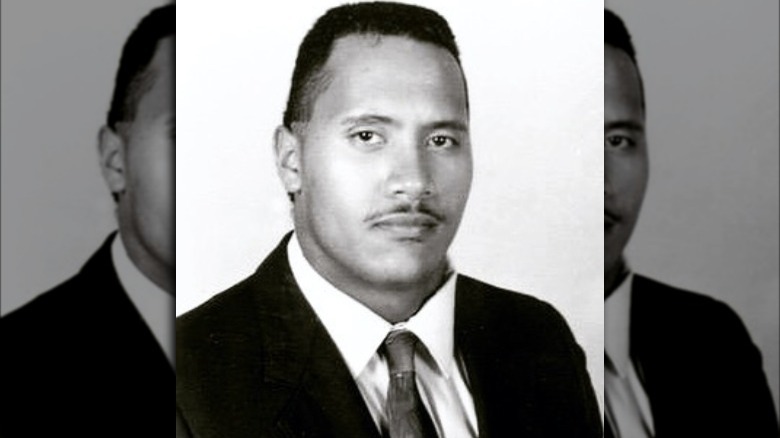 Dwayne Johnson continued to grow in high school. By the time he was 16 years old, the future wrestler and actor was 6'4″ and 225 pounds. Johnson posted on Instagram his yearbook photo at this age, showing off his impressive build, high top fade, and mustache. In the caption, he revealed that that, by this time, he had attended four high schools, spanning from Hawaii to Tennessee to Pennsylvania. "In Nashville I was already hangin' out in honey tonk dive bars on Music Row and hustlin' cars from crackheads," he said in the caption.
Johnson's big size and athletic ability worked well for him on the football field. He started playing in high school after the coach asked him to join the football team. This helped set the teen on a better path. "My thought process started to change. That's when I started thinking about goals and what I wanted to accomplish," he explained in an interview for The Profile. "My grades got better, and I started getting recruited from every college across the country," he added. And Johnson was good enough to earn a full college scholarship from the University of Miami. At the time, the university had the No. 1 football program in the nation, according to GQ.
This is Dwayne Johnson's athletic history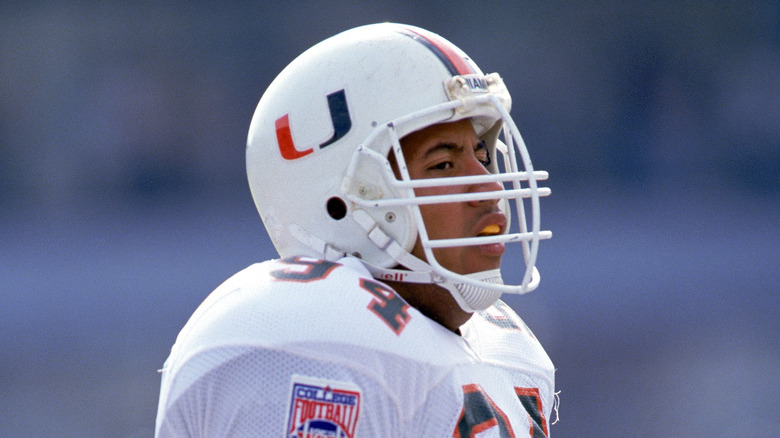 While attending the University of Miami on a football scholarship, Dwayne Johnson's coaches knew he would be someone special. One of his coaches even told him, as Johnson told GQ, "You've got a shot to make it at the NFL." This inspired Johnson, who felt he earned his "ticket" and was on the fast track to success. "So I worked hard, really hard and for a few years I believed it was within my grasp. Man, I was ballin'," he remembered. 
For academics, Johnson studied criminology, thinking he might want to work for the FBI or CIA. And, for football, Johnson played as a defenseman on the Miami team, one of the best in the country, from 1991 to 1994. According to the Bleacher Report, "Over a span of four years, Johnson played with nine future NFLers, two All-Americans and one future Hall of Famer." But, sadly, he ran into difficulties with injuries, admitting to GQ, "I struggled, and I got depressed."
Johnson entered the 1994 NFL draft, but no teams selected him. However, his football career didn't end there. After going undrafted, in 1995, he joined the Calgary Stampeders, a team in the Canadian Football League. "He remained on the practice squad for a few months, getting paid $250-300 Canadian a week" (via the Bleacher Report), before ultimately being cut. Years later, after he became famous, the Calgary Stampeders posted a photo on Twitter of Johnson at team practice in 1995.
Dwayne Johnson reveals how he started wrestling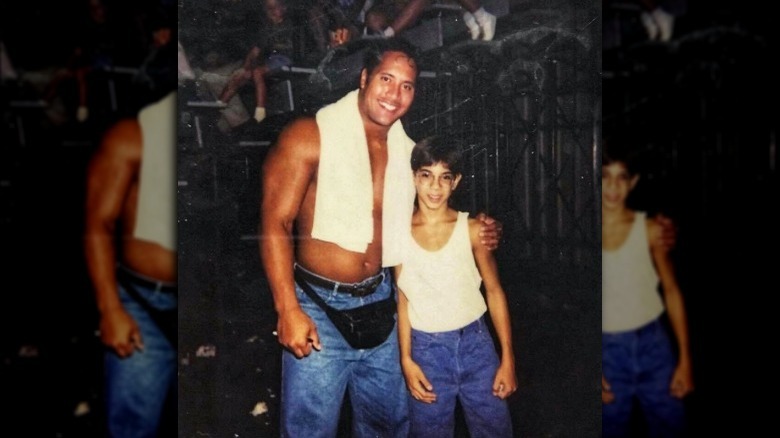 After being cut from the Calgary Stampeders, Dwayne Johnson moved to Tampa, Florida. It was a low point for him. "I looked in my pocket, and I had seven bucks. Wow. Seven bucks to my name," he told The Hollywood Reporter of an early memory. It was in Tampa that he turned to wrestling, the same career his father, Rocky Johnson, and grandfather had done. Rocky even "reluctantly agreed to train him, afraid" that his son would go down the same path he had. To prepare him for pro-wrestling, the elder Johnson "didn't break anything on me, but he grinded me out every day for months," Dwayne explained to Esquire. Rocky remembered saying to his son, "I'm going to train you 150 percent," The New York Times reported. "I was hard on him. But he never gave up," he said.
The future actor started his wrestling career in the USWA, using the name Flex Kavanah, and won the tag team championship (via Wild About Movies). In 1996, he changed his stage name to Rocky Maivia, a reference to his father and grandfather, and joined the WWE. However, he soon changed his image after fans felt his persona was too "nice" (via The Hollywood Reporter). In pro-wrestling, "Baby face is your hero, heel is your villain. I had no choice but to go heel," Dwayne told the outlet. Thus, Rocky transformed into The Rock.
This is the truth behind The Rock's signature moves and catchphrases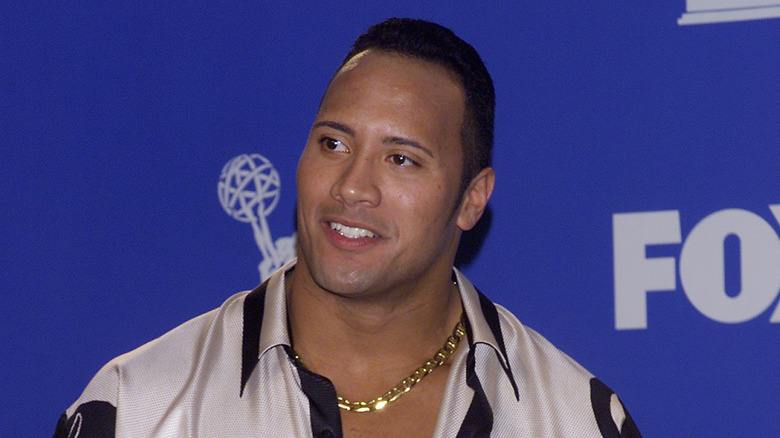 In 1997, Dwayne "The Rock" Johnson debuted his signature move in the wrestling ring known as "The People's Elbow," according to Pro Wrestling Stories. Triple H, a pro-wrestler at that time, said Johnson created the move to try and make wrestler The Undertaker laugh (reportedly, The Undertaker took his role so seriously that he would never break character). "It absolutely started [as a joke] and then it was getting [a] huge reaction and everybody went with it," Triple H told TMZ. It was in 1998 at the WrestleMania XIV event, however, when Johnson, as The Rock, would take his popularity to a new level: This is when, according to The New York Times, he first delivered his iconic catchphrase, "Can you smell what The Rock is cooking?" By 2000, Johnson wrote his best-selling autobiography called "The Rock Says …"
In the new millennium, The Rock was so popular that even the music industry wanted his star power. This led to a guest appearance on Wyclef Jean's song "It Doesn't Matter" as well as a cameo in the accompanying music video. The rapper told MTV, "I reached out for The Rock, and he came to the studio and I told him to do his thing." And, according to Jean, the wrestler "was the easiest person to work with." In fact, according to Jean, Johnson "was so good that I gave him a line to rap."
Dwayne Johnson's first movie acting experience wasn't what he expected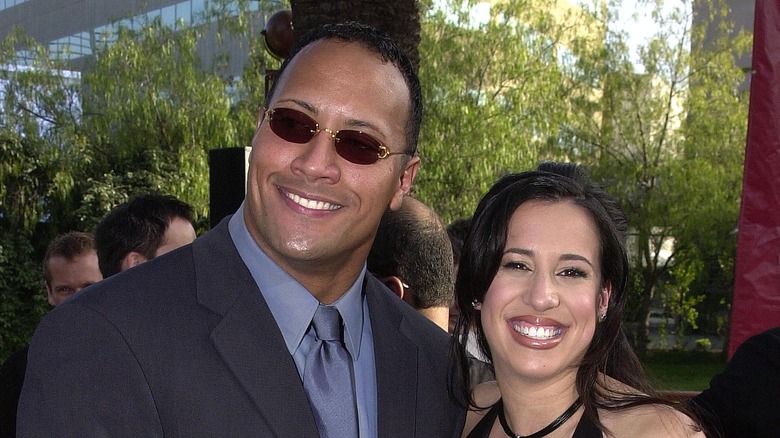 In 2001, Dwayne Johnson landed his first acting role. He joined "The Mummy Returns" as "The Scorpion King" character. Stephen Sommers, the director of the film, told Entertainment Weekly that he snagged Johnson for the role as "he was just starting to explode." The director actually admitted that he "didn't know anything about the WWE" before hiring Johnson, but he remembered watching videos of the wrestler and thinking, "He's got such charisma, he has just oodles of charisma and likability. And, it's true, you can't fake that usually."
Sommers hired Johnson, and soon the wrestler-turned-actor traveled to Morocco to film his scenes. However, Johnson had to return to the U.S. for a wrestling deal, so he only had one day to film with the director. Unfortunately, on the day that Johnson arrived on set, he had come down with a bad case of food poisoning and heat stroke.
Sommers recalled the day well, with the outside temperature around "110, 112 degrees, and everybody's in shorts and tank tops, and he would be covered in blankets, just shivering." According to the director, Johnson kept the blankets on until the moment the cameras started rolling, but he made it through. "That guy gutted it out, because he was just a mess," Sommers said of Johnson's work on the film.
Dwayne Johnson soon made his debut as a leading man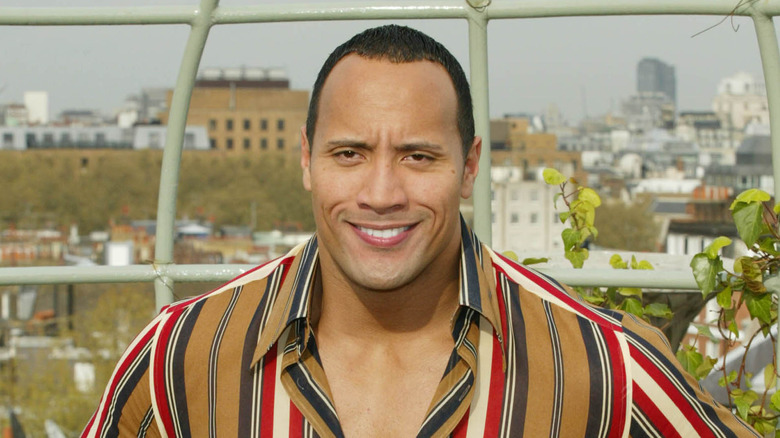 After his appearance in "The Mummy Returns," Entertainment Weekly called Dwayne "The Rock" Johnson the film's "secret weapon." The movie's lead, Brendan Fraser, even said of his co-star, "Whatever he's got, I'll take it." Surprisingly, Fraser never even met Johnson because of their differing filming schedules. 
The film's production studio, Universal, was reportedly "so enamored of The Rock's potential as a movie star" that Johnson was given a spinoff movie. In 2002, Johnson reprised his first lead role as the title character in "The Scorpion King." He said acting was not all that different from his experience as a wrestler, admitting, "I always knew I wanted to do film. And not only did I want to do film, I wanted to make an impact." Well, make an impact he did. The film was a huge success, taking in over $178 million and "propelling Johnson to leading-man status," as Entertainment Weekly later summarized years after the film's release.
Then, in 2020, Johnson announced he was helping reboot the movie — this time with his own production company. "The Scorpion King was my very first role ever on the silver screen and I'm honored and excited to reimagine and deliver this cool mythology to a whole new generation," he said in a statement (via Entertainment Weekly). "I wouldn't have had the career I'm lucky enough to have had it not been for 'The Scorpion King.'"
Dwayne Johnson is a husband and father of three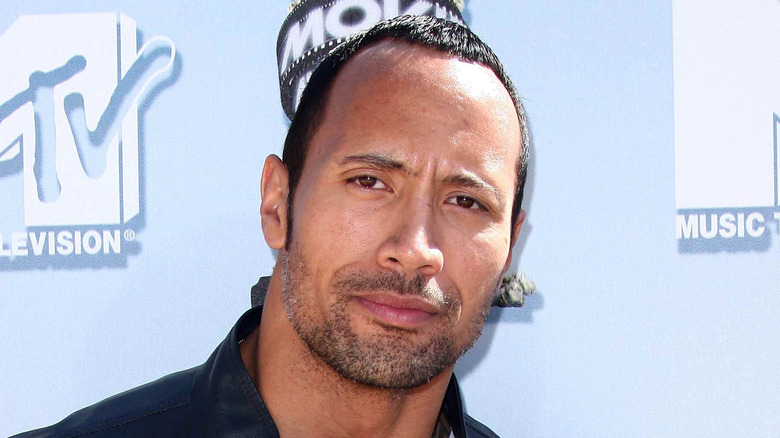 We know a lot about Dwayne Johnson's career, but what about his personal life? While a student at the University of Miami, Johnson met Dany Garcia while they were students at the University of Miami. The couple eventually married in 1997 and welcomed their daughter, Simone Garcia, in 2001, via PopSugar. In addition to being new parents, the couple were in business together. The pair co-founded Seven Bucks Productions, and Garcia was even Johnson's manager.
During this time, Johnson's career was on fire. According to IMDb, he appeared in at least one film every year from 2001 through the end of the decade, showing his acting range in dramas like "Walking Tall" to family-friendly films like Disney's "Race to Witch Mountain." But while Johnson's career was hot, his marriage was not. The two were married for 11 years before divorcing in 2008, E! News reported.
Not long after, Johnson met singer-songwriter Lauren Hashian, revealing in a 2015 Esquire interview that the couple had lived together for "eight, nine years now." That same year, the couple welcomed their first child together, a baby girl named Jasmine, E! News reported. Shortly before Christmas, Johnson posted an adorable photo on Instagram of his newborn laying on his chest, writing, "Being a grateful man takes on a whole new meaning."
In 2018, Johnson became a father for the third time when Hashian gave birth to their second child, a baby girl named Tiana Gia Johnson.
The Rock had a longtime feud with this wrestler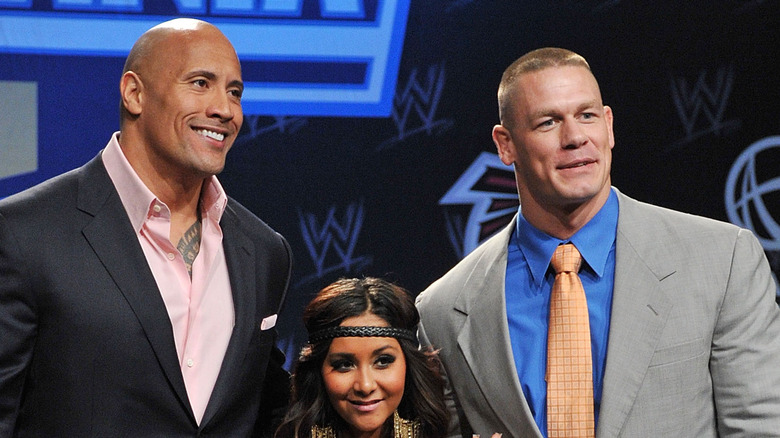 In 2011, Dwayne Johnson returned to professional wrestling for the first time in seven years at WrestleMania 27, where he made fun of wrestler John Cena "before comparing him to a bowl of Fruity Pebbles," per Cinema Blend. Cena then criticized The Rock for leaving professional wrestling for so long. Then, at the 2011 WWE: Raw in Chicago, the two confronted each other in the ring, with Cena literally dropping the mic and "giving The Rock an Attitude Adjustment," his signature move. Soon after, in the title match for WrestleMania 27, The Rock interrupted the fight to slam Cena, causing him to lose the competition. Later that year, at the Survivor Series 2011 in New York City, Cena and Johnson were on the same team, but their feud was far from over. After Johnson defeated The Miz with his famous "People's Elbow," he body slammed Cena, continuing the rivalry.
Fans sure got what they hoped for at WrestleMania 28 in 2012. The "once in a lifetime" event," according to the WWE, "set new records," reaching 1.3 million pay-per-view buys. The two faced off yet again in WrestleMania 29, which surpassed its predecessor as the WWE's "highest grossing" (via Cinema Blend).
After taking time off from wrestling again, Johnson returned to the ring in 2015 as The Rock for a cameo at the Royal Rumble in Philadelphia, where he, allegedly, "got booed by the crowd" (via USA Today).
Hawaii is a special place for Dwayne Johnson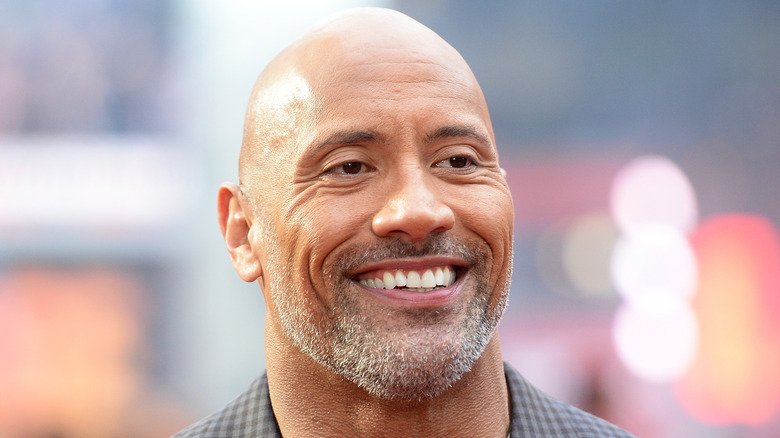 Dwayne Johnson and Lauren Hashian finally tied the knot in Hawaii a little over a year after welcoming their daughter. He posted sunset photos on Instagram of the newlyweds after their wedding. The actor, in fact, up to that point, had been spending a lot of time in Hawaii, where he grew up. He was filming "Jungle Cruise" on the Hawaiian island of Kauai when destructive natural disasters affected the tropical island. 
The 50th state clearly was a meaningful place for Johnson. In a video on Instagram, he spoke about how volcanoes, earthquakes, flooding, and rain all contributed to destruction in Hawaii. He explained his partnership with the organization, Malama Kauai, to help rebuild Kauai and the local community. Johnson also donated a gym to Joint Base Pearl Harbor Hickham in Oahu, Hawaii. A few days after his video about the flooding, Johnson shared another video to Instagram showing the new military fitness space. He explained in the post that the donation was "a token of my gratitude to our troops and their families."
Dwayne Johnson finally put The Rock to rest
Already a successful movie actor, Dwayne Johnson scored a big hit on TV with the 2015 debut of the HBO series "Ballers." After its first season, Variety reported the show became "HBO's most-watched comedy in six years." Johnson not only starred in the series, but he served as a producer. 
However, with a wife and three daughters and a hot film and TV career, Johnson revealed that it was time for him to retire from wrestling. In a 2019 interview on "Live with Kelly and Ryan," he said, "I quietly retired from wrestling because I was lucky enough to have just a really wonderful career and accomplish what I wanted to accomplish," (via Complex). The actor confessed that he would miss wrestling because he loved the sport, saying "there's nothing like a live crowd, a live audience, a live microphone." 
Interestingly, Johnson's oldest daughter, Simone, looks to continue the family tradition. On The Tonight Show Starring Jimmy Fallon, Johnson told host Fallon that Simone signed with the WWE, becoming their "youngest signee" ever. "What an honor that my daughter wants to follow in my footsteps," he said. "But she actually wants to create and blaze her own path."
Source: Read Full Article