Halle Bailey (of Chloe x Halle) will star in Disney's upcoming live-action adaptation of The Little Mermaid, presumably performing "Part of Your World" as the iconic character.
However, it's still unclear if Ariel will get a new song in this reboot, with Bailey maintaining the mystery during an interview at the Nickelodeon Kids Choice Awards.
Halle Bailey will appear as Ariel in Disney's live-action 'The Little Mermaid'
This vocalist is traveling under the sea for Disney's live-action remake. Disney announced that Halle Bailey would portray Princess Ariel in the upcoming live-action reboot of The Little Mermaid. (Some viewers know the character from the 1989 release of the same name.)
Before earning this role, Bailey starred as Sky Forster in ABC's Grown-ish. She portrayed Tina in Last Holiday. She is also credited as a creator of the A Wrinkle in Time soundtrack.
The actor even presented at the 2022 Academy Awards alongside Lily James (of Cinderella) and Naomi Scott (of Aladdin). The Little Mermaid's remake is currently slated for release on May 26, 2023, with Disney also announcing their live-action remake of Snow White and the Seven Dwarfs starring Rachel Zegler.
With the trailer still weeks (or months) away, the details surrounding Disney's remake are still a mystery. Bailey works hard to maintain that mystery, especially during interviews.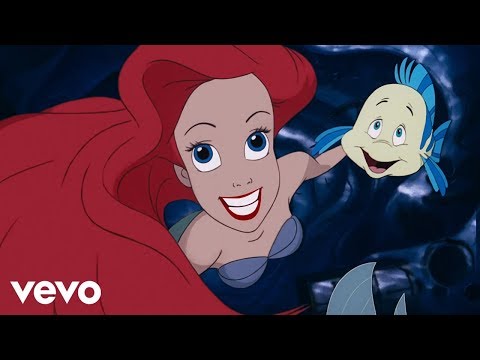 Halle Bailey said it's 'always a dream' to sing an original Disney song
Fans earned that Jonah Hauer-King will star as Prince Eric in this film, and Daveed Diggs will appear as Sebastian. However, not much is known about Disney's upcoming film, including its official soundtrack.
During an interview with ET Online at the Kids Choice Awards, Bailey was asked about performing new, original songs for the live-action Little Mermaid. The actor didn't exactly give a straight answer.
"That would be so cool," Halle said with a smile. "Yeah, I mean, it's always a dream. So, I've just been writing and stuff, but I'm so excited."
The actor added that she was just excited about her older sister's new song. She was also excited to present the first Kids Choice Award of the night. Of course, fans took to social media, noting that Bailey didn't say whether The Little Mermaid would include new songs.
The 1989 version of The Little Mermaid featured songs like "Part of Your World," "Under the Sea," and "Kiss the Girl," which remain fan-favorite Disney originals even years later. More information regarding this upcoming production will be announced in the coming weeks.
Halle Bailey and Chloe Bailey release music as Chloe x Halle
Bailey was abroad working on Disney's upcoming film. Before that, Halle created original music with her sister, Chloe. That includes the 2020 release Ungodly Hour and songs like "Do It" and "Forgive Me." Chloe Bailey even branched out as a solo artist, debuting her singles "Have Mercy" in 2021 and "Treat Me" in 2022.
Source: Read Full Article