Rapper DaBaby has been making headlines for all the wrong reasons. During a performance at the Rolling Loud festival in Miami on July 25, the rapper paused during his set and made homophobic remarks. According to Newsweek, the rapper said, "If you didn't show up today with HIV, AIDS, any of them deadly sexually transmitted diseases that'll make you die in two or three weeks, put your cellphone light in the air … Fellas, if you ain't suck a n**** d*** in the parking lot, put your cellphone lights in the air. Keep it f****** real."
The backlash was swift. People reported that Dua Lipa, who collaborated with DaBaby on her hit song, "Levitating," quickly condemned what the rapper said by posting a message onto her Instagram account. "I'm surprised and horrified at DaBaby's comments," she said. "I really don't recognize this as the person I worked with … I stand 100% with the LGTBQ community."
But before everyone was talking about his ignorant comments, the rapper's height was also another hot topic. So, how tall is DaBaby? Find out the answer after the jump.
DaBaby's height may surprise you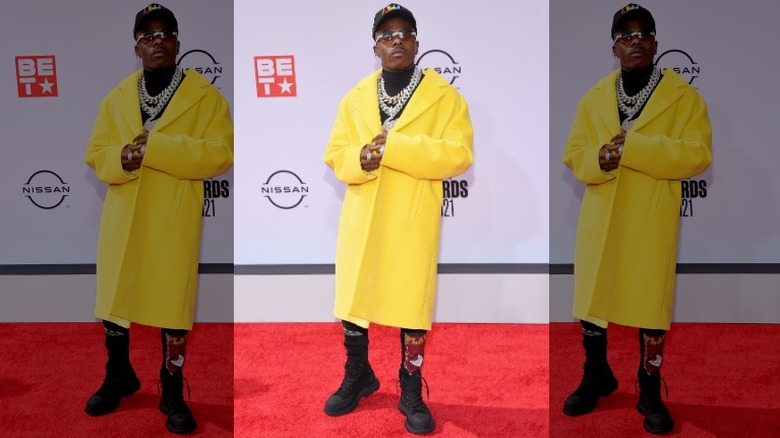 Standing at a reported 5-foot-8, DaBaby has been the butt of plenty of jokes about his arguably smaller stature. Case in point: Back in February, the rapper was involved in another, albeit less dramatic controversy when he seemingly dissed Nickelodeon star JoJo Siwa in one of his songs, referring to her as a "b***h."
The rapper directly tweeted Siwa and cleared the air, claiming his daughter is a huge Siwa fan and that he meant no harm. "Don't let em trick you into thinking id ever have a problem with you. My word play just went over their heads. All love on my end shawty, Keep shinning!" DaBaby said to the YouTuber. Still, that did not stop Twitter users from making jokes about the fact that Siwa stands one to two inches taller than the rapper at 5-foot-10. As a matter of fact, searching up "DaBaby height," on Twitter brings up many jokes about the rapper.
And now, in light of his recent remarks, it is not lost on many that Siwa also happens to be a member of the LGBTQ community.   
DaBaby's apologies fall short, too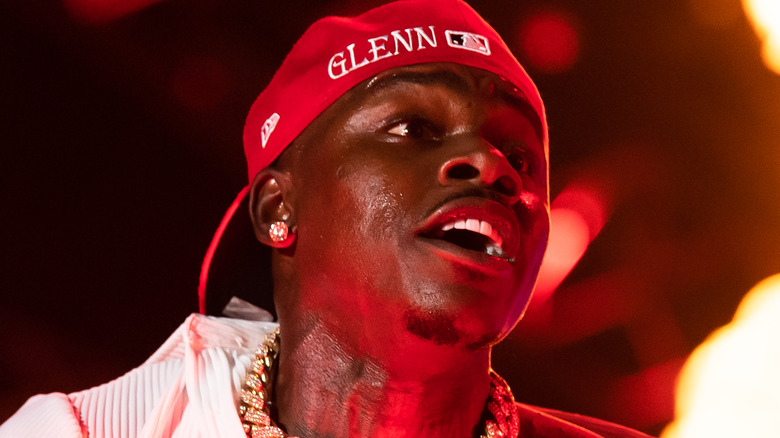 After criticism over his ignorant comments on HIV/AIDS, DaBaby stood by what he said — initially, that is. According to Newsweek, in a series of live videos posted on his Instagram, DaBaby told those who wanted to hold the rapper accountable for his homophobic remarks to "shut the f**k up." The rapper also claimed that his LGBTQ fans still enjoyed his performance.
But on July 27, just two days after the rapper tweeted, "Anybody who done ever been effected by AIDS/HIV y'all got the right to be upset … I have no intentions on offending anybody. So my apologies." The rapper then offered another apology at the end of his latest music video and said, "Don't fight hate with hate," per Us Weekly. Still, that wasn't enough. In light of his comments, DaBaby got dropped by multiple festivals, including Lollapalooza. He then released another lengthier note on Aug. 2, stating, "… As a man who has had to make his own way from very difficult circumstances … I appreciate the many people who came to me with kindness, who reached out to me privately to offer wisdom, education, and resources. That's what I needed and it was received." But just one day after, The Hollywood Reporter noted that DaBaby got dropped by two more festivals: iHeart Radio Music Festival and Austin City Limits Music Festival.
One can only hope that DaBaby learns from his mistakes.
Source: Read Full Article