Rivalry between Sydney and Melbourne is legendary so it is hardly a surprise to hear Martin Foley, Victoria's Creative Industries Minister, declare Melbourne to be the music capital of Australia.
Mr Foley said the city had more live music venues than many other cities in the world, including Sydney.
"The strength of live music in Victoria is underpinned by a huge community of musicians, community broadcasters and fans," he said.
"In stark contrast, the NSW Liberal government has decimated their live music industry, with heavy-handed lock-out laws and no real investment in the sector."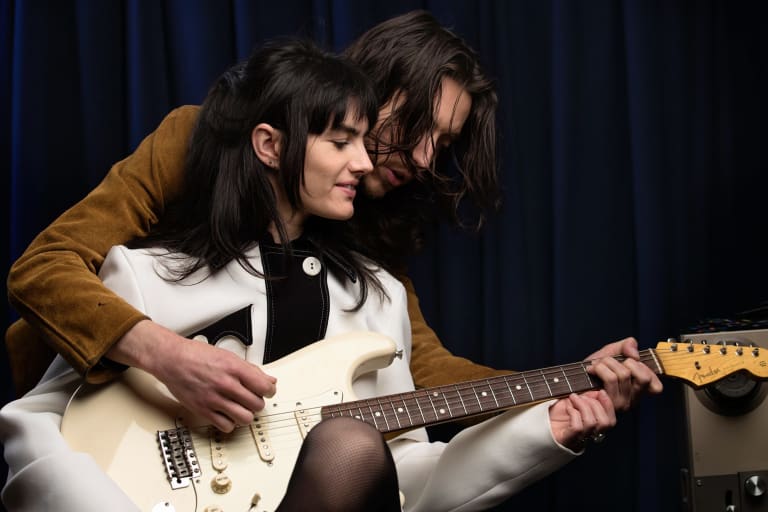 The Preatures' Isabella Manfredi said Sydney's music scene was 'a laughing storck".Credit:Louie Douvis
Protecting live music venues from new developments and a $22.2 million funding package to support the music industry are among the measures cited by Victoria's Labor government.
Yet Sydney is the commercial centre of the music industry, with the majority of major publishers, record labels and industry associations, according to industry body APRA/AMCOS.
The NSW government offers an upbeat assessment of the Sydney's music scene despite evidence given to a NSW parliamentary inquiry into live music. (The federal government is also examining the health of the music industry.)
A spokesman for Create NSW, the state government's arts policy and funding body, said live music had always been part of Sydney's "cultural fabric".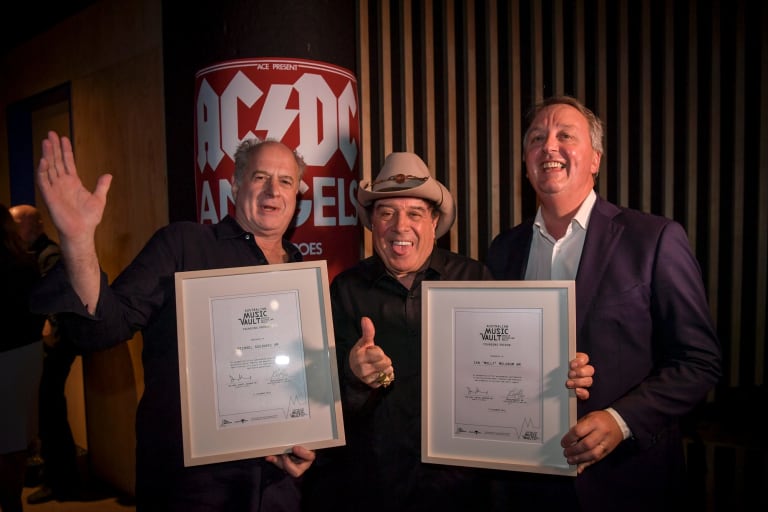 Victoria's Creative Industries minister Martin Foley, pictured in 2016 with Molly Meldrum and Michael Gudinski, said Melbourne is the live music capital of Australia.Credit:Eddie Jim
"Our city is known for supporting and hosting some of the best new and established live and contemporary music talent in Australia and from around the world," he said.
"Last financial year we invested more than $25 million in funding to support individual artists, projects and organisations that actively contribute to making Sydney and NSW's contemporary music landscape one of the best in the world."
The rosy picture painted by the Create NSW spokesman is not supported by many in the music sector, who question the amount of funding it offers to contemporary music.
Isabella Manfredi, lead singer of The Preatures, called Sydney's music scene was "a laughing stock".
"That is really the crux of it," she told the inquiry in May. "It has become an international joke and the butt of international jokes."
Dave Faulkner from the Hoodoo Gurus said live music has been harassed almost out of existence in Sydney by pokies, restrictive liquor laws and planning rules.
Emily Collins, the managing director of Music NSW, said the inquiry had uncovered a range of issues, including a lack of a strategy for contemporary music in NSW.
"But ridiculous regulatory frameworks, and a significant lack of strategic industry investment would be two key issues that have emerged," she said.
Ms Collins questioned the generosity of the NSW government towards the music sector: "We're seeing other states invest more in export for artists, which we know for a fact has meant NSW artists have moved interstate to gain access to those opportunities."
Ms Collins also said regional towns in NSW were left off touring circuits because of the expensive.
"In NSW, there are so few all-ages shows these days because it's just too expensive and risky for promoters to hold shows that aren't supported by income from alcohol," she said.
Sydney's lockout laws had also made it more difficult for emerging artists to find venues to perform, with a number of venues shutting down in recent years.
"Business confidence has taken a hit. Audiences are believing what they're repeatedly being told – that it's not safe to go out, that Sydney has nothing to offer," Ms Collins said. "Consequently, it's harder to put on shows, so there are less shows, which means less performance opportunities for artists."
The 2017 Melbourne live music census revealed that Melbourne had 553 venues that hosted live music performances – the highest number of venues per capita in the world.
Partrick Donovan, the chief executive of Music Victoria, said the city had bucked the global trend of declining live music venues.
"The key difference is that the Melbourne music community quickly rallied to fight for live music in 2010, whereas too much damage was done in Sydney through the implementation of lock-out laws and the like before the community and industry had a chance to start fighting back," he said.
Helen Marcou, the co-founder of Bakehouse Studios in Melbourne, said Victoria did the best job of supporting and nurturing its music industry, including community radio, venues and music stores.
She said bands were avoiding Sydney because of the lack of small and medium-sized venues.
"Without a healthy and supportive music scene, many artists leave Sydney off their national touring schedule all together," she said.
"NSW is in the unenviable position of having to import its own artists back from other states to be able to piece together a strong festival bill."
John Wardle, an advisor with the Live Music Office, said the lockout laws had a devastating impact on Sydney's night life.
"Other restrictions such as the entertainment conditions and prohibitions tabled to the
inquiry as well as overlap in regulatory functions are very significant impediments to the
music industry in NSW," he said.
Mr Wardle said NSW could learn from Victoria and other state's efforts to cut red tape in planning and liquor licensing regulation.
"The evidence for regulatory change in NSW now is pretty compelling, particularly around
the levels of overlap in planning, liquor licensing, the noise/sound complaints processes, as
well as the quite incredible conditions faced by some venues regulating what sort of music
they can play," he said.
Source: Read Full Article