Those who frequent music concerts may love all of the things that go on between songs just as much as they enjoy the songs themselves. Maybe a singer will banter with the crowd, which will make that person seem more relatable and down to earth. Or possibly, they'll hop off stage and go into the audience for a quick meet-and-greet. But more times than not, it seems artists remain on stage and invite others to come up, and the crowd usually loves it.
Plus, there are some moments when an artist will stop his or her performance just to kiss a fan, and one might suspect the crowd would get annoyed since they probably didn't spend their money to witness some hanky-panky. But that's usually not the case — because audience members typically react to the kiss with cheers and howls. 
It's hard to tell at times who's kissing who during those occasions, since sometimes it seems the artist gets things going, and other times the fan starts the lip-locking session. Either way, we've put together a list of singers who've stopped singing during a show to kiss a fan, with some of those kisses being on the innocent side of things and others being full-on makeout sessions.
Billie Joe Armstrong kissed a stage diver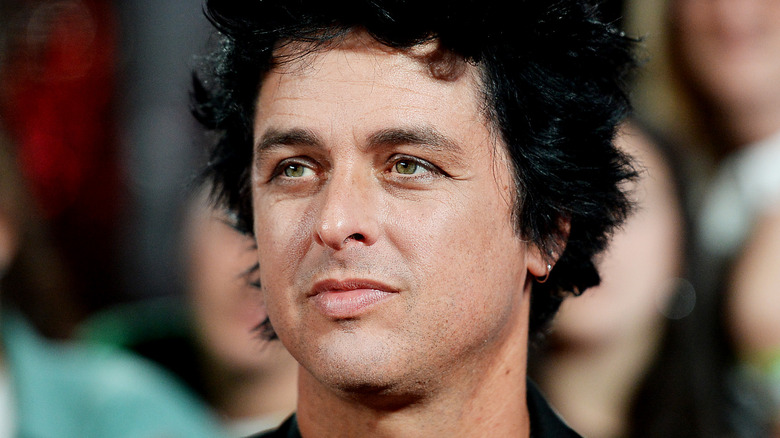 Green Day has been rocking out since 1986, and their fanbase could be called some of music's most passionate. That obviously has to do with the band's well-received brand of pop-punk and their in-your-face style of play. But their longtime success could also be a result of Green Day's strong connection with their fans, and the off-the-wall things they do for them. For example, in 2020, frontman Billie Joe Armstrong said he wanted to play in one of their fan's backyard to help introduce their thirteenth studio album "Father of All Motherfu**ers."
Another way the band shows love to their fans is by inviting them on stage during shows, and often Armstrong plants a kiss on one of them (hey, he even married his current wife, Adrienne, after meeting her at one of their concerts!). He did it in 2009 at a Green Day concert in London while singing "Know Your Enemy," because, during one part, he can be seen screaming the lyrics in a female fan's face. Then, while she had her hands near the singer's hips, they kissed and fans screamed. From there, Armstrong grabbed the woman's camera and took a photo of her, then he allowed her to stage-dive. More than likely, the woman will probably relay that story to her great-grandchildren if she's lucky enough, seeing that she got to kiss a rock star and act like one by getting to stage-dive.
Miley Cyrus had a Las Vegas makeout session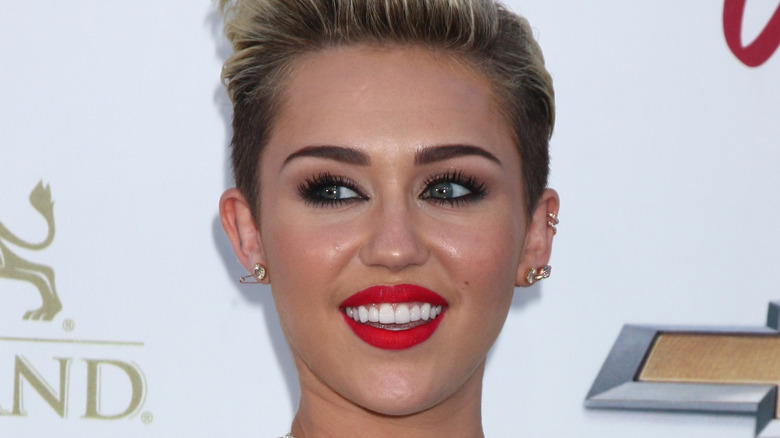 All during Miley Cyrus' 2014 "Bangerz" tour, while performing the song "Adore You," the singer had same-sex couples smooch in a kiss cam. But during a stop in Las Vegas, she decided to kiss someone herself, a female fan who was right near the stage. And because there are no reports of Cyrus being trained in the art of ventriloquism, she couldn't lock lips and sing at the same time, so she briefly stopped the song but the crowd didn't seem to mind. In fact, they cheered and screamed like someone scored a game-winning touchdown.
The kiss was then projected in the kiss cam, with Cyrus and the woman being seen inside of a giant engagement ring. Afterward, the former Disney Channel star got up and wiped her lips but said it wasn't a sign of disrespect, it had to do with cleanliness. "I wasn't wiping [off] your kiss pretty girl just your dark lipstick that was all over my face … thanks for coming to the show mystery babe x," tweeted Cyrus on March 2, 2014. And that wasn't the only makeout session the pop star had during the "Bangerz Tour," she kissed Katy Perry in Los Angeles at the Staples Center two weeks prior.
Lana Del Rey has kissed many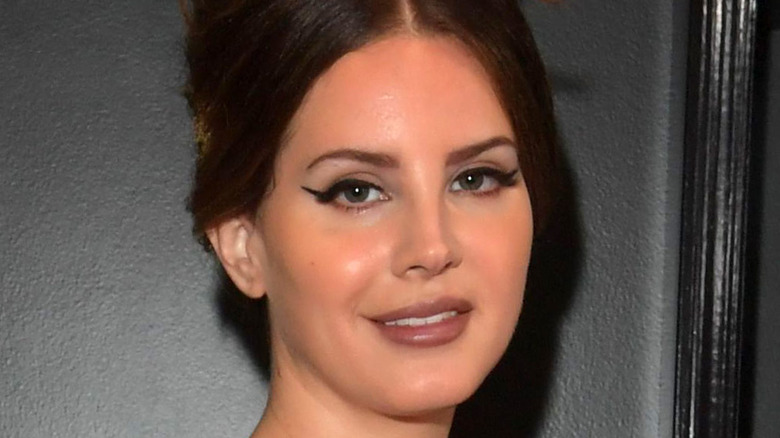 In 2012, while promoting her "Born to Die" album, Lana Del Rey played three shows at Los Angeles' El Rey Theatre and while each crowd was treated to new material at that time, there was one group who received some extra special attention from the woman born Elizabeth Woolridge Grant. It happened at the end of one show while Del Rey sang "National Anthem." And thanks to an audience member who captured the footage, she can be seen sitting at the edge of the stage and delivering lyrics to those in or near the front row. Del Rey then leaned over and started giving out kisses. 
First, she planted her lips on the side of one guy's head, then she and another gentleman exchanged air kisses, plus, a female fan got kissed on the cheek. But there was one guy who received a little more affection since he and Del Rey seemed to kiss much longer. On top of that, he grabbed the back of her head, which made it look like an actual makeout session. Del Rey waved goodbye after that, walked over to the other side of the stage, and doled out more kisses. And based on some of the reactions from those fans, it's safe to say not many faces were washed that night.
Eminem was worried about going to jail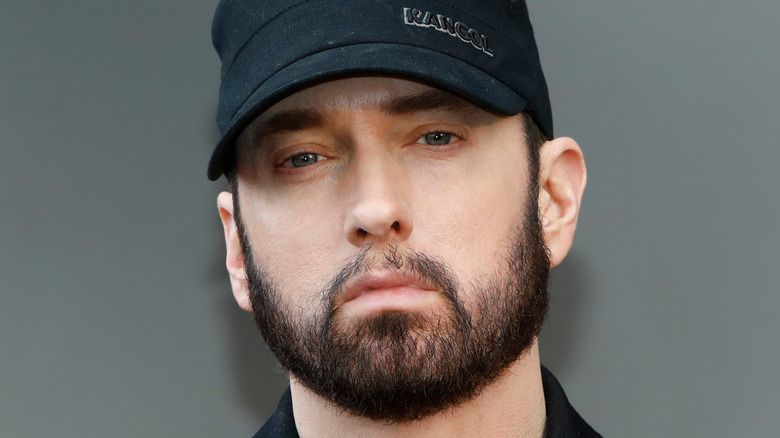 Eminem isn't one of those celebrities who's accused of mistreating his fans, but he'd probably admit to not being the most touchy, feely artist in the world — based on his sometimes-reserved nature. But he did lock lips with a woman at one of his concerts in 1999, right at a time when he was newly famous and the talk of rap. According to Rolling Stone, the gig was in Staten Island, New York and it happened after another woman kissed him first.
That made the second woman, who was wearing a black shirt, approach him and ask for a hug. Then when Eminem agreed, she grabbed his head and gave him a full-on kiss on the lips. "Oh, sh*t, I'm going to jail tonight," he joked afterward. Plus, an Instagram user, who claims to have inside info of that night, confirmed the story. 
And despite Eminem not being known for hugging and kissing fans left and right, he gave another woman some affection in front of others. It happened in 2002 while on BET's "106 & Park" after she asked to approach him, and other women in the audience probably kicked themselves for not asking the same thing.
Drake slow danced with a fan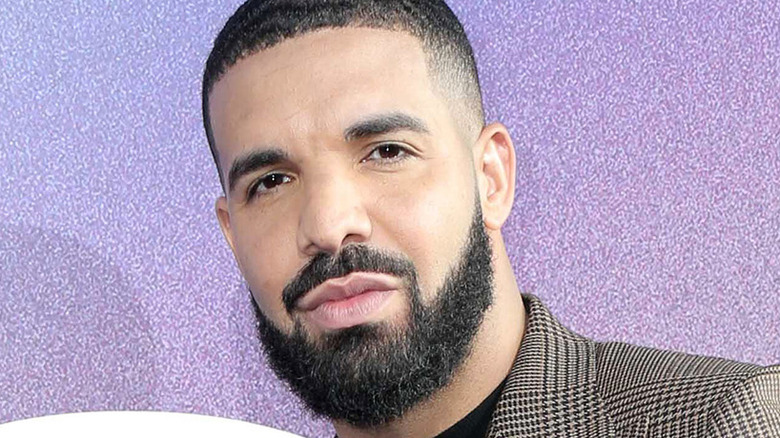 Drake has accomplished what few have in hip-hop: He's been able to gain the respect of male fans, all while creating and maintaining a sex-symbol image with his female fan base. And the rapper has kept that image by seeming to make songs that solely address women, while also inviting them on stage during concerts, as he did in 2010 during a show in Dallas, Texas. At that show, Drake asked the woman to slow dance with him. He then spun her around, kissed her bare shoulder, and asked her a question. "How old are you, first of all?" he asked. "21," she replied. "Okay perfect," Drake said afterward. There was at least one time that Drake did something similar to a 17-year-old girl, which he'd later be criticized for.
Then after talking a little more, the "Hotline Bling" creator told the Dallas woman she was beautiful and kissed her hand, cheek, forehead, another cheek, then her lips. More than likely, one could say the envy in the room that night was palpable, but there were also probably a lot of women who would've been super uncomfortable kissing Drake on stage in front of all those people.
Carrie Underwood made a young man's wish come true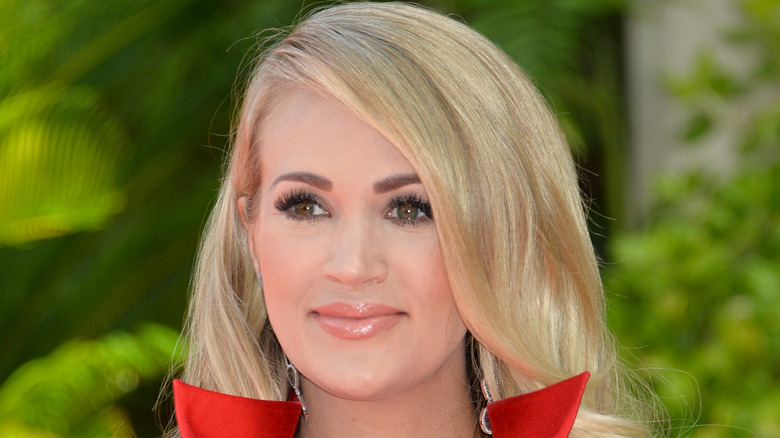 For many, making a sign and bringing it to a concert to get the artist's attention is a common thing, but it's safe to say that most times their message isn't seen by the performer or doesn't get acknowledged. But that didn't happen when a then 12-year-old boy made a sign that said he wanted his first kiss to be with Carrie Underwood, because she pulled him on stage and granted his wish. It all went down at the singer's 2012 show in Louisville, Kentucky, and the clever pre-teen, Chase Kurnick, spoke about the kiss afterward.
But first, let's explain what happened: Initially, Underwood brought the young man to the stage, before revealing that she had her first kiss at age 14. "How we going to do this," she eventually asked Kurnick, who gave what could be considered the best response ever. "Lip to lip," he answered, which made the crowd laugh and scream. "This is the smartest kid ever," Underwood replied. From there, she told Kurnick to close his eyes, and they shared a quick, innocent peck on the lips. The "Cry Pretty" performer then tweeted about the kiss afterward, thanking Kurnick and hashtagging the words "Lip to lip." Kurnick talked about the peck on "Today,"' and said when he arrived at school he was swarmed with high-fives from people who heard about his epic night. "It took me like five minutes to get to one class," he said.
Katy Perry kissed a former reality star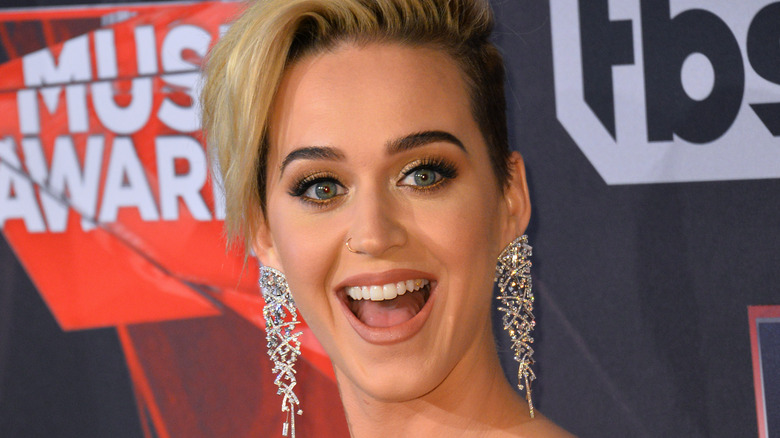 Katy Perry's level of flirtation was on high in 2012 during a stop in the Philippines while she was on her "California Dreams" tour, and on the receiving end was a shirtless Ivan Dorschner, a former housemate on Philippines' "Pinoy Big Brother: Teen Clash 2010." First, Perry asked him his age, to which he replied 21. Then the "Hot N Cold" singer asked Dorschner a question, which could be the best sentence he's ever heard in his life.
"So Ivan, we want to make you and your dreams come true, 'cause I'm sure you haven't kissed a pop star, have you?" Perry asked, who did a similar act in other countries. Dorschner then shook his head no, and Perry told him to look forward right before planting a long kiss between the corner of his mouth and cheek. At that point, Perry asked Dorschner to return the favor, which he did. Later, Dorschner spoke about the kiss with the Philippines' ABS-CBN News and said being the oldest in the area he was sitting worked out for him. "I was so lucky. I was in the front row, there were others who wanted to but they are a little bit young too. I was lucky enough to be picked," he said in Filipino, according to Google Translate.
Lady Gaga smooched a dancing fan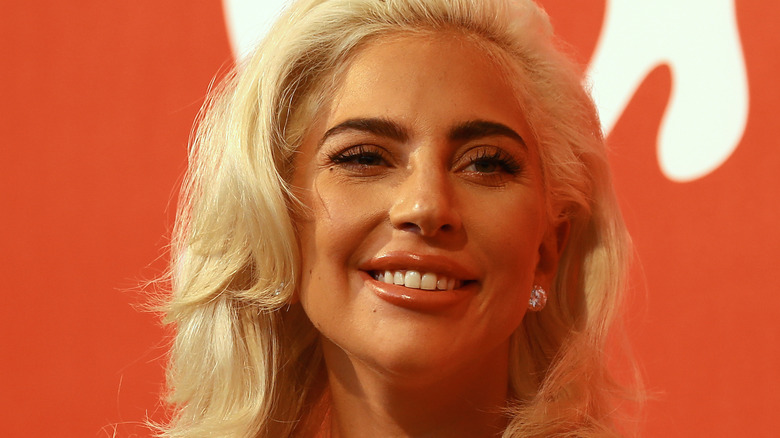 For some lucky people, dreams come true. For those even luckier, two of them come true in a single night. That's exactly what happened to a man at Houston Texas' Toyota Center, who seemed to be an incredibly passionate Lady Gaga fan. Why? Because he got to dance on stage with the crooner and also got a kiss. Things started when Gaga performed her song "Scheiße" and the man copied her moves, as well as the onstage dancers'. "Okay, kid in the orange. Come on stage. I see you trying," Gaga told him.
Seconds later, the guy did his best to land the moves just like the singer and her dancers, which he did for the most part, especially toward the end. He even struck a nifty pose when the song was over, and the entire area erupted with applause. "You see, you can do anything if you put your mind to it," Gaga told the crowd. She then said the guy joining her wasn't part of a "set up," right before someone threw a bouquet on stage. Then right on cue, the dancing fan scooped up the flowers, dropped to his knee, and presented them to Gaga. And that's when she kissed him square on the lips, which made his face light up like a fireworks display.
Elvis Presley sang and kissed at the same time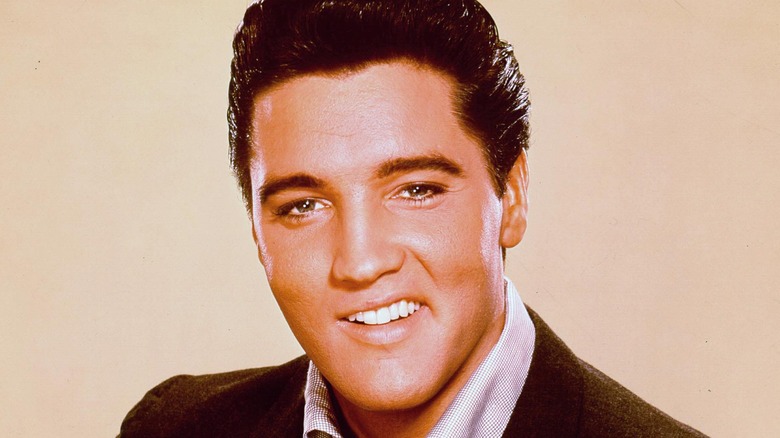 One woman at an Elvis Presley show saw the late singer giving out kisses to female audience members, which seemed to encourage her to go for the gusto. The show was in Las Vegas and filmed for Presley's 1970 documentary, "Elvis: That's the Way It Is," and while performing fan-favorites, he also gave out kisses. And there was one young woman in particular who seemed to be on the verge of hysterics, screaming out, "Please come kiss me." She then wrapped her arms around the "Jailhouse Rock" singer and yelled out how much she loves him while seeming to cry.
But Presley did a good job of making things not appear awkward because he jumped to his feet and quickly responded to another kiss request from that woman who we said probably needed encouragement. From there, that woman not only asked for a smooch, but she also sparked a tiny makeout session. "Do you want to get serious or just play a little bit?" Presley asked her. "Yes," she said, before grabbing his head and kissing him as if she just said her I-dos. And that wasn't the only time during the show that Presley kissed many, he did the same thing while singing "Love Me Tender." Maybe he should've been a spokesperson for ChapStick or something.
Robbie Williams gave someone a 'proper snog'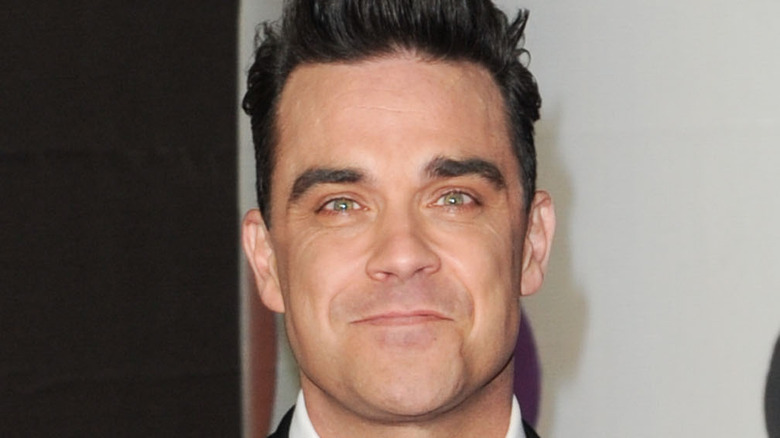 Former Take That singer Robbie Williams caused a stir for his sheer outrageousness when he performed in Knebworth, England, in 2003, which was recorded for the BBC. In fact, the singer acted so wild on stage, the Daily Star says that much of his performance was edited afterward, which seemed to be a no-brainer considering some fans got partially naked. Then while singing his song "Come Undone," Williams pulled a dark-haired 27-year-old woman named Carly Quinlan to the stage, and they began dancing slowly.
The way it appeared, the woman was lost in the moment, as she closed her eyes and embraced the singer tightly. She even dropped her hands and placed them on his derrière. Then, just like the end of any decent romantic comedy, the two looked into each others' eyes right before they began kissing. From there, the music played without any lyrics for a moment, as Williams and the woman continued to dance in the middle of the stage. "It was amazing. One minute I was watching Robbie from the crowd and the next he was kissing me on stage," Quinland told The Sun, (via Pop Dirt). "It was a full-on proper snog. I've never known anything like it."
Michael Jackson was met with sobs and screams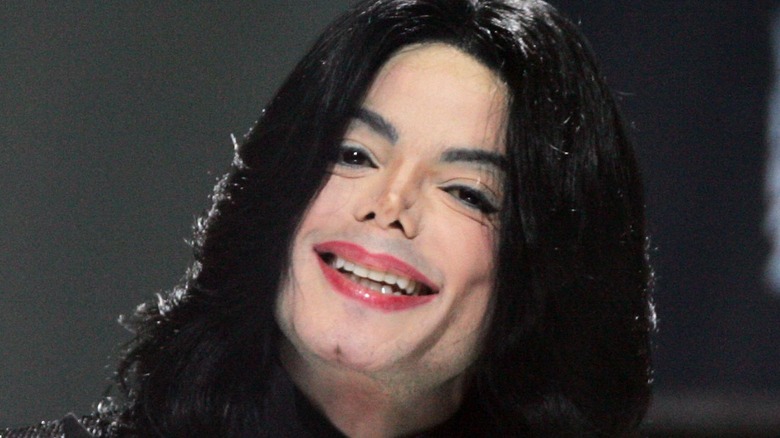 Often when a pop star arrives in town for a show, their limo gets swarmed, and people start pushing all kinds of items in their face to be autographed. But there are other pop stars who make people completely lose it, to the point they can't speak, and they replace their words with tears. The Beatles were certainly among that group, as was Elvis Presley, and one certainly can't forget about Michael Jackson since many fainted after seeing him or watching his performance.
One woman was named Luciana Lopez, who was let on stage in Argentina during Jackson's 1993 "Dangerous World Tour" while he was singing "She's Out of My Life." Right away, the woman flung her arms around the late singer, as he tried his best to continue with the song. She then screamed out about how much she loved Jackson and planted a big kiss on him, which he reciprocated — although he looked uncomfortable. Eventually, someone had to pry the woman from Jackson's body, as it seemed she could've stayed there forever. "I was a young woman that knew exactly what she feels. And I can say that I was deeply in love with him," the woman supposedly wrote, which was shared on Facebook in 2018. "I did kissed him and caressed him and hugged him so many times in my mind. I guess that's why when I finally got to do it for real it felt so familiar."
Source: Read Full Article