Country superstar Luke Bryan and his wife Caroline Bryan have a special relationship with the singer's niece, Jordan Cheshire. In December 2020, the family was elated when they discovered that Jordan was engaged to her boyfriend Clint. They celebrated the announcement with a party, and Caroline documented the good times on her Instagram story (via Good Morning America). Caroline uploaded a snap of her and Luke with the bride-to-be showing off her engagement ring. "Our precious niece is engaged and this is the picture that explains our night!!!" Caroline wrote, gold balloons adorning the cute pic.
Jordan tied the knot on Sept. 5, with Luke and Caroline heavily involved in the ceremony. The wedding took place at Troubadour Golf and Field Club in Nashville, Tenn. and the event was documented by Emily Clarke Events who helped plan the wedding. There was a breathtaking white floral theme throughout the venue, per Country Now. Luke was given the honor of walking his niece down the aisle, and the event planner shared footage of the touching moment. 
"The bride's uncle escorted our beautiful bride down the aisle," the planner wrote on an Instagram post. "And when he fixed her veil, I melted." During the reception, Luke and Jordan shared a dance under a canopy of lights as "You'll Be in My Heart" by Phil Collins played. Keep reading to find out the heartbreaking reason why Luke was the one to give his niece away.
Why Luke Bryan looks after his nieces and nephew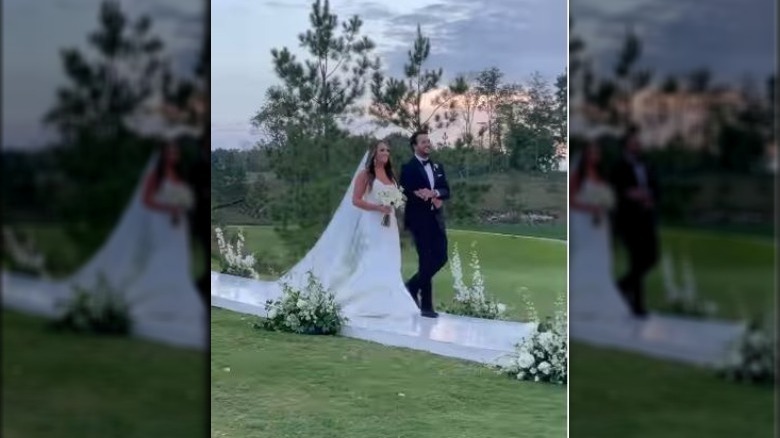 In 2007, Luke Bryan's sister Kelly died of undisclosed natural causes, per Taste of Country. She is survived by two daughters, Jordan and Khris, and her son, Til. Following Kelly's death, her children were raised by their father, Ben Lee, until tragedy struck again in 2014 and Ben died of a heart attack, per Access. After the death of both of their parents, Luke stepped in and took guardianship of his nieces and nephews. Although Jordan and Khris were old enough to be on their own, Til was only 14 years old so he moved in with the Bryans, People. 
The tragedy led to a bit of unexpected warmth, as the country superstar has worked alongside his wife Caroline Bryan to let Jordan, Khris, and Til know they have a home. "I think with us, I mean, obviously, I do it with (the help of) my wife, hand in hand," Luke told Today in 2019. "She's really stepped in and just crushed that role at being someone for them," he added.
In addition to losing his sister, Luke's brother Chris died in a car accident in 1996. "You truly never get over it," Luke told People in July. Yet, the singer chooses to believe his deceased loved ones are guardian angels for him and his family. "Maybe Chris and Kelly and Lee have moved some puzzle pieces around to make my life so fortunate," he told the outlet.
Source: Read Full Article