Taylor Swift transformed the music industry as she, herself, transformed from a teenage country music newcomer to a global pop star. In her first album, released in 2006, as The New Yorker noted, a 16-year-old Swift "sings with a twangy Southern accent, and makes references to God and pickup trucks." Part of what makes her writing so special is her relatability and natural talent for describing the ups and downs of romance, especially young love. Swift has said that many of her songs are about "love, and unrequited love, and love that didn't last, or love that you wish had lasted, or love that never even got started." Her first album was the start of an incredible career, with Swift consistently pushing out more. In fact, the singer released at least one album "every other autumn," Vulture noted. And, with each album, Swift's popularity only continued to grow.
For her tremendous career, Swift landed at No. 8 on Billboard's Greatest of All Time Artists, surpassed only by other greats like Barbra Streisand and The Beatles. As of 2021, nine of Swift's albums charted at No. 1 on the Billboard 200 albums chart, "tying Madonna for the second-most among women."
Along the way, Swift expertly handled adversity of legal troubles, broken romances, and unfair pressure as a woman in the music industry. This is the transformation of Taylor Swift from age 1 to 31.
Taylor Swift grew up in Pennsylvania with a pretty happy childhood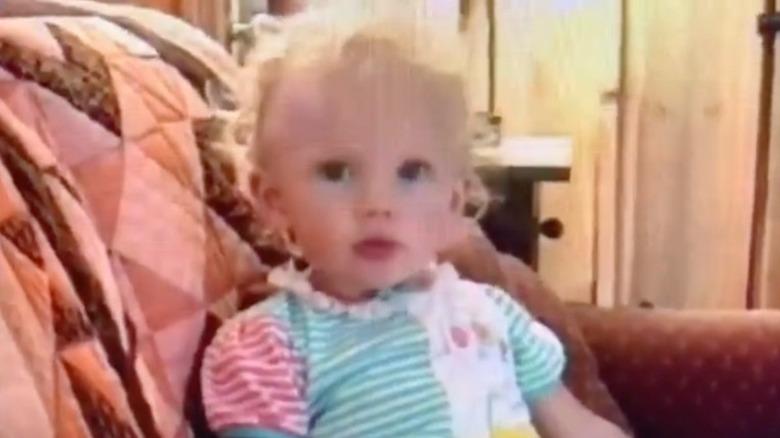 Taylor Swift was born in Reading, Pennsylvania, and grew up in the suburb of Wyomissing, along with her younger brother and parents, who both worked in finance, The New Yorker reported. While in school — which she described as a place where "it mattered what kind of designer handbag you brought" — Swift aspired to follow in the footsteps of her parents and work in finance, though, at the time, she actually "didn't know what a stockbroker was," she told The New Yorker. 
Swift described her close relationship with her mom on Instagram. "My conversations with my mom have always been and will always be some of my favorite memories," she said in the caption for a video she posted of herself as a baby. And, she revealed that, even as a superstar, she still speaks with her mom "every day on the phone. Our talks are everything to me."
The pop star grew up on artists like The Chicks and Shania Twain, which started her love for pop-country music, noted The New Yorker. Looking back, Swift remembered feeling inspired by these women in music, noting, "It was just such a given — I want to do that!"
This was Taylor Swift's childhood passion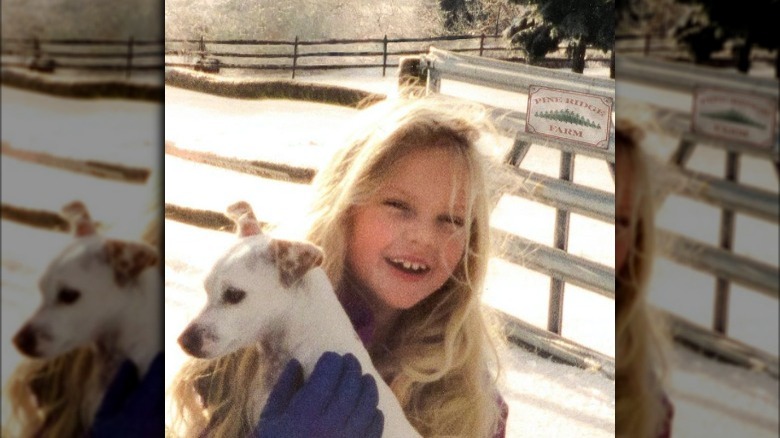 Taylor Swift grew up on a Christmas tree farm, but not because her parents were farmers. Her father, a stockbroker for Merrill Lynch, purchased the home from one of his clients, according to The New Yorker. Swift later wrote a song called "Christmas Tree Farm." For the album art, which she posted on Instagram, the singer captioned, "I actually did grow up on a Christmas tree farm." The photo shows a young Swift wearing gloves, holding a white dog in front of a winter wonderland scene, with snow covering the farm.
Growing up on a farm, Swift became interested in horses at a young age, and, as reported by the New York Daily News, "Her first hobby was [horseback] riding." According to the article, Swift "took riding lessons and eventually ended up competing in horse shows around the age of 7." The singer later shared photos of her childhood, which showed her interest in the beautiful animals. An article for Rolling Stone shows a picture of Swift at age 10 standing next to a horse while wearing her riding gear.
This is how Taylor Swift learned to play the guitar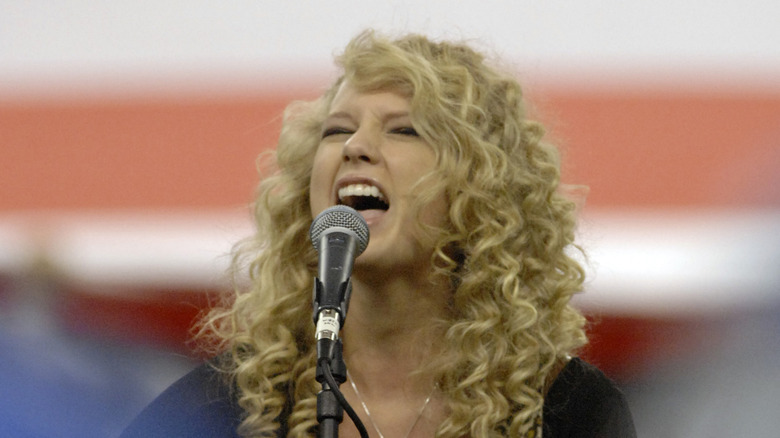 As a teen, Taylor Swift became interested in music. In a promotional DVD, the singer explained how she first learned the guitar. "When I was about 12 this magical twist of fate (happened). I was doing my homework [when the tech fixing my computer] looked over and saw the guitar in the corner," Swift recalled, via the New York Daily News. And, according to Swift, the computer technician said, "'Do you play guitar?' I said, 'Oh. No. I tried, but…' He said, 'Do you want me to teach you a few chords?' and I said, 'Uh, yeah. YES!'" Although the technician remembered the interactions a little differently, he detailed that the young Swift quickly picked up the ability to create her own songs. An article of photos for Rolling Stone includes one of Swift as a 13-year-old holding a guitar. 
Swift began playing shows in her home state of Pennsylvania. These days, even as a celebrity, she makes sure to remember her roots. During a 2018 concert in Philadelphia, Swift told the crowd, "Every year as I come home to Pennsylvania, it gets more and more special," The Morning Call reported. The singer explained how early fans remembered listening to her first shows, like at an amphitheater in Bethel, Berks County. Swift added, "And the fact that it went from that to playing two nights at a sold-out stadium is amazing."
This is how Taylor Swift made her big debut
According to Inc., as an 11-year-old, Taylor Swift visited Nashville, Tennessee, "and literally knocked on the doors of producers along Music Row — an area famous for housing hundreds of music-related businesses" and reportedly "handed out CDs of herself singing covers." While Swift didn't receive any calls, she continued to work on her songwriting and recorded some original music, and, just two years later, became "the youngest songwriter to be signed by Sony/ATV." Thanks to the record deal, Swift and her entire family relocated to Nashville to put the young musician in the heart of the country music scene.
The man who first signed Swift, executive Scott Borchetta, remembered seeing Swift's application as a 14-year-old, describing it to Inc. as "a very smartly prepared package." He invited Swift to play him a few songs live on her guitar. "That's a hit song," he said after she played her song "Picture To Burn." At the time, Borchetta was working for MCA Nashville, but he was on his way out to start his own company. Swift joined him and released her first album, "Taylor Swift," in 2006. "The result was a small masterpiece of pop-minded country, both wide-eyed and cynical, held together by Ms. Swift's firm, pleading voice," The New York Times reviewed.
Taylor Swift quickly went from listening to country artists to 'competing' with them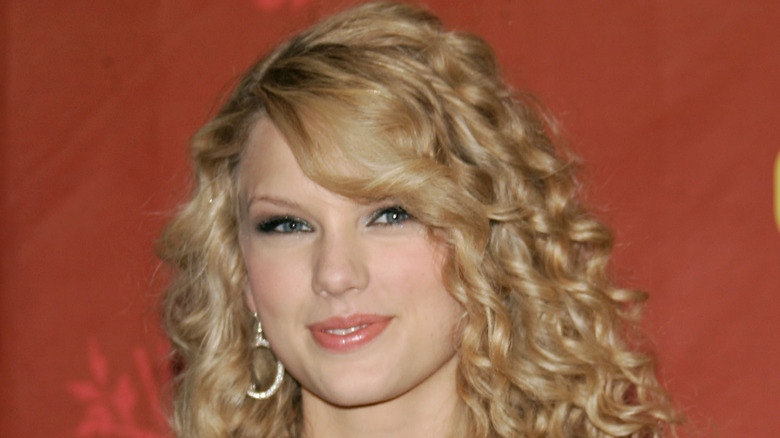 Critics and fans alike were drawn to Taylor Swift after the stunning success of her debut album, which was "certified gold just three months after its October 2006 release," Songwriter Universe reported. And the hype never slowed down, with the album remaining in the Billboard Country Top 5 even two years after its release, as noted by a 2008 article in The New York Times.
In an interview for Songwriter Universe, Swift described how it felt to go from a country music fan to one of its biggest stars in such a short time frame. "A year ago I would just be listening to Miranda Lambert's album (as a fan) — now I'm competing with her and other artists on the charts," Swift said.
Looking back at this early stage in her career, Swift remembered being hopeful of big things to come. She posted a photo on Instagram that showed her as a teenager, playing guitar to only a few spectators. In front of the stage is an amateur-looking sign with her name in big, red letters. Swift captioned the photo, "I said in an interview 13 years ago 'I'm just hoping that I have a second album that does as well as the first and someday get to be a headliner, and always be the same person that I started out as.'"
For Taylor Swift's 'Fearless' era, she embarked on what's become her signature look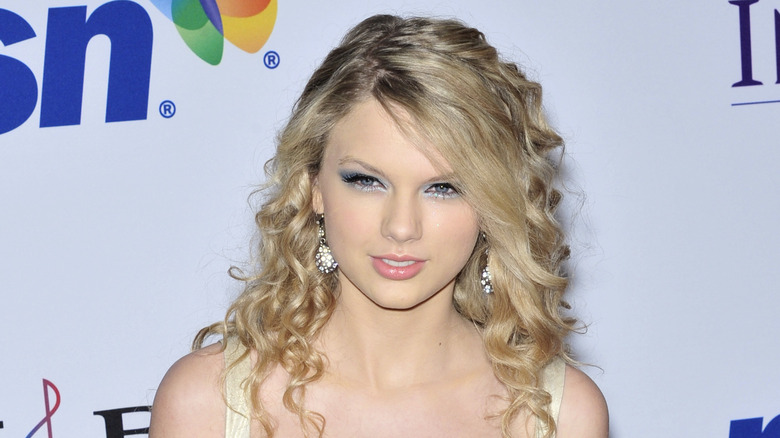 Though Taylor Swift was already gaining popularity following her debut, she became a sensation with her next effort. Ignoring the much-feared sophomore slump, her second album "Fearless" went on to win four Grammy Awards, including Album of the Year, the biggest award of the night. This made Swift the youngest artist ever to win the award — a record she held until an 18-year-old Billie Eilish won Album of the Year in 2020 (via CBS).
Just before the album release, Swift had an amazing few months. Romantically, she was linked to Joe Jonas. MTV nominated her for a Video Music Award, which was "almost unheard of for a country artist" at the time, according to The New York Times. And Swift started to merchandise her star power, signing a deal to create her own line of dolls.
This was also the start of Swift's signature look. In an interview for The Boot, Swift described how the look came about from a random outing with a friend. "My best friend and I were in the makeup store, and I just looked down and saw the red lipstick and said, 'I need a change. I'm doing it!'" remembered Swift, who admitted she had typically been modest with her makeup colors. "I bought it and wore it out of the store, and I felt like I was making this daring change."
Here's the truth behind the Taylor Swift and Kanye West incident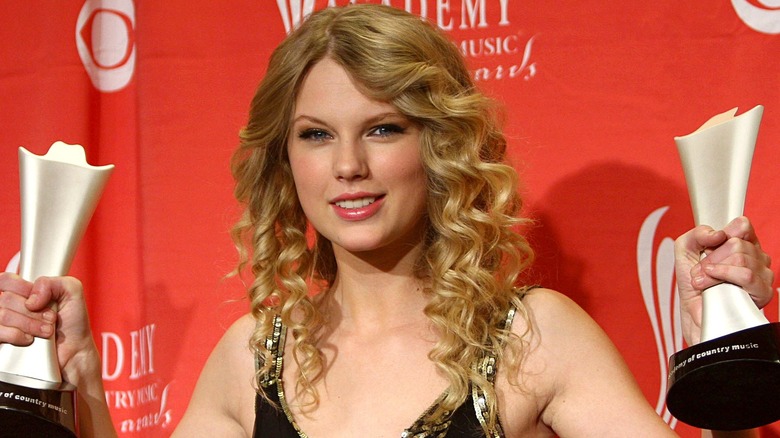 By the end of the aughts, Taylor Swift was on a roll. In 2009, she attended the MTV Video Music Awards as a performer and nominee for Best Female Video. Swift won for her "You Belong With Me" video and went on stage to accept the honor. But Kanye West, who was in the audience, disagreed with the voters' decision. During the live show, he jumped on stage, grabbed the mic, and said, "Yo Taylor. I'm really happy for you. I'mma let you finish. But Beyoncé had one of the best videos of all time." West was referring to Beyoncé's video for "Single Ladies (Put a Ring On It)," which had just lost to Swift.
The shocking scene became one of the most memorable pop culture moments of the decade. Billboard later recounted the aftermath of West's actions. "The crowd in Radio City just turned on [Kanye] — people were booing and hissing. During the commercial break … P!nk walked up to him and got in his face," James Montgomery — a worker for MTV at the time — remembered. Swift and her mom were reportedly in tears after the incident, yet she still went on to perform later in the show. The show's director that year felt Swift handled the nightmare ordeal "with true dignity and professionalism."
Taylor Swift has experienced backlash
In an acceptance speech for Billboard's Woman of the Decade, Taylor Swift described her life at the start of the new decade in 2010. After "Fearless" won Album of the Year at the Grammys, she remembered it kicked off a wave of criticism. She said the negativity and backlash was something she'd "never experienced before." 
The singer detailed how critics began commenting on the quality of her singing voice. Some even questioned her songwriting ability after she had worked with co-writers in the past. As a result, she said during her speech, "I decided that I would be the only songwriter on my third album 'Speak Now.' And that I would tour constantly, work on my vocals every day, and perfect my stamina in a live show." Looking back, she felt that the criticism toward her was "what happens to a woman in music if she achieves success or power."
Taylor Swift looked toward pop with this album
Though she had hints of pop in her first three albums, Taylor Swift had always been considered a country music artist. That is, until her fourth album "Red." As Pitchfork reported, her single from the album, "We Are Never Ever Getting Back Together," was the first time she collaborated with "pop gurus" Max Martin and Shellback, while noting that the song "didn't sound like the old Taylor Swift … It sounded like a new version of her, being fitfully born." It was also Swift's first to reach No. 1 on the Billboard Hot 100 chart. 
Alongside other hits like "22" and "I Knew You Were Trouble," the album features, perhaps, her finest performance — the song, "All Too Well." In fact, Rolling Stone considered it her best song ever. "No other song does such a stellar job of showing off her ability to blow up a trivial little detail into a legendary heartache," the article said, referencing her lyrics about a scarf filled with memories. And Vulture noted it was "her most literary, with a string of impeccably observed details." In an interview for "Good Morning America," Swift explained how "All Too Well" was the most difficult song to write on the album. "It took me a long time to filter through everything that I wanted to put into the song. It started out being probably like a [10-minute] song," she said.
Taylor Swift officially went pop with this album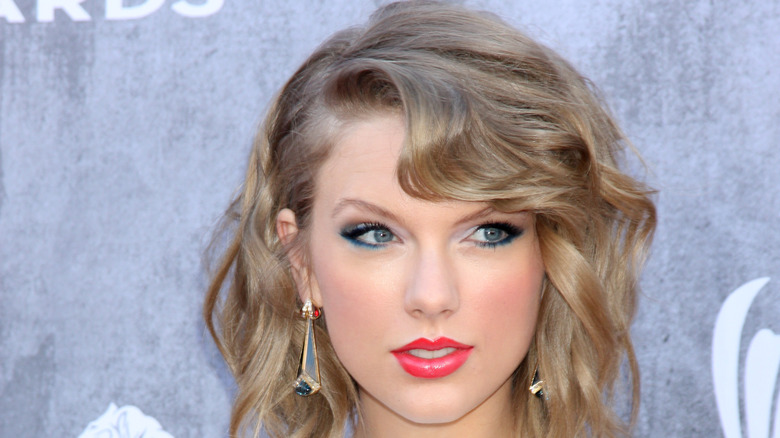 In 2014, Taylor Swift purchased a $20 million property in the Tribeca neighborhood in New York City, per Page Six, and released her album "1989," which included the song "Welcome to New York," likely inspired by her new city. Swift provided some insight into the album, which was named for her birth year, to the Grammys. "I woke up [one morning] at 4 a.m. and I [decided the album is] called 1989," she said. "I've been making '80s synth pop, I'm just gonna do that. I'm calling it a pop record."
According to the singer, she didn't care what her label thought of this complete shift toward pop. For the album, Swift worked with Swedish producers Max Martin and Shellback, plus musicians Imogen Heap and Jack Antonoff to make a "sonically cohesive record" (via the Grammys). The result worked, with the album featuring some of her biggest hits to date, including "Shake It Off," "Blank Space," and "Bad Blood." The album sold over a million copies in its first week and went on to win a Grammy for Album of The Year.
The New York Times noted that Swift continued to grow and dominate the music world. "On this new stage, Ms. Swift is thriving. And crucially, she is more or less alone, not part of any pop movement of the day. She has set herself apart and, implicitly, above."
Taylor Swift made headlines for the rise and fall of her relationship with Calvin Harris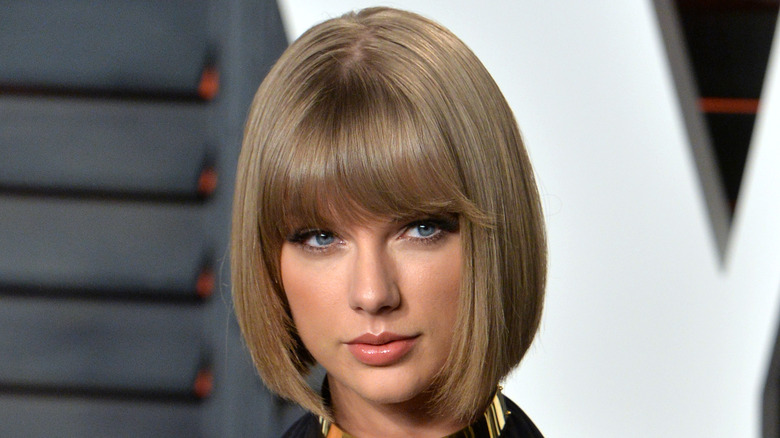 The biggest gap in Taylor Swift's discography occurred between 2014, when she released "1989," and the release of her next long-awaited album, "Reputation," in 2017 (via Vulture). During this time, Swift remained in the news cycle, namely for her love life: this time for a new relationship with music producer and artist Calvin Harris. According to an Instagram post, Swift first met Harris at the Elle Style Awards in February 2015, where singer Ellie Goulding allegedly introduced them. Nearly a year later, Swift referenced Harris during an acceptance speech at the 2016 iHeartMusic Awards. "I had the most amazing person to come home to when the spotlight went out and when the crowds were all gone … I want to thank my boyfriend Adam for that," she said, referencing Harris' real name.
However, soon after their one-year anniversary, sources told People that the couple split up. "There was no drama. Things just don't work out sometimes," the source said, claiming, additionally, "No one cheated." But Harris may have felt differently. According to TMZ, his song "Olé," was about Swift's alleged cheating with actor Tom Hiddleston.
Taylor Swift's 'Reputation' began to be questioned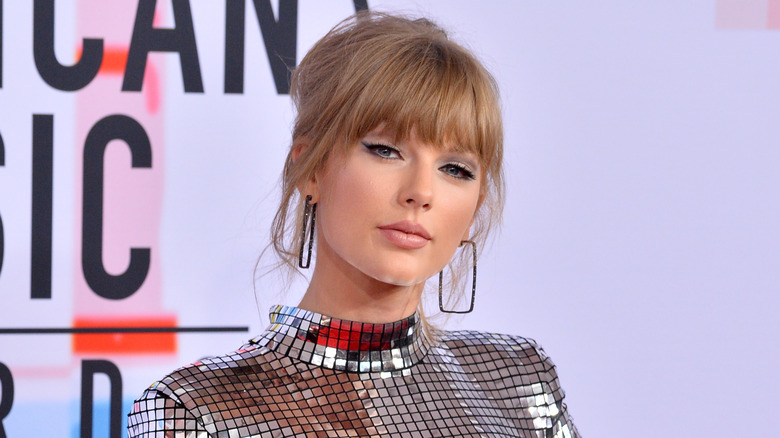 Taylor Swift's 2017 record "Reputation" featured yet another new version of the singer. In the single "Look What You Made Me Do," Swift sings, "I'm sorry. The old Taylor can't come to the phone right now. Why? Oh, 'cause she's dead." Upon release, the album received mixed reviews, according to Billboard, with the media debating everything from "what Taylor Swift meant to pop culture," to "whether she was a saint or a snake." But the publication also considered "Reputation" her best album of her first six. "Reputation" was also a success commercially, with Vulture noting that after the album "moved 1.216 million units in its first seven days, Swift became the only artist in history to achieve four different million-selling weeks."
The album also focused on Swift's changing reputation in the media over the previous few years. Earlier in 2017, Swift dealt with personal troubles stemming from her 2013 sexual assault case, in which she claimed a DJ assaulted her in Denver, Colorado, while touring for her album "Red" (via BBC News). The DJ filed a countersuit after losing his job. However, his lawsuit was ultimately thrown out, and Swift won her case. She was awarded $1, an amount that she specifically chose. "My hope is to help those whose voices should also be heard," she said after winning the case, as the outlet noted. Swift even pledged to donate to various organizations that help victims of abuse.
Taylor Swift encountered troubles with her record label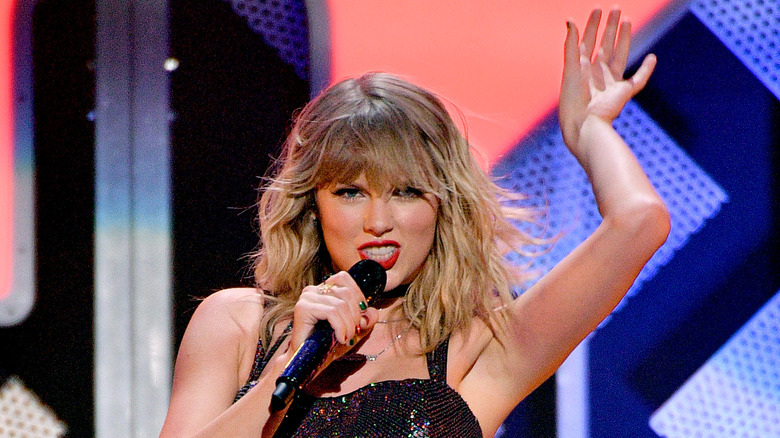 In 2018, Taylor Swift left her longtime record label, Big Machine Records, for Republic Records, which was still part of the Universal Music Group, as Rolling Stone reported. Part of her new contract with Republic Records meant the singer would own her work.
However, this wasn't the case with the six albums she released with her former label. In a Tumblr post, Swift explained the scenario with her old label. "For years I asked, pleaded for a chance to own my work. Instead I was given an opportunity to sign back up to Big Machine Records and 'earn' one album back at a time, one for every new one I turned in," she explained. But Swift refused these terms because, if she signed the contract, she believed the owner "would sell the label, thereby selling me and my future." This left Swift in a terrible spot, and she ultimately "had to make the excruciating choice to leave behind my past." Adding to this, Swift learned that Big Machine Records sold all her masters to producer Scooter Braun, whom, as Swift alleged, bullied her "for years."
In the summer of 2019, Swift released her first album with Republic Records called "Lover."
Taylor Swift releases new music and pivots once again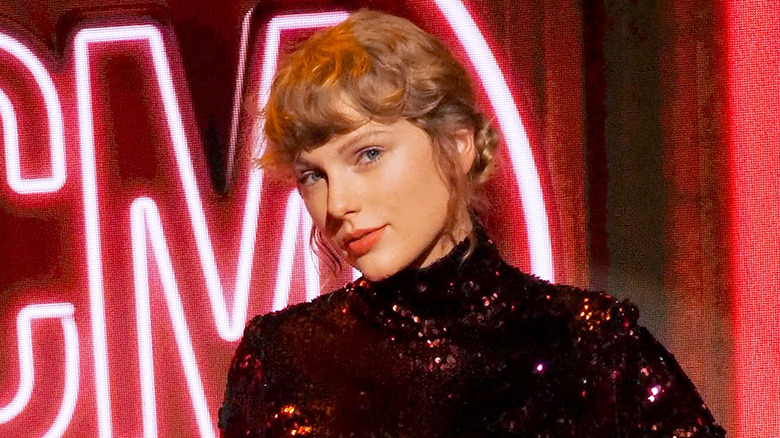 In 2020, Taylor Swift gave her fans and the music world two big surprises. First, in the middle of a global pandemic, she suddenly tweeted about a new record. "Surprise," she said. "Tonight at midnight I'll be releasing my [eighth] studio album, folklore; an entire brand new album of songs I've poured all of my whims, dreams, fears, and musings into." In the album, Swift pivoted from pop toward a softer, indie sound. And, proving that she can excel in all forms of music, "Folklore" was a huge success. The album also went on to win Album of the Year at the 2020 Grammy Awards. In another Twitter post, which reflected on the success of her album, Swift said, "We escaped the real world together and imagined ourselves someplace simpler."
Then, in December of 2020, Swift dropped her second surprise. "I'm elated to tell you that my [ninth] studio album, and folklore's sister record, will be out tonight at midnight eastern. It's called evermore," she tweeted. The singer explained to her fans, "To put it plainly, we just couldn't stop writing songs." She once again teamed up with producers from her first album, including Aaron Dessner from The National, her close friend Jack Antonoff, and Justin Vernon, the man behind Bon Iver, via Pitchfork. "Evermore" spent two weeks at No. 1 on the Billboard 200 albums chart, before falling off and returning to claim the spot again in June of 2021.
Taylor Swift takes it back to the beginning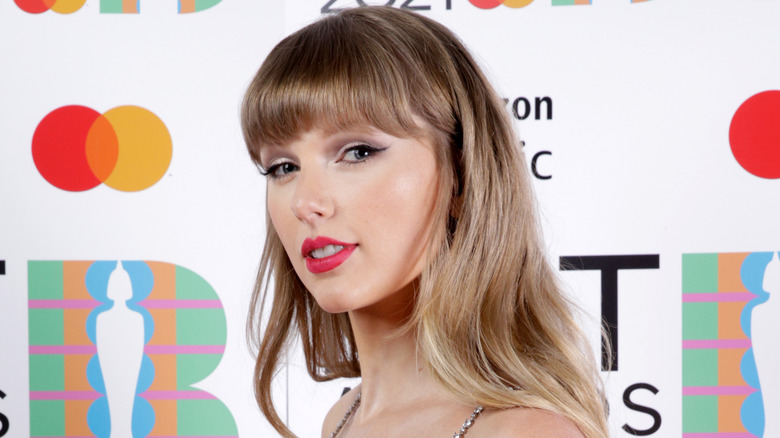 After putting out two albums in the same year, Taylor Swift's focus returned to her early work. To take ownership of the songs she created while working with Big Machine Records, she decided to re-record those albums. Her first of this project was called "Fearless (Taylor's Version)," an expanded version of Swift's second album originally released in 2008, via The New Yorker. With this updated version coming so soon after "Folklore" and "Evermore," Swift kept her spot as the No. 1 Billboard Artist for 47 weeks in a row. 
Despite the success of her re-recording project, Swift pulled the album from award consideration at the Grammy and CMA Awards. According to her record label, "Fearless has already won four Grammys including album of the year, as well as the CMA Award for album of the year in 2009/2010 and remains the most awarded country album of all time," Billboard reported.
Swift also announced in 2021 that she would re-release her fourth album "Red." The singer tweeted that "Red (Taylor's Version)" would feature "all 30 songs that were meant to go on Red. And hey, one of them is even [10] minutes long."
Source: Read Full Article