The Below Deck Mediterranean crew is happy to see chef Mathew Shea return, but are a little suspicious when he seems to be walking just fine. "Like where's that limp gone?" stew Courtney Veale laughed in a confessional. "You can't come in here acting like everything's fine. With his fine knee."
Bosun Malia White asked Shea about his knee injury too. "Well I'm pretty skeptical about chefs nowadays," she laughed in a confessional. "I think to the extent he's physically hurt … not so much."
Chef Mathew left the boat to get an MRI but was he actually having a panic attack?
Shea admitted he had anxiety around the first charter. "I have this deep anxiety inside me before that first meal," he admitted in a confessional "And instead of getting over that and doing it, I bailed. Two jobs in the past I actually left before I started because of anxiety. It's something I need and want to overcome." During the first episode, Shea was seen up the entire night before the first charter, worrying about the menu. But he told Captain Sandy Yawn he injured his knee and needed an MRI.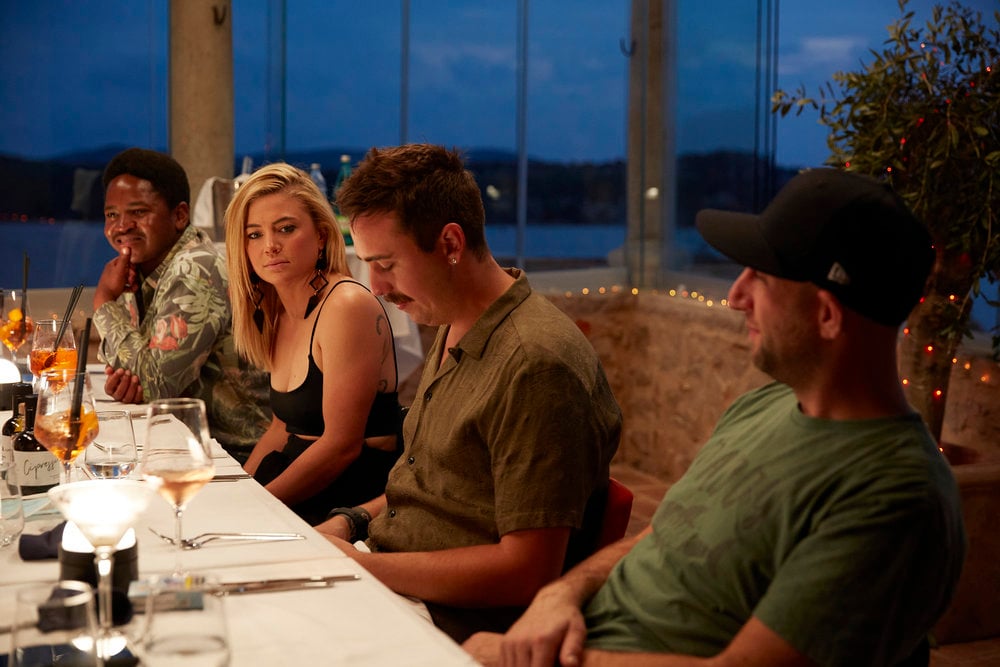 "I have worked with so many chefs that if he freaked the f–k out he owes us big time,' Katie Flood said in a confessional. "I will make sure he knows that. But now that he's here, he's not leaving. Well, let's hope not." While Shea was walking without a limp, he expressed on a few occasions that he was fine but having pain.
'Below Deck' alum and yacht chef thinks Chef Mathew's nerves got the best of him
Below Deck alum Adrienne Gang believes that Shea's nerves got the best of him. "Simply, nerves," she told Showbiz Cheat Sheet. "I've talked to some cast who think they are ready for the cameras and the production team only to get there and their nerves get the best of them. I remember feeling that way the first couple of days and just thinking 'WTF am I doing!' But then you get so busy doing your actual job that you forget about it."
Gang also wondered about provisions. "Did it look excessive? Yes," she said. "But, did production tell him that to reduce the crew's exposure to Covid that he could only get a couple orders for the season? That would explain a lot. Also, he's not given the preference sheets in advance, so he has to be prepared for anything the guests could ask for."
The 'Below Deck Med' crew was a little annoyed to be left hung out to dry
Flood told US Weekly she was pretty angry when Shea left the boat. "Obviously, I wasn't happy," she said. "I was annoyed. I was pissed off." She added, "I was worried because at the time it was like survival mode. Like, we have guests on board, they want dinner. We need to just get through this. And then it was like, once we got through dinner, it's like, ok, now what?" The crew had to cook dinner for the guests, which ended up being a total disaster.
"Like, are we getting a chef?" she added. "Is he going to be a chef tomorrow? Someone else coming? Like, what the f–k is actually going on right now?"
Source: Read Full Article