TV series like Chuck Lorre's Bob Hearts Abishola on CBS run for years and years. It sometimes requires showrunners to adjust the story for health conditions and plans cast and crew might have. This caused fans to ask if the Bob Hearts Abishola Dottie actor, Christine Ebersole, really had a stroke in real life.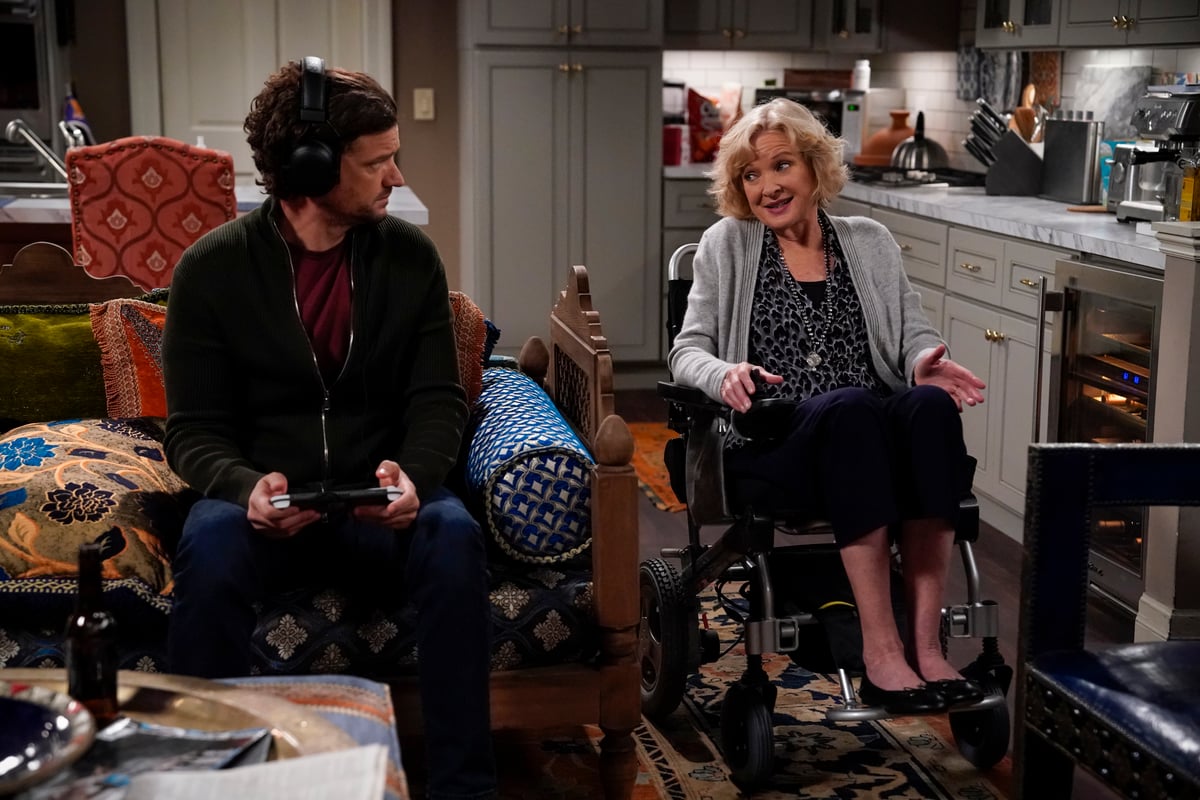 Did the actor Christine Ebersole on 'Bob Hearts Abishola' really have a stroke?
In Bob Hearts Abishola Season 1, Episode 6, Dottie suffered a massive stroke, leading to Abishola (Folake Olowofoyeku) caring for her. However, actor Christine Ebersole did not suffer a stroke in real life.
She does play the part very convincingly, though.
Ebersole does most of her acting in the show from a wheelchair. She talks out of half her mouth for much of the first two seasons, and she only has mobility in one arm.
The events serve as the catalyst that brings Bob and Abishola's family together. Bob hires Abishola to care for Dottie and help her recovery process. During the time, Bob gets to know Abishola's Auntie Olu (Shola Adewusi) and Uncle Tunde (Barry Shabaka Henley), who start rooting for Bob and Abishola.
And of course, Dottie still manages to hold just as much power over her three children Bob, Christina (Maribeth Monroe), and Douglas (Matt Jones). As the founder of MaxDot, Dottie continues her involvement with the company despite her limitations.
While Christine Ebersole did not suffer a stroke in real life, her recreation of the symptoms and recovery comes from a very real place.
For Christine Ebersole, stroke symptoms are all too real to her
According to the New York Post, Christine Ebersole plays a character suffering a stroke so convincingly because she has seen it for herself.
"While many actors would have met with stroke survivors and medical professionals to research that infirmity, Ebersole had first-hand experience: her husband, Bill Moloney, suffered an acoustic neuroma 29 years ago, two years after they were married," The Post reported in 2020.
Ebersole talked about witnessing her husband going through the medical emergency in an interview.
"It's a tumor in the inner ear pressing against the brain," she told The Post. "He had a seven-hour surgery, and his whole left side became kind-of paralyzed. He was a drummer, and that really ended his career."
She recalled many aspects that she portrayed in the show with Abishola, Bob, Christina, and the rest of the cast.
"He had to learn how to walk all over again, he couldn't blink his eye," she said, "he couldn't smile. He still has a lot of facial pain because of nerve damage."
Dottie has some direct inspiration from Bill Moloney
When Chuck Lorre asked Christine Ebersole to star on Bob Hearts Abishola, she decided to use the experience of Maloney's stroke in her portrayal of Dottie.
"It was all on his left side," she said. "So I chose the left side [for Dottie]. I could relate to that. What I imagined was what Bill went through."
While she has spent Bob Hearts Abishola Season 1, 2, and 3 in a wheelchair, it could change soon.
In the season 3 episode "Old Strokey," Matt Jones' Douglas witnesses her stand up briefly. She swore him to secrecy, but as these things usually go, the truth tends to come out in a big way.
Source: Read Full Article