Cobra Kai Season 4 was full of surprises, not the least of which was Carrie Underwood performing. Underwood showed up as herself in the All-Valley Karate Tournament in the penultimate episode of season 4. It's no longer a spoiler since Underwood herself tweeted about it the weekend season 4 premiered. Tory actor Peyton List was a little too busy with Karate practice to enjoy the concert though.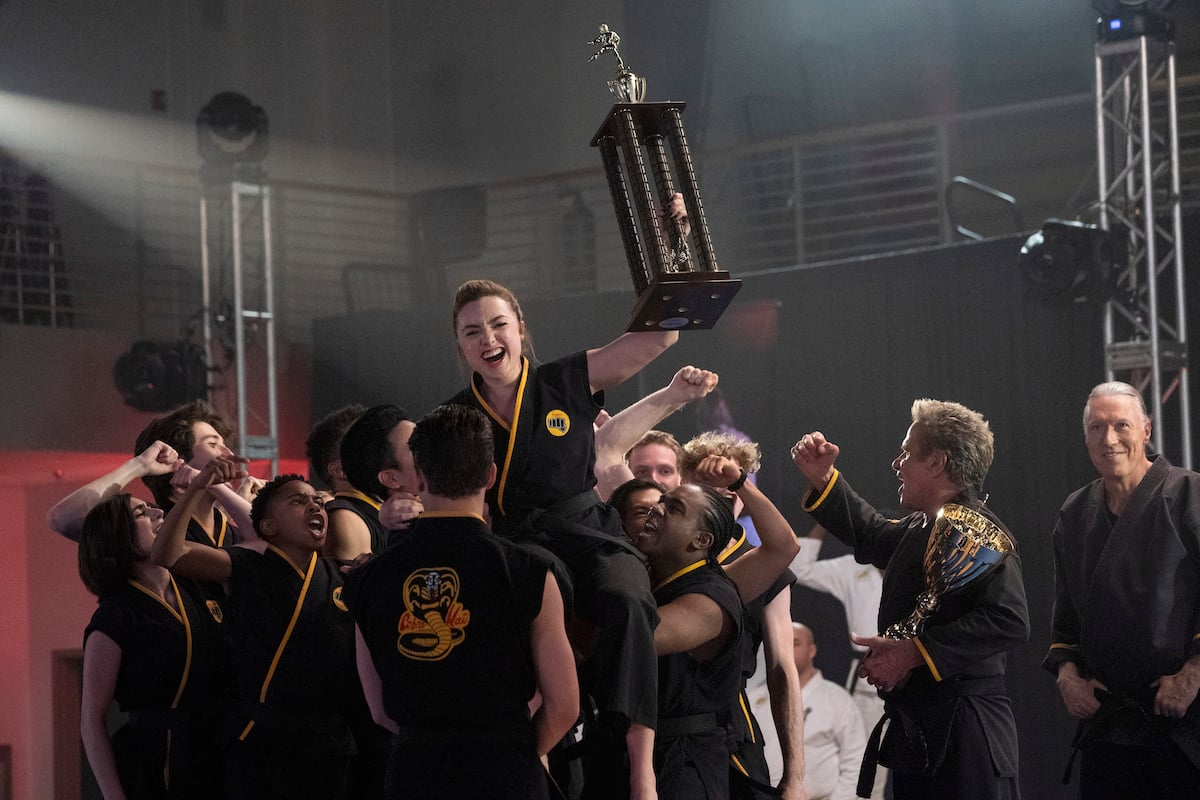 List was a guest on co-star Martin Kove's podcast Kicking It with the Koves on April 6. Discussing the season finale of Cobra Kai, List described how the "most insane shooting experience" kept her busy while Underwood was performing. 
Carrie Underwood is on the 'Cobra Kai' Season 4 soundtrack
Underwood put her own spin on the Survivor song "Moment of Truth." Cobra Kai creators Jon Hurtwitz, Hayden Schlossberg, and Josh Heald said Underwood was a fan. So she accepted their invitation. Meanwhile, List was busy learning Tory's choreography for the tournament.
"The All Valley Tournament just was the most insane shooting experience of my life," List said on Kicking It with the Koves. "In season 4, that finale just because we were learning that fight. We were learning it while Carrie Underwood was filming her performance. We were learning it in between setups, whenever we had a second. The stunts team is so incredible, I'm so grateful for them, because they would take us on their lunches, on their weekends and we would train and work it. I had breakdowns while learning that just having eight different fight choreos to learn."
'Cobra Kai' star Peyton List was heavily caffeinated for the All-Valley Karate Tournament
Tory had to not only fight Samantha LaRusso (Mary Mouser) at the All-Valley, but she had a solo weapons kata, too. So List didn't sleep much while filming the finale of Cobra Kai Season 4.
"I needed repetition too, I needed time, I like to sleep on it before going into something," List said. "So it processes, learning it and going into it. It was one of those things, you don't have a choice. Then we'd be wrapping. If I went home and came back really early in the morning to train, I'd get two hours of sleep. So you're running on no sleep and Red Bull or whatever caffeine you can get and your mind's all fuzzy. It was also the most fun experience too."
Sensei Kreese approves Peyton List's All-Valley Karate Tournament performance
Kove shared his admiration for List. He noted her marked improvement since she joined the Cobra Kai cast in season 2.
"You were really, from coming from that place, and I've told you this, that place where you popped into the dojo and didn't know how," Kove said. "I honestly looked at someone and said, 'Why is this girl cast? She doesn't know how to do any of the fighting.' You pulled it off with help from the stunt person. But when you did that fight, it was great. You against Mary, that was just great."
Kreese had less to do at the All-Valley Karate Tournament, but it still wore him out. That gave him more admiration for all List did.
"We were exhausted standing there for eight days," Kove said. "It was killing me, standing. Eight days. Honestly I was so tired when it was eight days of standing there and we didn't have any dialogue. The one dialogue scene I had with you, that's it and maybe I had two lines with him. Bottom line was the fight scene was so entertaining, so professional and so good with so much heart, you did great. You ought to just lock that in as an action sequence for next time you're up for a role where there's a lot of action because you were flawless, really flawless."
Source: Read Full Article