There's been a surge of reboots and revivals in TV in recent years, with series like Dexter, Rosanne, and Will & Grace coming back to fill in the gaps and expand on what happened to our favorite characters since we left them. Frasier is also making a comeback, almost two decades after he said goodnight to Seattle for good. Viewers will recall that he left for Chicago to be with his girlfriend Charlotte. But does that mean they'll see Laura Linney in the Frasier reboot?
Linney weighed in on the question in an interview, admitting she hadn't even heard about the show.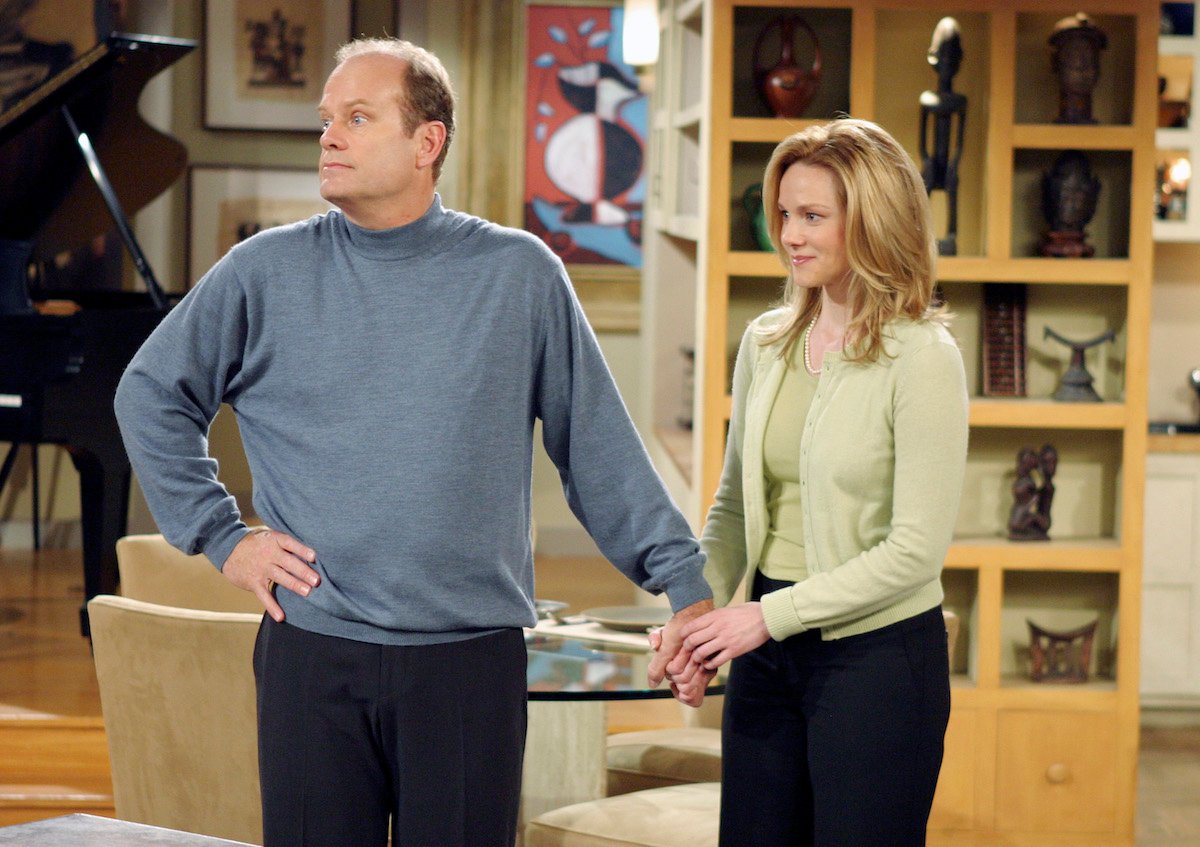 Paramount Plus has picked up the 'Frasier' reboot
Paramount Plus announced in February of 2021 that it was "bringing back Frasier, one of the most highly acclaimed, most successful comedy series of all time." "The revival will have everything you love about the original: coziness, great writing, and of course, a cast led by @KelseyGrammer," it said in a tweet.
While the exact details are still uncertain, Grammer has confirmed that Frasier isn't in Chicago anymore.
"He's going to move," Grammer told Fox News of the plot of the Frasier reboot. "He's going to end up in a different place in the end… and he's going to start what he thinks is one life and it turns into another. I think of him as George Bailey now from 'It's a Wonderful Life.' He's about to go travel the world."
"He wants to go see the world and something happens… that pulls him back and he has to live a completely different life than the [one] he planned," he continued. "As a result, he ends up with love and emotional riches, and just a life that is so extraordinary. And I think that's Frasier's story."
Will Laura Linney be in the 'Frasier' reboot?
When Harper's Bazaar caught up with Linney, she was asked whether the Frasier reboot had caught her attention. "It has not," said Linney. "But I'm happy to hear it!"
She's even open to reprising her role for the show.
"I'd love that," she said of the possibility. "Let's see. Let's see what happened to good old Charlotte."
At the time, Linney was finishing up her turn as Wendy Byrde in the Netflix series Ozark. Developed by Bill Dubuque and Mark Williams, the series tells the story of Marty Byrde (Jason Bateman). Marty is a Chicago-based financial advisor who, after getting mixed up with a Mexican drug cartel, agrees to launder $500 million for them in five years in exchange for the protection of his family. Linney's character Wendy was Marty's wife and eventual partner.
Aside from that, Linney has appeared in a number of projects across TV and film. American Dad!, John Adams, The Big C, and Sink Sank Sunk are among her more notable works. She is also set to appear in an upcoming project called The Miracle Club, according to her IMDb page. But exact details are still unknown.
Who else is in the cast?
Linney's comments on Frasier come amid increased questions about who will appear in the cast of the Frasier reboot. So far, Grammer seems to be the only star aboard from the original cast, which also included David Hyde Pierce, Jane Leeves, Peri Gilpin, and John Mahoney (who died in 2018). This has obviously sparked some concern among fans of the show, but Grammer has said the story could "be told with or without" them.
"But I want them back because that's what I always dreamed of," he told Collider. "I thought we should explore all their lives in their third act, and so that is my hope."
Source: Read Full Article