ABC
For every OMG elimination on Dancing With the Stars there's been a head-scratcher of an advancement. In season 27, and we mean this with respect and love, that head-scratcher is The Bachelorette's Joe Amabile. Yes, Grocery Store Joe is still in the competition. How?
Joe and partner Jenna Johnson have had some very low scores. Like, bottom of the pack low. His first week, the two received a 14. A 17 followed, then a couple of 18s…they didn't crack the 20s until week six, Halloween Night, when they received a 22 for their Argentine tango to "El Tango de Roxanne" by José Feliciano, Ewan McGregor and Jacek Koman. Week seven, which was Country Night, saw the couple get a 21 for their tango. It was lowest score of the night…and yet Grocery Store Joe still stands.
Again, how?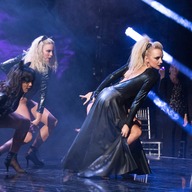 Photos
Dancing With the Stars Season 27: Who Will Win the Mirrorball Trophy?
"The fact that Joe and I have made the semifinals is crazy amazing. This has been a very different journey for us than it has for the other couples. We're just very grateful for every week we have to dance together and to spend together. But the fact that people are so supportive of us and of Joe specifically, I'm so proud of him for working hard. I think he deserves to be here. I just can't believe it! It's the semifinals and Joe is in it. I did not expect this. I did not think that from the first night that we would be here right now," Jenna said in her Us Weekly blog. "It's week eight, it's crazy."
"Crazy," but it's happening.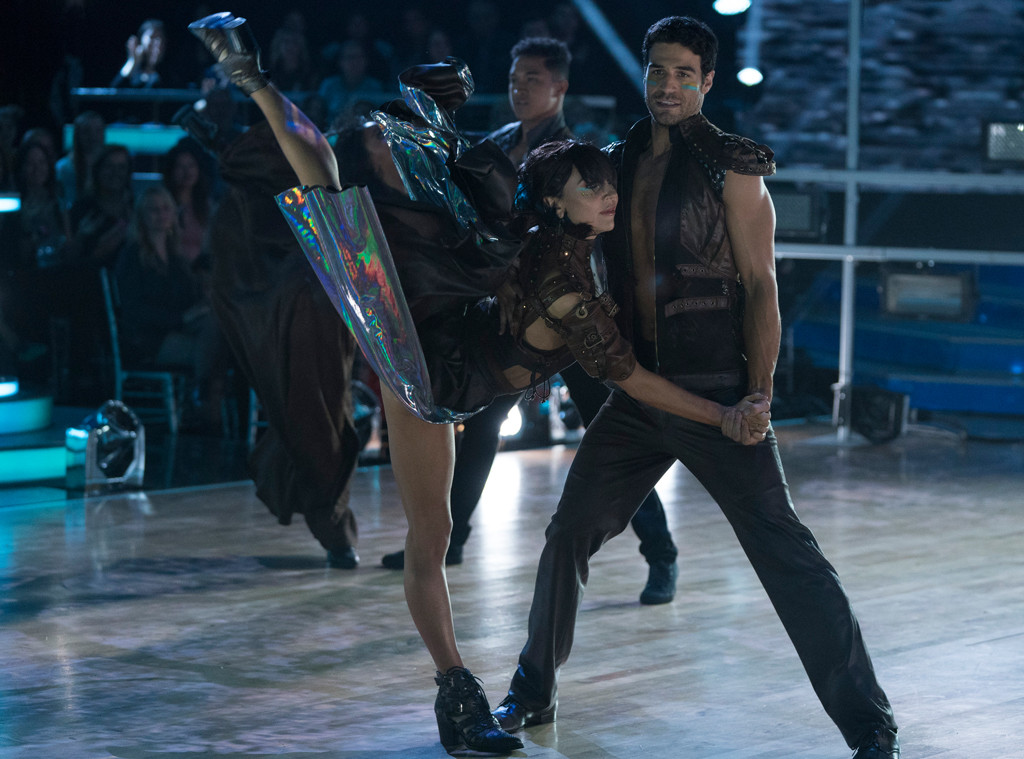 ABC
Joe and girlfriend Kendall Long have a substantial social following. Kendall has more than 723,000 followers on Instagram. Joe, meanwhile, has more than 761,000. They each encourage their followers to vote via posts and their Instagram stories on a weekly basis, as does pro dancer Jenna with her roughly 492,000 followers on Instagram. The duo also receives a promotional bump from Jenna's fiancé Val Chmerkovskiy. Val, who was eliminated from the competition with partner Nancy McKeon, posts to his more than 1 million Instagram followers to encourage votes for Joe and Jenna.
For somebody who was sent home in week one of The Bachelorette and then left during week five of Bachelor in Paradise, Joe's got a lot of fans out there.
And when you look at Joe, just as, well, Joe, he fits the mold of many popular reality TV contestants. He's handsome, but unassuming, and white. The "boy next door" to many watching and voting at home. And he owns a grocery store! Doesn't get that much more wholesome in viewers' eyes than that. Give him a guitar and he could make it to the top of American Idol.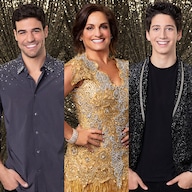 Photos
Meet the Dancing With the Stars Season 27 Cast
Dancing With the Stars tends to cast participants who are all over the spectrum when it comes to dance experience. Glee's Heather Morris, a one-time professional dancer, was on the show a few seasons ago and many considered her ringer, however she didn't even make the finals. In season 27, the show had singer-actress Tinashe as part of the cast. Tinashe was hand-picked by Janet Jackson to perform a dance routine in tribute to the star at an awards show, she can dance. Yet Tinashe was the fourth celebrity sent home during this season. But Milo Manheim and Juan Pablo Di Pace are both still in the competition—and favored to win—and both have received dance training for past projects. Joe's total lack of dance experience, his journey on the show, could be another factor for Joe's longevity on the series.
Fans like to see people develop their skills over the competition, the growth makes for good TV.
With just six couples left, the test for Joe and Jenna now is to make it into the finals.
Dancing With the Stars airs Mondays, 8 p.m. on ABC.
Source: Read Full Article