Typically, football stars disappear from the limelight after hanging up their cleats, but this wasn't the case for Michael Strahan. Instead, the former New York Giants defensive end parlayed his talent into quite the second act with a four-year stint as co-host of ABC's "Live with Kelly and Michael." 
Alongside Kelly Ripa, Strahan served as one half of the show's dynamic duo from 2012 until April 2016, when he announced he would be leaving the show for a role on "Good Morning America," where he'd been appearing since 2014 as a correspondent. "I look forward to continuing to work with the incredible team at GMA," Strahan told The Hollywood Reporter in a statement. "My time with 'Live with Kelly and Michael' has been transformative and my departure will be bittersweet. Kelly has been an unbelievable partner, and I am so thankful to her and the entire team."
After Strahan's announcement, Ripa was unexpectedly absent from that morning's episode of "Live," which Strahan chalked up to her being "off today," per The Hollywood Reporter. Ripa was also a no-show in the following days as she took time to process the surprising news. Fans speculated that her absence was in retaliation to Strahan's departure, and the fact that the former NFL star ended up leaving the show earlier than planned didn't quell the rumors. Did the pair's relationship end on a sour note? Let's take a look inside Kelly Ripa and Michael Strahan's tense relationship.
Michael Strahan believes the experience of working in network TV can be 'selfish'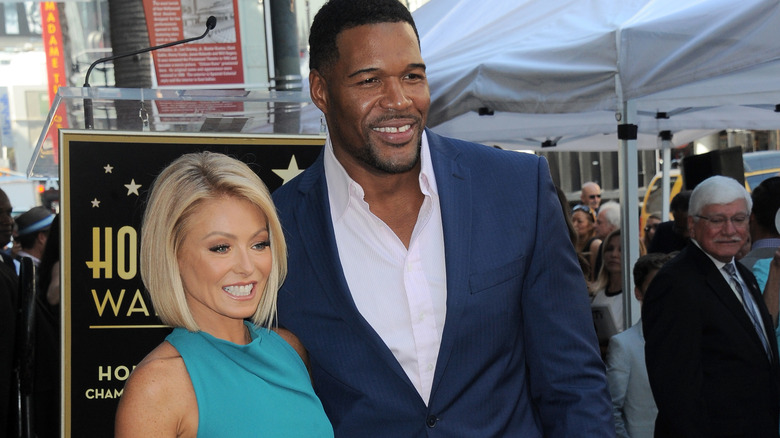 Because of Michael Strahan's abrupt departure from "Live with Kelly and Michael," rumors swirled around the nature of his relationship with co-host Kelly Ripa. In 2020, Strahan opened up about the controversy in an interview with The New York Times, where he spoke about the "selfish" nature of network TV. 
"I don't want to be on the show and feel like everyone else is carrying me," he explained. "I want us all to be successful. I've done things where I went in with team concepts, and I got there and realized it's not about the team. It's selfish, and I don't operate well under that." He then clarified that while football can be selfish too, his ultimate goal with his television career was to be a team player. "I've had jobs where I got there and felt like, 'Wow, I didn't know I was supposed to be a sidekick. I thought I was coming here to be a partner." (Hmm … did those jobs include working with Ripa? Juicy!)
Interestingly, Strahan seemed to indicate that any tension or on-set problems weren't his fault. "I remained the same person I was from Day 1," he told The New York Times. "One thing I will not do is alter my attitude for somebody else's." That said, the talk show personality did acknowledge that his exit could have been handled with a little more grace. "That part was totally misconstrued, mishandled in every way," he admitted. 
What does Michael Strahan think of Kelly Ripa today?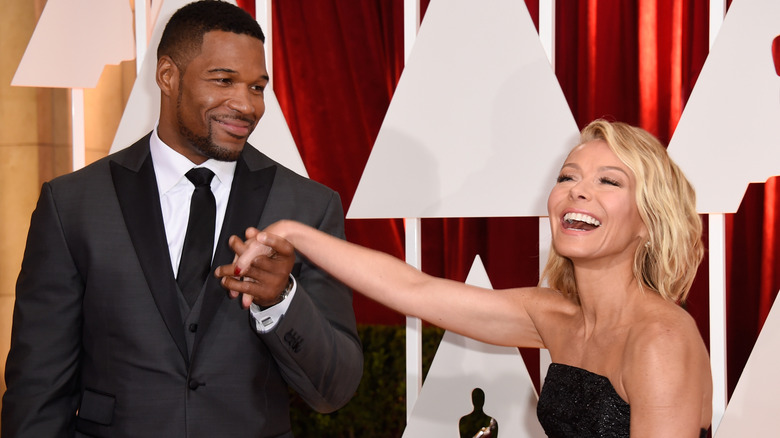 In the New York Times interview, Michael Strahan played coy on any specific issues with co-host Kelly Ripa, stating simply that "it was time to go" because "certain things that were going on behind the scenes just caught up." But whatever problems the duo had, Strahan tried to make good by organizing meetings with his now-former co-host. "We met a few times, and that was fine," he shared, according to The New York Times. "But then eventually she said she didn't need to meet. Can't force somebody to do something they don't want to do."
Tense relationship notwithstanding, Strahan maintains he harbors plenty of admiration for Ripa. "If people think, Oh, he hates her — I don't hate her. I do respect her for what she can do at her job. I cannot say enough about how good she is at her job," he explained to The New York Times. 
As for what he learned while sharing a screen with the bubbly and energetic star, the answer is a lot. "You learn how to craft a story. 'What did you do last night?' 'Oh, I had a glass of water.' But you learn to tell the story to make it seem like the most interesting glass of water. Those are things that I learned from her. She's brilliant in that way," he added. There's no doubt Strahan carried these lessons with him when he transitioned to his current gig on "Good Morning America."
Source: Read Full Article