"Late Late Show" host also dives into confusion over guacamole vs. semen in "American Crime Story"
"That's the building we're broadcasting from right now! Can you believe it? Guys, we did it, we're finally on TV!" Corden said. He added, "By the way, it's weird to see Billy on a street and not doing this," before rolling a clip of Eichner screaming at someone in an episode of "Billy on the Street."
The location is important not just because it makes Corden giddy, but because it's integral to the plot in "Impeachment," a story that sees Matt Drudge's roll in revealing the then-president's affair with the former White House intern.
"Now, one of the ways that Matt would find classified information for his internet newsletter is by moonlighting as a manager at the CBS Studio gift shop and digging through the office dumpster after his shift," Corden said. "I mean, Matt's lucky he wasn't working at CBS today, because if he were, all he'd find is Reggie's empty salad boxes, pairs of my old Spanx and rejection letters to Nick from various podcasts in Malaysia."
But perhaps Corden's favorite part of watching Eichner play Matt Drudge is his attire.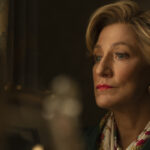 "Matt Drudge is a deep and enigmatic character full of drama. In fact, he's so dramatic, that even when he sends an email, he has to put on a fedora," Corden said, before showing a scene where Drudge does just that.
"That reminds me, actually, I've got to cancel my dinner plans tonight," Corden joked, putting on a fedora himself before typing out a text.
Elsewhere on "Impeachment: American Crime Story," Sarah Paulson's Linda Tripp and Beanie Feldstein's Monica Lewinsky have a conversation regarding Lewinsky's infamous blue dress that Bill Clinton ejaculated on, a conversation that drives Corden mad when Tripp asks, "How did it get on there?"
"What do you mean how did it get on there?" Corden said following the "Impeachment" clip.
Lewinsky then tells Tripp she hadn't even noticed it at first: "I went out to dinner that night with friends, and when I got home, I changed and assumed it was guacamole."
"Guacamole? I mean, hummus maybe. But guacamole??" Corden joked.
Watch Corden's full "Impeachment: American Crime Story" recap via the video above.
Source: Read Full Article