David Boreanaz totally thought he was getting fired instead of getting a spin-off, and more juicy tidbits to sharpen your knowledge of all things Angel.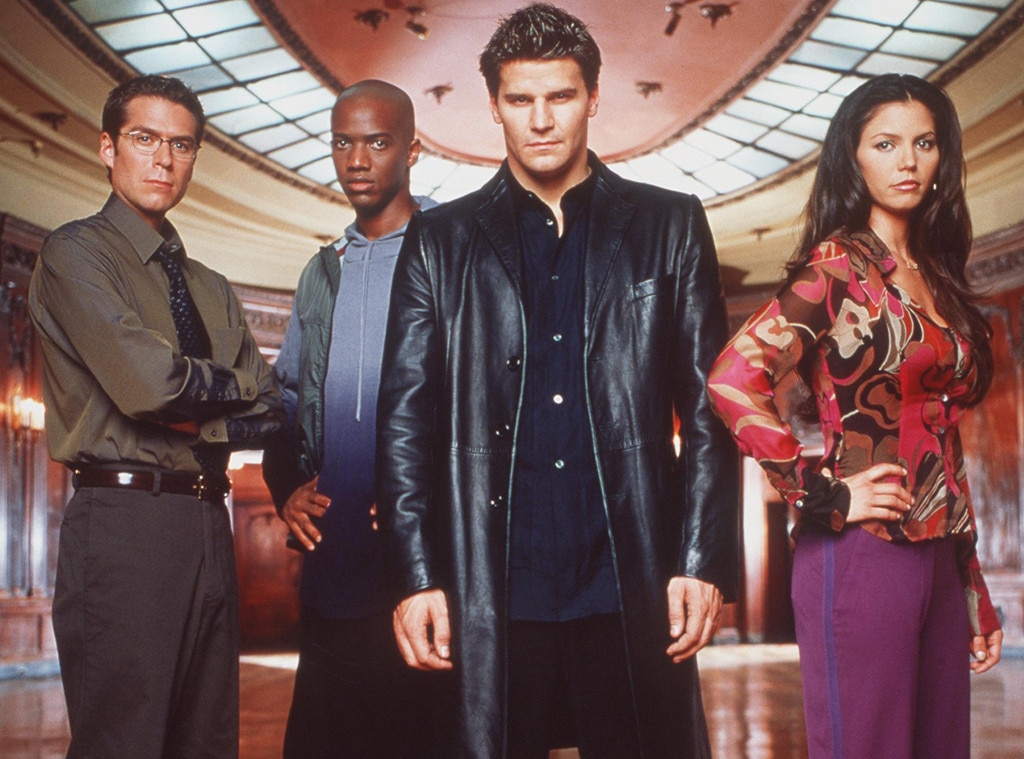 What to do when the love is eternal but doomed, and one half of TV's hottest couple will literally burst into flames if he steps into the sunlight?
You give that guy a spin-off.
Angel picked up where David Boreanaz's heartbreaking exit from Buffy the Vampire Slayer left off, the 270-year-old vampire walking off into the night after Buffy Summers' high school graduation turned into a hell of a time.
The titular brooding vamp, cursed with a soul that he'll lose if he experiences true happiness, emerged as a private investigator in Los Angeles for the supernaturally downtrodden. At first he's aided in his cause by fellow Buffy alums, aspiring actress Cordelia Chase (Charisma Carpenter) and Watcher turned rogue demon hunter Wesley Wyndam-Price (Alexis Denisof), as well as prophetic-half-demon Allen Doyle, played by Glenn Quinn.
And does solving cases and saving lives finally make Angel happy?
No, it does not, but that's beside the point.
Only fleeting moments of joy aside, however, Angel's connection to the dark side made him the savior the City of Angels (get it?!) needed, and the show's arc proved the grown-up complement to Buffy's intense but largely teenage miseries.
Angel is turning 21 today (though that may only be 5 in vampire years) and we thought you should know these essential things about it:
1. Creator Joss Whedon realized that Boreanaz could carry his own show when, he told Entertainment Weekly in 2019 in honor of the show's 20th anniversary, Angel was possessed by a female teacher on a Buffy episode and Whedon saw the actor "very emotionally, unabashedly, and poetically playing a woman and in that moment was like, 'This guy can anchor a show.'"
2. Boreanaz totally thought he was being fired from the Whedonverse. "I got a phone call that Joss wanted to talk to me," he reminisced to EW, and was only told that the Buffy creator wanted David to come to his office. "He said, 'It's not a bad thing, just come in the office.' But he didn't tell me over the phone, so I had a night of…ugh, clawing and angst." The next day the actor was in Angelus clothes and wig and busy shooting a flashback scene with his "horrible" Irish accent before they broke for lunch and it was time to go to Whedon's office—where he found out it was good news, that they were "thinking about" spinning Angel off.
3. The door was left open for both Boreanaz and Charisma Carpenter to return to the Buffyverse if Angel flopped.
4. They almost got shut down after one episode, when the second episode as written proved too dark for the WB. "They completely freaked out and they were right because in our effort to go dark, we went a little too dark," co-creator David Greenwalt told EW, describing a scene that would have been perfect for True Blood a decade later, in which Angel witnesses a girl die and then licks her blood off the ground. "If you're gonna go that dark, you have to earn it," Greenwalt admitted. "So, we shut down for a few weeks, revamped some things and we were off and running."
5. Alexis Denisof is from Maryland, so Wesley's posh accent is fake. Oh, and so is Spike's—James Marsters is a California boy. Glenn Quinn, meanwhile, was actually Irish, born in Dublin.
6. A lot of marriages, not a lot of mingling. Boreanaz married Jaime Bergman in 2001 in Palm Springs, with no one from Angel in attendance. Sarah Michelle Gellar tied the knot in 2002 without any Buffy co-stars around in Mexico. And even when Wesley married Willow, er, Alexis Denisof married Alyson Hannigan in 2003, no one from either cast appeared to take part in their destination-wedding weekend in Palm Springs. Bit of a cold-blooded crowd, maybe, but perhaps they're on to something: all three couples are still together.
7. Angel does get to experience unfettered happiness at the same time as Buffy in the first-season episode "I Will Remember You," the second half of a sweeps week crossover plot that first saw Angel returning to Sunnydale without Buffy knowing in "Pangs." When she finds out he was there and didn't pop by to say hello, she goes to L.A., where a demon battle renders Angel a chocolate-loving, yogurt-hating human. The rekindling of their red-hot romance is everything a fan could want, but they soon realize that a weakened Angel isn't good for mankind, and in order to change him back, the Oracles have to turn back time, leaving Angel the only one to remember their glorious reunion. On the next episode of Buffy, she references only seeing Angel for a few minutes in L.A. BUT WE KNOW IT WAS MORE THAN THAT.
8. Hannigan liked that "Wesley" didn't lead a racy life, at least not by prime-time WB standards in those days, telling Zap2It in 2004, "I don't want to see him smooching. It was already weird when we were engaged and dating. Luckily, he hasn't had to deal with anything except me kissing women. It's weird to see your beloved kissing anyone else, but I would imagine it's easier for him to see me kissing a female, than another guy. But we'll see how he deals. He's an actor. He understands."
Er…who wants to tell her? Though aside from his affair with Lilah, Wesley's only great love was Amy Acker's Fred, and their happiness was fleeting.
9. Andy Hallett, who played the singing demon Lorn, used to have to get into makeup starting at 3 a.m. in order to complete his transformation into a green crooning machine. In turn, he became close friends with Dayne Johnson, the head of the makeup department, who along with his team was nominated for an Emmy in 2000 for their work on the show.
10. Whedon thought about killing Doyle off early, but by the time Glenn Quinn's off-set issues were hampering the work place, fans loved Doyle and it was much more difficult than originally planned after nine episodes.
"Joss has bandied about, 'I love the idea of putting a character in the main credits as one of the stars of the show and then kill him right off the bat,'" supervising producer David Fury said at the WGA West's TCA party in July 2000. "But in the case of Doyle, he didn't want to kill off Doyle. It just became a situation. The work situation became difficult… It's hard enough to make a television show without the headaches."
Before he dies, Doyle kisses Cordelia and passes his visions onto her, giving her more to do as the series progresses.
11. There was reportedly talk of bringing Doyle back before Quinn died of a heroin overdose in 2002, at the age of 32. His death also factored into the Roseanne reboot (now The Conners) as Becky talks about the untimely death of husband Mark, her sweetheart from the show's original run.
12. Tragedy struck again in 2009 when Andy Hallett died of heart failure. He was 33. Hallett first developed cardiomyopathy in 2005, not long after Angel's final season wrapped, when a tooth infection spread rapidly and ultimately weakened his heart.
13. J. August Richards, who played Charles Gunn, joined the crew in 2000. When he showed up for his audition, Richards had dyed his hair red and decided to approach the role as investigating the opposite of what his character is saying—words of wisdom he'd heard from Meryl Streep on Inside the Actors Studio. "My wife's hair is that color," Whedon told him the first time he saw him, Richards remembered to EW.
14. All exterior shots featuring Boreanaz and assorted vampires could only be shot at night, because of the deadly nature of sunlight, so the cast was initially thrilled when the plot called for an alternate universe, Pylea, where a vampire could catch some rays. "You'd have thought we'd be happy, but it happened to come during a heat wave," Denisof shared with EW. "It was sweltering and we were all in our brooding, dark clothes."
15. Julie Benz, who played Angel's sire Darla on both shows, ended up hugely pregnant with Angel's child (not conceived the normal way) and, all of a sudden feeling emotions for the first time in hundreds of years, stakes herself to save the baby. And her prosthetic belly was bonkers. "I just remember it being so heavy that I couldn't get up in between takes," Benz recalled to TV Line in 2017. "Everybody would walk off and I'd be stuck there under the weight of a silicone stomach."
16. This show had rough fates for the fan-favorite ladies. Cordelia becomes a higher being but ends up in a coma after getting pregnant with the inhuman spawn of Angel's son Connor (Vincent Kartheiser), who grew up super fast after being kidnapped and taken to hell. And though Cordy seemingly wakes up to vanquish some more enemies and shares a kiss with Angel and tells him she loves him, that's all in a vision she left him before she died—that morning, as he finds out right after they say their goodbyes. And Amy Acker's Fred wastes away from a mysterious infection and ends up inhabited by the ancient demon Illyria. So the life is basically sucked out of Fred, but Acker continued on in the form of Illyria, who in turn tries to be more like the bookish, beloved Fred.
17. Carpenter showed Cordelia's death episode to Sylvester Stallone to convince him she had the emotional range for The Expendables. It worked, in that it earned her an audition—after which, she got the part.
18. In April 2019, after seeing an article that included her on a list of stars who got pregnant in real life while on a show and said hiding it led to her Angel exit, Carpenter fired back, tweeting, "If you'd like to know the facts of my pregnancy / exit fr Angel maybe call for a comment instead of printing lies. I NEVER HID my pregnancy from production."
When fans started chiming in about how much they hated the story line that led to Cordelia's demise, Carpenter added, "There's so much 2 this tweet. Man! Finding out I was not invited back for S5 will always be a deep wound. It would have been a g8 honor/joy 2see Cordy thru to the very end. She should have been there 2 fight along side the only family she had. Even if she was only there in spirit."
To another who said she was missed, Carpenter tweeted, "TY. It was hard. One of the hardest realities in my career to face. So scary too -post baby. A terrible time to be out of work. Which I think is not unique to me. Many of us have found ourselves out of work when we are most vulnerable. But this cut. Deep."
19. Whedon & Co. were operating as if there was going to be a sixth season, so when they got the news mid-fifth that they were being canceled, there was a lot to hastily tie up, including the arrival of James Marsters' Spike, brought back from the dead after sacrificing himself to save Buffy and the rest of the world. Reactions were mixed, because the final scene in which the surviving gang is about to head into battle feels a little open ended.
WB co-chairman Jordan Levin explained that he made the announcement early (i.e. before season 5 had wrapped) to give the Angel crew time to come up with a proper finale. "We did not want to contemplate this being the last year of Angel without giving the show the option of crafting their own destiny for this character and for this series," he said in 2004.
20. In 2017, Boreanaz told Parade he had closed the coffin on Angel ("no, never; that's done, see ya, next") but he mainly meant playing Angel again in a Buffy reboot. "I have no problem with the cult audience, and I would totally get back into the genre, but I'm not a big reunion guy," he said. But reunions themselves aren't so bad, because he teased the 20th anniversary sit-down with EW months prior.
"[T]hat's amazing to have been blessed with a show like that," Boreanaz said on The Talk in March 2019. "And that's really where I started my gig in this acting world. And I love that character. So I will say there may be something coming up. I don't want to give away a lot. But I can say it's 20 years coming up this fall, and we may have something in the works."
Trending Stories
20 Secrets About Gilmore Girls Revealed
American Idol's Casey Goode's Son Tests Positive for COVID-19
Tori Spelling, Jennie Garth Address Jessica Alba's 90210 Claims
Alas, Boreanaz, who after 12 years on Bones now stars on CBS' SEAL Team, was not scheduled to join Alexis Denisof, James Marsters, Charisma Carpenter, J. August Richards and Amy Acker for an Angel panel at New York Comic-Con when they reunited for their big 2-0 last year.
But the titular immortal hero has defended the Angel finale, which may have felt abrupt to some—but what ending wouldn't have felt premature, really?
"I've always thought it ended great," he told The Wrap in 2014. "I mean, even when it was written and we shot it, I had no problems with it. I think that's great. I mean, I think that that's a world that had opened up to a lot of people—the way our show, the way Angel ended was I think right.
"You kind of go out continuously fighting, you know? And I think that the message of the show was always about the fight and that was a special moment."
(Originally published Oct. 5, 2019, at 3 a.m. PT)
Source: Read Full Article