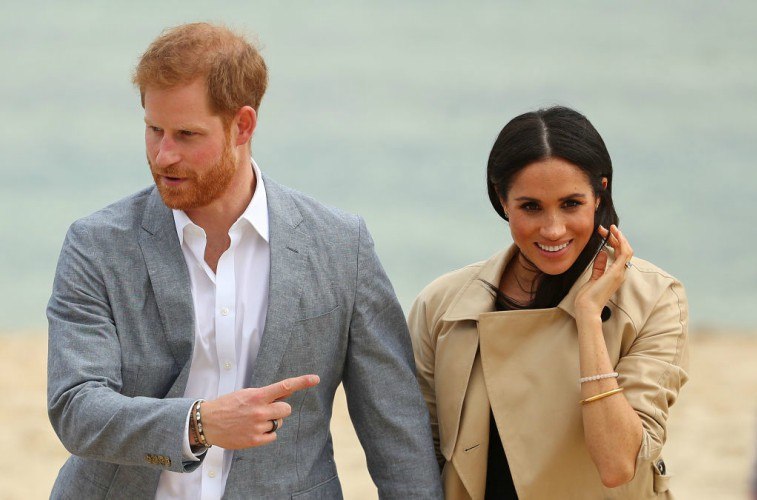 Prince Harry and Meghan Markle Getty Images/ Scott Barbour
Prince Harry obviously is sporting a new ring because he recently exchanged vows with Meghan Markle. But he's also been seen wearing other jewelry on his trip to Australia with his new bride. That would be a black ring on his right hand. So what kind of ring is it and what does it do?
Prince Harry is reportedly wearing the Oura Ring which tracks sleep and activity
Maybe the royal wants to keep a close eye on his sleep and how active he is because the Oura Ring reportedly tracks this, according to People. The style specifically is called the Heritage style and it costs $299. The smart ring also tracks other things for health concerns and is made from titanium.
The ring tracks body temperature while you sleep, blood volume, and your body's movement throughout the day. This knowledge is supposed to let the user track their health and sleep schedule.
He also wears a different kind of wedding band from other royals
This is not the only piece of jewelry Prince Harry has been noticed for. He also noticeably went a different route when it came to his wedding band instead of following the tradition.
The royal family tends to use the classic Welsh gold wedding band if they wear one at all. Prince Charles wears one that was gifted to him by the Queen. It was a ring in her personal collection of Welsh gold from the Clogau St. David Gold Mine in Dolgellau, Wales. But Prince Harry's ring is platinum.
But wedding rings, in general, aren't common in the royal family. Prince William follows this by not wearing a wedding band. His grandfather also didn't wear one. Prince William announced he wouldn't be wearing one because he hates jewelry and since his marriage is so high profile it doesn't seem necessary.
There hasn't been any news around Prince Harry's health so he may just be wearing the Oura Ring to keep an eye on things. But he has been talking openly about mental health while on tour in Australia. The newlywed couple visited Dubbo, which is experiencing a drought. Suicide has also been found to be the leading cause of death of men ages 15 to 44 in Australia. Prince Harry spoke about this health concern to locals.
"We know that suicide rates in rural and remote areas are greater than in urban populations and this may be especially true among young men in remote regions," he said according to News.com. "But outside all of that here's what I also know. You are one huge community and with that comes an unparalleled level of internal support and understanding."
He continued, "You must not silently suffer. You are all in this together and if I may speak personally we are all in this together, because asking for help was one of the best decisions that I ever made."
Read more: Strange Etiquette Rules Members of the Royal Family Must Follow at All Times
Check out The Cheat Sheet on Facebook!
Source: Read Full Article