In an upcoming episode of Straight Up Steve Austin, Jackass daredevil Steve-O gets competitive when he goes head to head with Austin during a wild tractor obstacle course race.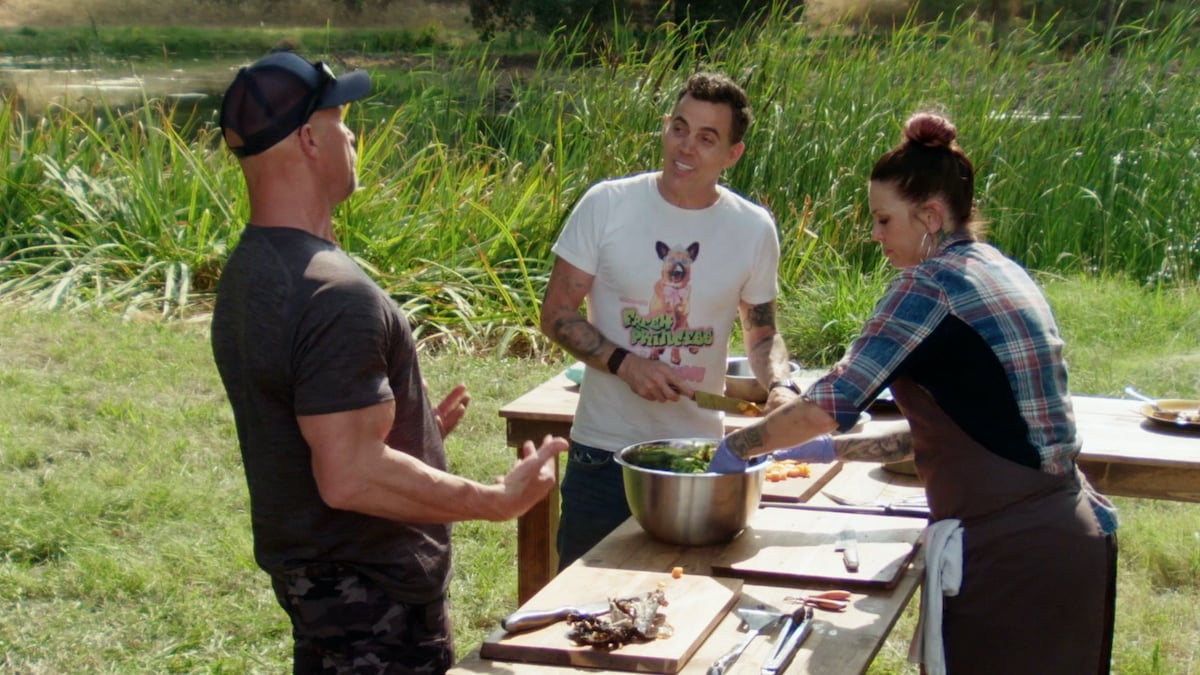 Steve-O joins Steve Austin for frolicking, fun, and conversation this Monday, February 15 at 11/10c on USA. The two hang on the ranch, race tractors, make food for their dogs and play fetch with an epic ball launcher.
"When they asked if I'd be on Steve Austin's USA Network series, it took less than half a second to say yes," Steve-O shared with Showbiz Cheat Sheet. "I knew it was going to be a blast, and I couldn't believe how much work he did to prepare for it."
Steve-O says shooting the episode was the most fun he's had
Steve-O said he was impressed that Austin knew so much about him, adding that he couldn't have been friendlier and more welcoming on the show.
"The guy literally read my entire memoir from cover to cover, knew everything about what I've been up to throughout the pandemic, and couldn't have been more friendly," Steve-O said.
"Well, when it came to shooting me with a tennis ball cannon and driving a tractor with me duct-taped to one of its wheels, I suppose he wasn't very friendly," he added. "Overall, it was one of the most fun times I've had shooting a TV show. Thanks so much, Stone Cold!"
Who wins the race?
In an exclusive clip shared with Showbiz Cheat Sheet, Steve-O and Austin rev their engines – tractor engines. "Alright Steve-O, John has laid out a track here with some hay bales, mud pit and some rumble strip," Austin describes.
"Are you up for a little challenge?" Austin asks Steve-O. Of course, he is! "I think I'm ready to whoop your a**," Steve-O replies. But does he?
They both seem to be pumped and ready to rip some hay apart with their tractors. "Let's get it on!" Austin declares as Steve-O laughs.
Steve Austin leads the race but does he win?
Austin is first out of the gate while Steve-O can't seem to get his tractor into gear. But once he finally figures it out, Steve-O is off, wrestling the large steering wheel into place as he guns the engine to catch up to Austin.
"Come on, come on Steve-O you aren't gonna beat me," Austin taunts as both tractors roll over several hay bales in their push toward the finish line.
"Come on you bastard," Steve-O shoots back as he makes serious gains on Austin. The two are neck and neck but Steve-O pulls out in front. "Oh no!" Austin exclaims as Steve-O narrowly wins the race.
"I can't believe it," Austin exclaims while Steve-O raises his fist in victory.
Steve-O's episode of Straight Up Steve Austin is on Monday, Feb. 15 at 11/10c on USA.
Source: Read Full Article