Because she's been there and done that, literally, former Bachelor contestant/tear fountain Ashley Iaconetti is recapping this season of The Bachelorette for Cosmopolitan. With insider insight as well as a clear eye for what's going down both in front of and behind the cameras, she's got a whole lot to say…and you're gonna wanna hear it.
This post contains spoilers for last night's (12/1/20) episode of The Bachelorette.
Alright, I'm super confused. How did Ben taking off his clothes during the vulnerability-themed art competition go over so well? I had to read through other recaps before starting to write this to see how they interpreted that scene, and from what I saw, it was all pretty positive. The Twitter responses from fans were a little more closely aligned with my point of view. The way I saw it, Ben struggled to find words and arts and crafts supplies to describe his soul, so he resorted to stripping. But Tayshia was totally taken with this bold gesture.
While I wasn't grossed out, I thought this moment called for a little more maturity. I thought the other men on this group date demonstrated so much raw, authentic emotion (minus Blake constructing a penis out of clay) and for Ben to expose himself in the raw just had me wondering if his verbal communication skills are perhaps not developed enough. Was this a little bit of a fuckboy move? Like, "Hey, I can't really talk about my feelings very well, but I can speak with my body."
I know the vulnerability that comes along with being physically naked in front of a person or other people. That kind of exposure does take bravery. I personally would rather have a therapy session publicly than get naked in front of a crowd. I suppose the question here is what's scarier for Ben? Physical vulnerability or emotional vulnerability? If it's emotional vulnerability then stripping seems like a cop out. Regardless of his intent behind it, Ben had to know that people, Tayshia included, could interpret this act in many ways. I'm sorry if I'm overanalyzing or if you're thinking I'm a prude.
Later in the evening, Ben really did bare himself emotionally when he revealed his longtime battle with bulimia. Men often don't speak about suffering from an eating disorder, but plenty do struggle with it. I appreciate Ben breaking the taboo and bringing light to this issue. This honest conversation with Tayshia snagged him the group date rose, and also made me wonder if all the analyzing I had done of his actions was pointless. The guy can discuss hard stuff, maybe he just can't share it in a room full of his peers. In that situation, Ben would rather show off his hard stuff. (I'm referring to his muscles, people…)
I swear to you I don't know a single spoiler. I don't even know if there are spoilers about this season out there, honestly. [Editor's note: There are…and we have them for ya right here if that's your thing.] And with that being said, I think Ben and Zac will be the top two vying for Tayshia's heart.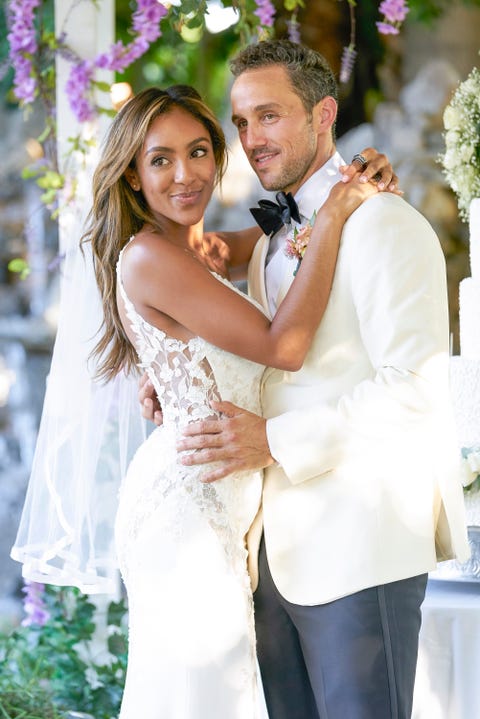 Zac got the first one-on-one date this week. I can't believe that the franchise planned ANOTHER wedding dress date. However, I was far more focused on the energy and the eye contact between Tayshia and Zac to care about recycled date theme. I can feel their guards going up around each other, in the best way. I don't know about you, but when I was single, it was the people I liked the most that I would get most nervous around. It was the people I liked the most that I was most censored with. I think this behavior is due to protecting your heart from something intense and the pressure to impress.
We learned so much about Zac during this date. He had a brain tumor, got addicted to drugs, he got married and divorced young, tried stealing from his family, and went to rehab for over four months. His revealing of all that and his recovery from all of that makes him someone you can't help but root for.
Of the guys who have had one-on-ones, none of them come across as guys who can't wait to leave and build their Instagram followings. Think about it: Brendon, Ivan, and Zac. When Clare was Bachelorette we didn't even know their names and now we love them!! They have depth, warmth, and they seem like…oh shit…should I say it…GROWN ASS MEN!
I had much adoration for Eazy as well, but I didn't include him in that list because he was shockingly eliminated during his date last night. Did you audibly gasp like I did when Tayshia said she couldn't give him that rose? They had so much fun ghost hunting! I wonder what would have happened if Eazy didn't tell Tayshia he was falling in love with her. It was a bit much so early on. I understand her not wanting to lead him on if she wasn't feeling any inkling of reciprocation.
I think this sudden cut is a result of Tayshia's shortened Bachelorette timeline. Let me do this quick math with you…The average Bachelor/Bachelorette season films for about nine weeks. With travel time (including hometowns) eliminated, this season was (I BELIEVE) set to film start-to finish in six or seven weeks. Clare used a little less than two weeks of that reserved time, leaving Tayshia with not even a full five weeks to narrow down these men before presenting the final rose. If you're wondering why they didn't extend filming time, it just doesn't work like that. The resort is theirs for only a certain amount of time, as is the production crew. They work hard enough!
We're finally feeling attached to some of the men, but the chopping block is moving fast. Ed and Bennett are bound to be its next victims, right?! I guess we'll see next week.
Source: Read Full Article