Following in the footsteps of Kroy Biermann ("Don't Be Tardy"), Antonio Cromartie ("The Cromarties"), and Terrell Owens ("The T.O. Show"), former Pittsburgh Steelers quarterback Terry Bradshaw became another NFL name to land his own reality series in 2020 with "The Bradshaw Bunch."
Largely filmed at Bradshaw's Oklahoma ranch, the hit show not only offered a much more personal insight into the footballer's life, but it also introduced his immediate family — fourth wife Tammy, grandchildren Zurie and Jeb, stepdaughter Lacey, and daughters Erin and Rachel — to a much wider audience.
Since their show premiered on the E! network, all of the Bradshaws have attracted their fair share of attention. But thanks to her eventful, and indeed tragic, backstory, it's the sportsman-turned-actor's eldest child who appears to have grabbed most of the headlines. From musical aspirations and medical conditions to turbulent romances and tribute tattoos, here's a look at Rachel Bradshaw's untold truth.
Rachel Bradshaw's husband died in a car crash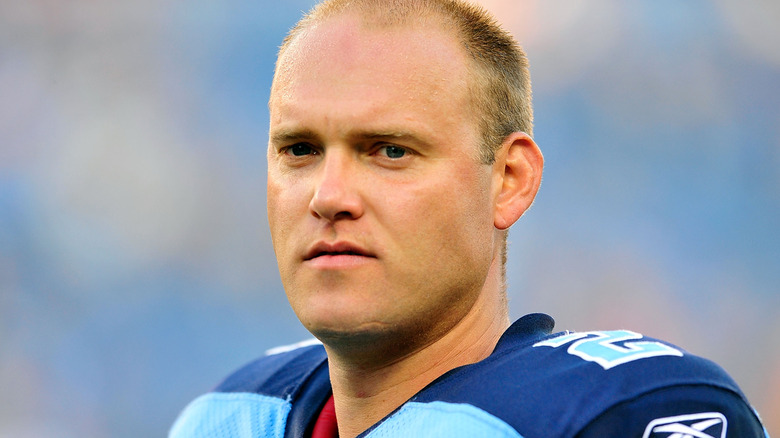 In June 2014, Rachel Bradshaw became the first of Terry Bradshaw's daughters to walk down the aisle when she got hitched to Rob Bironas. Like her father, Rachel's husband was also a football star, having achieved the second highest ever career points rank — 1,032 to be exact, according to Reuters — in Tennessee Titans history.
Tragically, just months after the pair said "I do," Rob was killed in a car crash at the age of just 36. The NFL star reportedly hit several trees after losing control of his SUV before the vehicle landed in a ditch. Witnesses reported seeing the footballer experiencing road rage before the accident, as USA Today reported, while a toxicology report later released found that he was nearly three times over Tennessee's legal alcohol limit.
Rachel, who was introduced to Rob at a breast cancer benefit in 2012, was understandably left devastated by her loss. According to Tennessean, the sportsman's obituary read, "Rachel brought a grounding force to Rob and she created a home filled with love, music, and laughter; a life he held very dear." But the mystery remains as to how Rob, who just two hours before he left the home he shared with Rachel was pictured in good spirits, ended up in such a state.
Rachel Bradshaw didn't want to be a reality star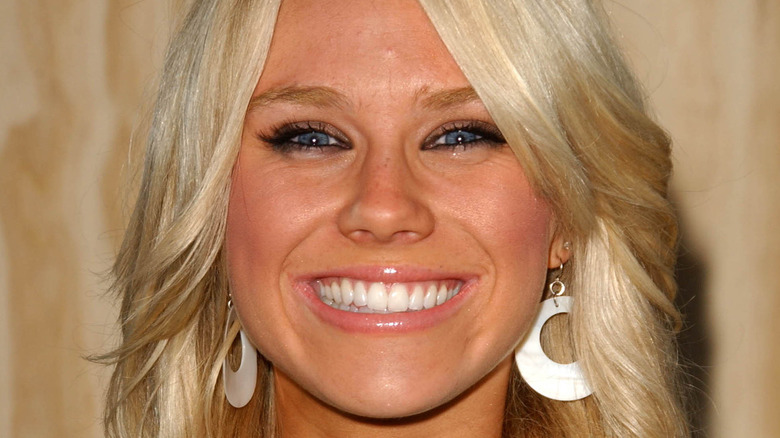 Rachel Bradshaw took some convincing to sign up to her family's reality show "The Bradshaw Bunch." Following the tragic death of her husband Rob Bironas, the star had decided to give up her musical aspirations and had little interest in pursuing any level of fame. In fact, as she explained to podcast "Get Real with Caroline Hobby," even a one-off game show appearance felt too much at the time.
Referring to the invitation to appear on "Celebrity Family Feud" (via E! Online), Rachel recalled, "My immediate thing is like, 'I don't want to be on TV. I don't want to do anything in the entertainment world. Screw it.'" However, after her father, Terry Bradshaw, pointed out that it wasn't exactly a major commitment, the singer relented. She was equally hesitant when, shortly after, the family got the chance to display their natural camaraderie on their own E! reality series. 
Rachel admitted, "I always thought it would be so fun to do a reality show, but that was the old Rachel. That was the Rachel that wanted to be a singer and wanted to be famous. … The old me just had the wrong version of success. And so now I'm so healthy and I'm healed and I'm like, 'Oh no, I'm not going back there.'"
Reality TV helped Rachel Bradshaw deal with her issues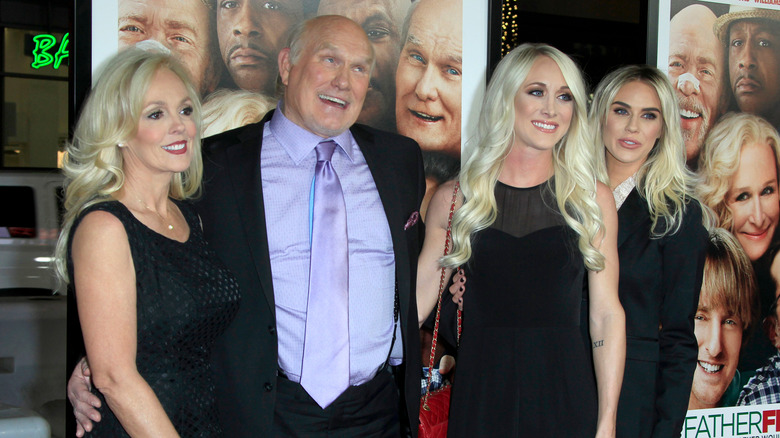 Who needs counseling when you have your own reality TV show? Rachel Bradshaw admitted to New York Post in 2020 that she was going through heartache when "The Bradshaw Bunch" started shooting. However, although the singer was initially hesitant about appearing, she eventually found the experience to be therapeutic.
Rachel said, "I had just gotten broken up with and it was a pretty serious deal for me, so I was really lost, and I was like, 'How am I going to film a show and go through this?'" Fortunately, however, she would up enjoying filming the series, as she learned more about herself. "I could be vulnerable and it was never fake," she shared. "We always were having fun as a family."
And it wasn't just Rachel's most recent relationship that "The Bradshaw Bunch" helped her to deal with. The star also began to open up about the tragic loss of her husband Rob Bironas in 2014. And father Terry Bradshaw was instrumental in getting her to feel comfortable about doing so. "You can see throughout the show just dad helping me really get back on my feet," she revealed. And while she initially didn't want to discuss what happened with her late husband, she realized that it was a major part of her life. "This is my life and everyone that's close to me knows my struggles with my journey the past six years, and so of course I'm going to talk about it," she said.
Rachel Bradshaw dated a Bachelorette alum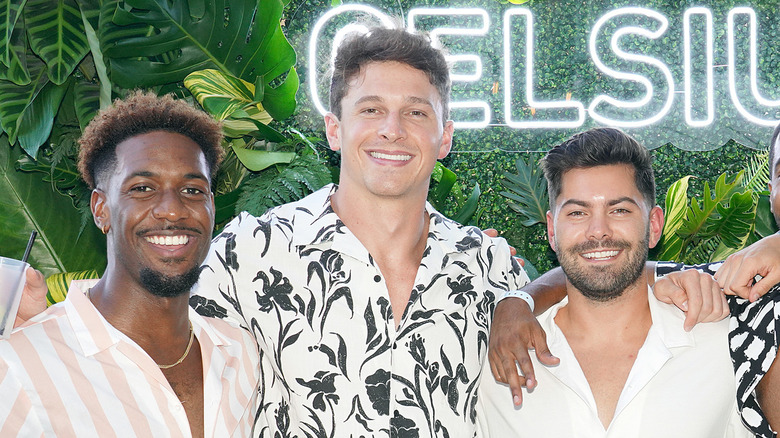 Connor Saeli may have failed to woo Hannah Brown on "The Bachelorette," receiving his marching orders in the seventh week of the hit dating show's 15th season (via Refinery29), but he appeared to have more luck with the eldest daughter of footballing legend Terry Bradshaw.
Yes, Saeli, who also graced spinoff "Bachelor in Paradise" (via E! Online), began dating Rachel Bradshaw in 2020. And the latter was so bowled over by the investment analyst that she asked him to meet the rest of her family on their very first date. While filming "The Bradshaw Bunch," Rachel told Connor, "I know it's early, but the last relationship was a nightmare. Like, nobody liked him, and I didn't know that until after." Luckily, the serial dating show star didn't seem too perturbed by the invitation, although he may well have been when Rachel revealed that father Terry Bradshaw has never been a fan of the men she's dated.
The singer couldn't stop gushing about her new beau in a confessional, either. "I really like Connor. He's just a good guy. And we're just comfortable," she said, adding, "I feel like sometimes it's taken me months to just get comfortable with somebody. So, it's nice that someone brings that out on the first physical date." Unfortunately, this budding romance appeared to fizzle out pretty quickly. Terry confirmed to Us Weekly months later that Connor was no longer in the picture.
Rachel Bradshaw's music career was inspired by her father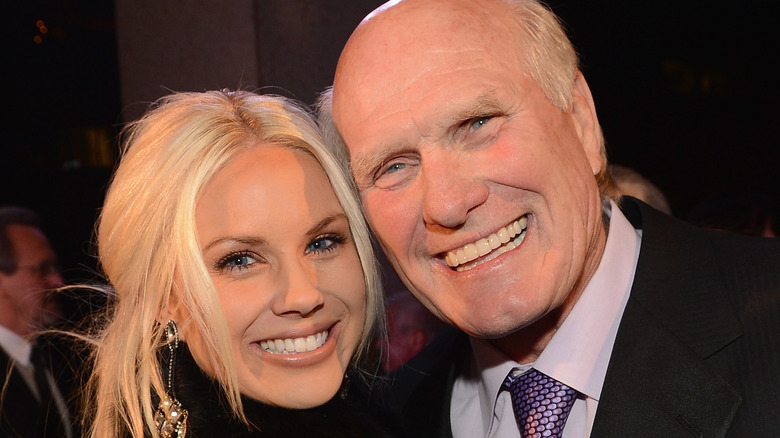 Younger audiences might not be aware that Terry Bradshaw made an unlikely detour into the country music scene during his Pittsburgh Steelers heyday. Yes, not content with conquering the NFL, the multi-talented star also showcased his singing and guitar skills with 1976's "I'm So Lonesome I Could Cry" and went on to release several other studio efforts, as Rolling Stone noted.
Terry's moonlighting also prompted eldest daughter Rachel Bradshaw to pursue a musical career, too. In 2020, she told Distractify, "When I was a kid, he and I would sing Patsy Cline's song 'Crazy,' and that was our thing since I was a little girl," adding, "He was a huge inspiration for me to keep singing, and that's why I moved to Nashville."
Referring to the deal Rachel landed with Bigger Picture, the proud ex-footballer, who praised his daughter's talents, told Billboard in 2012, "She's very fortunate to have signed up with them." Noting that she'd been writing for five years at that point, he pointed to Jerrod Niemann's song "What Do You Want" as proof of her abilities. He explained that she collaborates with other talented artists and has an impressive voice, and shared, "I've encouraged her to make the most of it because you might not get another chance."
Rachel Bradshaw once suffered from stage fright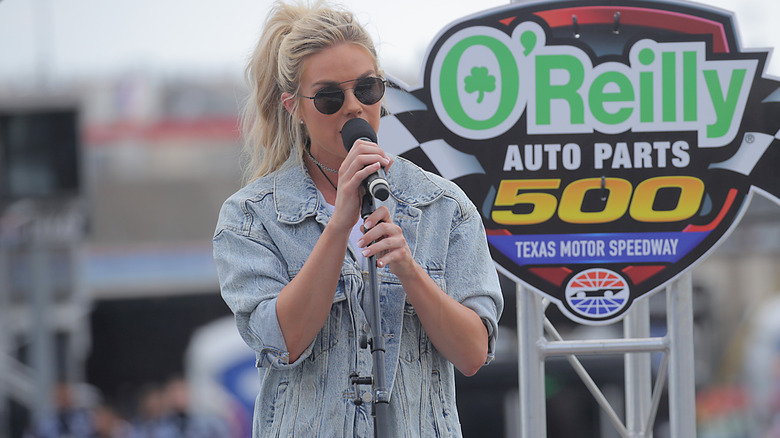 Having taken a break from performing for several years, Rachel Bradshaw was understandably nervous about making her return to the stage in 2020. "I'm just not confident in it anymore," she told equestrian sister Erin ahead of her appearance at a NASCAR rally on "The Bradshaw Bunch." "It's like you not riding a horse for four years and then going out and showing at the World's Show."
Although her younger sibling dished out some tough love ("Bottom line is you're doing it, you're singing"), she still proved to be a supportive presence on the day itself. When Rachel revealed she was so nervous that she was struggling to breathe, Erin advised, "I would Celine Dion that s***. I'd be out there like, pointing my toe and be like, 'Aaaa!' I'd be all over that stage."
Rachel had little say in the gig itself. She was signed up to perform "God Bless America" at the Texas Motor Speedway without her knowledge by father Terry Bradshaw. And the former footballer wasn't averse to using guilt-tripping tactics to get her to agree, remarking (via E!), "If you don't want to do it for yourself, do it for me. … It'll break my heart." Luckily, despite admitting that she just wanted to "puke and disappear," Rachel's stage comeback proved to be a triumphant one.
Rachel Bradshaw got creative during the pandemic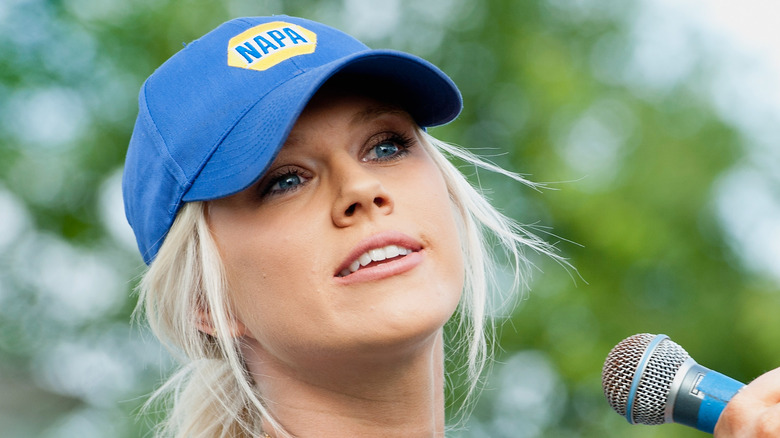 Rachel Bradshaw had decided to press pause on her singing ambitions while shooting her family's reality show, "The Bradshaw Bunch." She told Distractify in 2020, "You get burnt out from stuff, and I've been working with music since I was a kid. When I came home to take a break, we got the show. It was our new job."
But like many artists who suddenly found themselves holed up in their homes with little else to do during the early stages of the COVID-19 pandemic, Rachel suddenly rediscovered her creative spark. Thankfully, it didn't result in a tone-deaf cover version of John Lennon's "Imagine." She explained, "It was probably two months in when I got to the point where I was losing my mind. My old outlet would be to go to my piano, so that's what I did. I just started writing a record and I was like, 'What am I doing right now?'"
Rachel later dropped the first single, "Wild Horse," in October 2020 and followed it up with the tracks "Aphrodite" and "What Makes Christmas." But the full-length effort that her family insisted she release has yet to see the light of day. If you're wondering what it might sound like, well, Rachel revealed that her most recent musical inspirations have been Lana Del Rey, Coldplay, and The Lumineers.
Rachel Bradshaw had an ulterior motive for studying at Belmont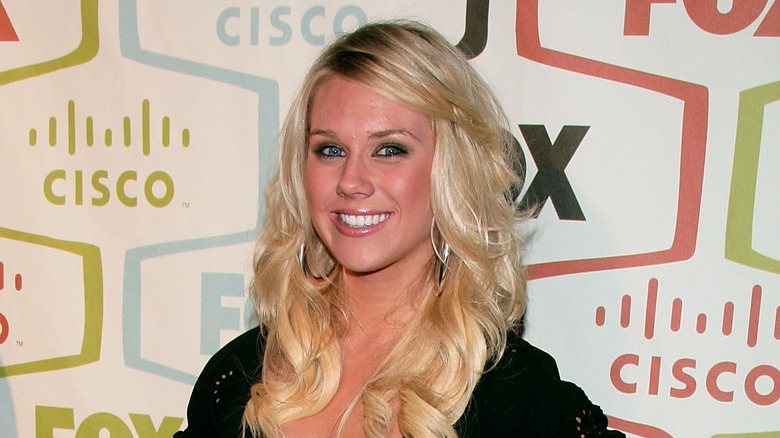 After graduating from high school, Rachel Bradshaw made her mother, Charla Hopkins, and father, Terry Bradshaw, even prouder when she moved to Nashville to study at Belmont University. But unbeknownst to her parents, the youngster had an ulterior motive for her choice of higher education.
In 2012, she told Associated Press (via MassLive), "My parents wanted me to be in college but I came here to find out everything about music and about songwriting, who do I talk to, how do I talk to them? I spent a few years just meeting people and getting to know everybody I possibly could and I made friends and we'd start to write songs together."
Luckily, Rachel's initiative paid off. The singer, who majored in Commercial Vocal Performance, ended up landing a deal with Bigger Picture Group, the now-defunct label whose roster included Zac Brown Band, Blackjack Billy, and Lucy Hale. And it was while studying at Belmont that she met and collaborated with Jerrod Niemann on his Billboard chart hit, "What Do You Want." In a statement to celebrate the deal, Rachel said, "Ever since I was young, I knew that music was different for me — I felt like it was my calling. I didn't just like listening to the radio — it was all I wanted to do."
Rachel Bradshaw has previous reality TV experience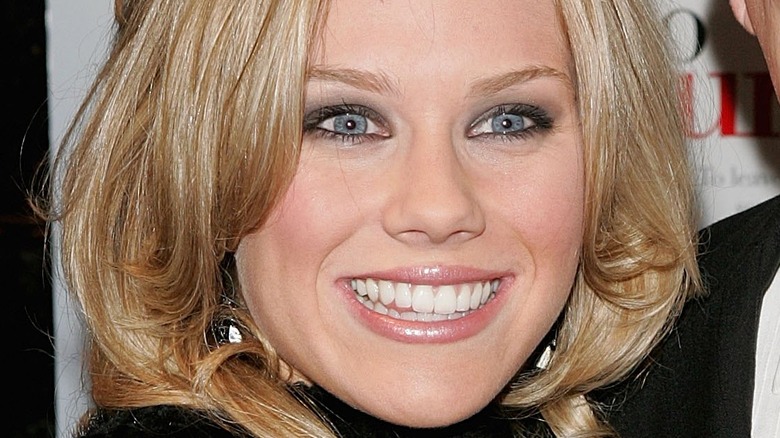 You might not know that "The Bradshaw Bunch" isn't the first reality show that Rachel Bradshaw has been a regular cast member of. The singer also appeared in several episodes of "Nashville." No, not the Hayden Panettiere drama but the short-lived Fox series which charted the real-life fortunes of various aspiring country music stars back in 2007.
"You think Nashville and you think, 'Oh, country music,' but nobody really sees what Nashville is," Rachel told the Chicago Tribune ahead of its premiere. "We're giving the world an opportunity to see our lives and how hard it is to get into this business, but also how great Nashville is. I knew I wanted to move to Nashville, and my dad said, 'It doesn't matter. You have to go to school.'"
Rachel was no doubt hoping that this would be the platform that would help her step out of father Terry Bradshaw's shadows. But the lesser-known "Nashville," which also featured future Billboard country chart regular Chuck Wicks, fared so badly in the ratings that it was taken off the air after just two episodes, according to Taste of Country!
Rachel Bradshaw was born with scoliosis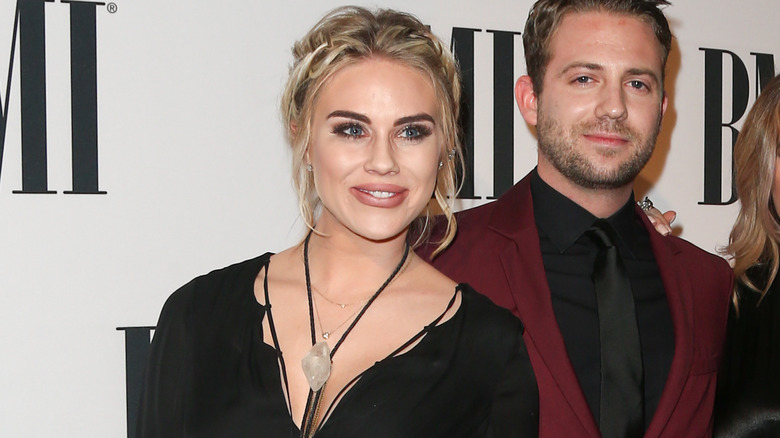 What does Rachel Bradshaw have in common with Olympic sprinting hero Usain Bolt, "Buffy the Vampire Slayer" star Sarah Michelle Gellar, and veteran performer Liza Minnelli? Well, they have all suffered from scoliosis.
In 2018, Rachel revealed that she was born with the medical condition which affects the curvature of the spine and that she'd gone under the knife for it, too. "Cannot believe it's been three years since I've had my scoliosis surgery," she captioned pre- and post-op X-rays on her Instagram account. "I was born with scoliosis … and had it checked out when I was 28 and the doctor ordered me to get immediate surgery due to the damage it can do to your body."
The country singer went on to state that her spine was fitted with two titanium rods and no fewer than 32 screws during the procedure, adding, "And yes it is NOT fun to go through security at the airport lol."
Rachel Bradshaw thought she'd be a mother by now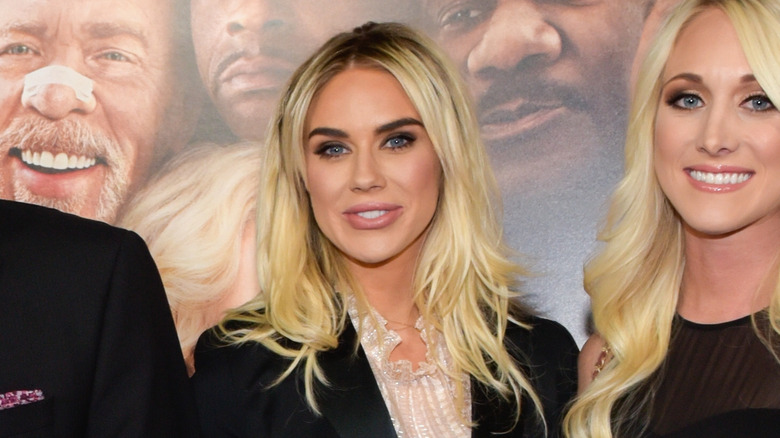 Rachel Bradshaw once again got her heart broken in 2020 when she found out that then-boyfriend Dustin Hughes had allegedly been having an affair. The singer explained to her siblings on "The Bradshaw Bunch," how things has seemed idyllic up until that point: "The week before we went to Washington, D.C., we were looking at houses in Lantana. During Valentine's, he was like, 'Okay, I want to see what kind of rings you like.' That was right before D.C. — joke's on me."
Rachel also told sisters Erin and Lacey that she believed she'd have got wed and become a mom by her mid-30s. The latter point no doubt made Dustin's betrayal even harder to swallow, considering he reportedly got the other woman pregnant, according to Distractify. Of course, Rachel's nearest and dearest probably weren't too surprised by all the drama. They'd been particularly skeptical about Dustin's intentions from the start and weren't particularly pleased about his lack of effort in establishing relationships with the family.
Father Terry Bradshaw certainly didn't mince his words after hearing the news of Dustin's indiscretions: "Can't believe that little weasel went off and got some chick pregnant, huh? And you do know that the next guy my daughter dates going to get a full background little research done by you know what, all right?"
Rachel Bradshaw has a career in real estate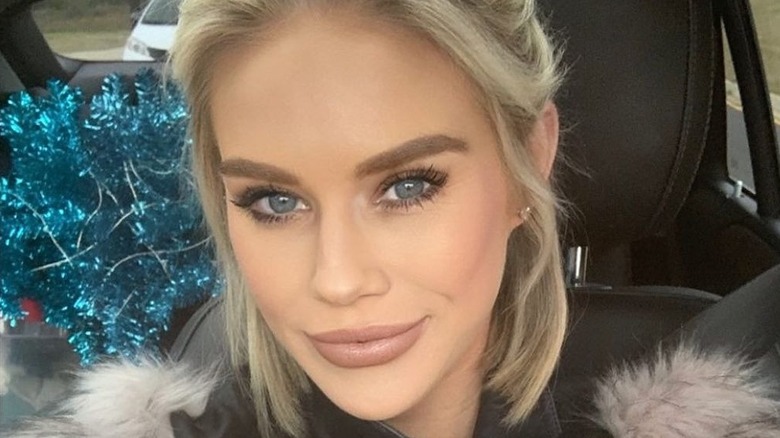 Could we be seeing Rachel Bradshaw join the cast of "Selling Sunset" at some point in the future? Although the reality star initially pursued a career as a country musician, she eventually ended up pivoting into the world of real estate. And as viewers of "The Bradshaw Bunch" will already know, she's still working in that profession.
On her page on Compass' website, Rachel reveals how she's been able to transfer her skills as a songwriter to her position as a realtor: "Being successful in music and in real estate is all about creativity, work ethic and the ability to connect with people. In music, you want to take your own experiences and write a song people can relate to. In real estate, you have to empathize with your clients' needs to help write their happy ending."
And Rachel has a secret marketing weapon, too: her father, Terry Bradshaw. In one particular episode of their hit E! show, the former footballer is seen purchasing various bench ads promoting his daughter's firm with the caption, "Seal the deal." When asked whether this was his idea or the show's producers by Trib Live, Terry replied, "It was part of a collaboration. It was all fun."
Rachel Bradshaw got inked to honor her late husband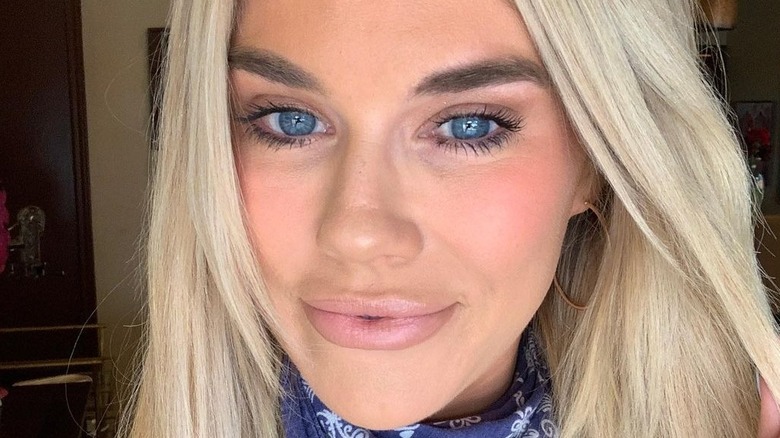 Rachel Bradshaw didn't waste any time in immortalizing her late husband in ink. Just two months after Tennessee Titans star Rob Bironas died from a car crash in 2014, the country singer headed to her nearest tattoo parlor to pay a unique tribute.
In a Facebook post (via Taste of Country), Rachel revealed why she'd decided to get the word "warrior" scrawled on her wrist. "Two years ago today I met the most amazing man in the world. I married him and lost him shortly after," she wrote. "Please tell your loved ones how much you love them every single day. Don't hold grudges. Be kind. Love unconditionally. That's what Rob stood for. He was a warrior … And forever will be."
A wrist tattoo wasn't the only way that Rachel honored her lost love. In another Facebook, she announced that she'd turned her wedding ring into a necklace: "It was a very emotional moment when I picked it up but I am so proud I did it."
How much is Rachel Bradshaw worth?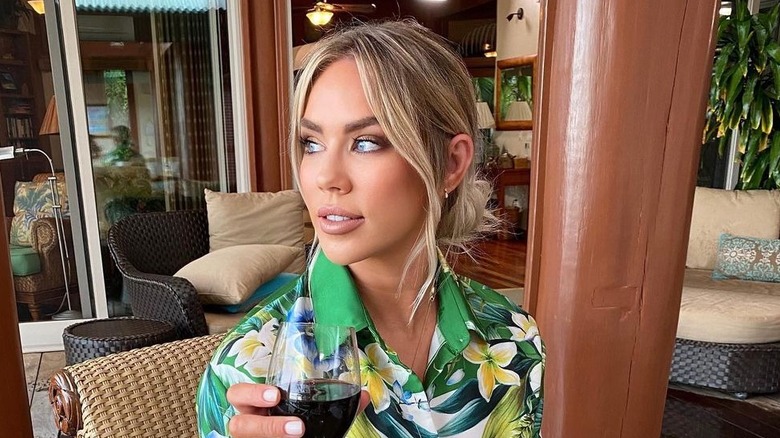 We can't imagine that Rachel Bradshaw has ever been short a cent or two. After all, her father — the footballing legend, TV analyst, and Hollywood actor Terry Bradshaw is worth a pretty penny. He reportedly has a net worth of $45 million, according to Celebrity Net Worth. But the country singer's own net worth remains something of a mystery.
Reports place the figure between $1 and $5 million. But with Rachel now a bona fide reality TV star, and one who's since resumed her country music career, we can only expect that amount to balloon over the next few years.
Of course, even if "The Bradshaw Bunch" gets taken off the air and her music career doesn't take off, Rachel still has something else to bring in the money. No doubt she's received a tidy commission from the various properties she's helped to sell as a realtor for the firm Compass, including the two-bedroom home that went for more than $1 million!
Source: Read Full Article