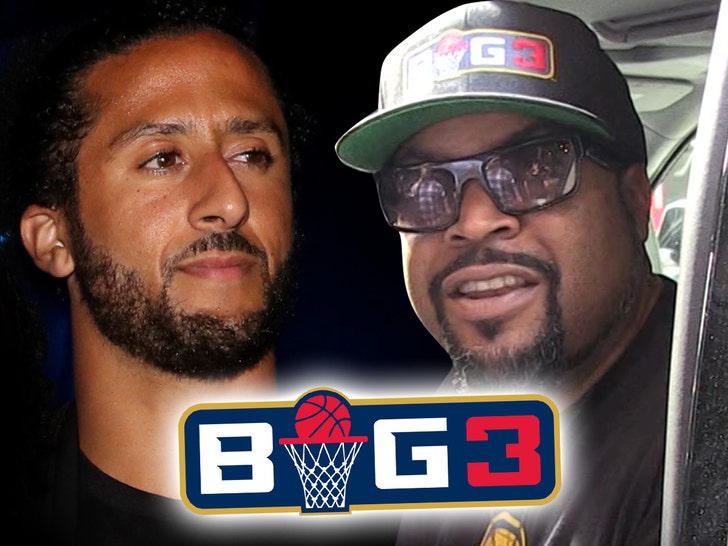 Colin Kaepernick is NOT buying into the BIG3 — despite a report the star quarterback was teaming up with Ice Cube to invest in the hoops league — with a rep for Kap telling TMZ Sports the story is bogus.
On Wednesday night, Shams Charania reported 34-year-old Kap was stepping in as an investor to help Cube's hoops league, which the NBA insider said was "on the verge of potentially shutting down."
But, a rep for Kaepernick tells us the story just isn't true … Colin is not working with BIG3.
Ice Cube — alongside several business partners — launched the league in 2017. The games feature mostly former NBA players — many stars — who play 3-on-3 games.
As for the league's reported struggles … in an interview last month, the rap legend said the Association hasn't exactly been a supporter of the young league, saying the NBA "hasn't been the nicest to the Big3."
Cube continued … "Of course, publicly, they say all the right words, Cube said, "but we know privately, there are things done behind the scenes [with] sponsors, broadcasters, blah blah blah. It soured me a little bit … It did tarnish my fandom a bit."
Meanwhile, Kaepernick — who hasn't played in the NFL since 2016 — is still very interested in returning to the league where he once led the 49ers to the Super Bowl.
The Raiders held a tryout for the 34-year-old in May, and although they've yet to offer the QB a deal (or talk about the workout), Kap maintains he's ready if the Raiders, or any other NFL team calls him!
Source: Read Full Article